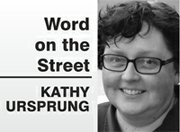 'Dalles' makes the tabloids: You wouldn't think The Dalles a likely topic for the Star tabloid magazine, but that's where you'd be wrong.
A May issue recently landed on this editor's desk featuring an article talking about the recent trend among Hollywood teens and 20-somethings to follow the teachings of "Osho," better known in Wasco County as the Bhagwan Shree Rajneesh.
If any of those youths want to visit "Dalles" as The Dalles is identified in the article, I'm sure some local residents would be happy to share their experiences with the Bhagwan's followers including bioterrorism, intimidation and election tampering.
One of the Bhagwan's former followers also showed up in recent news in the Winston-Salem, North Carolina area. Apparently, a former cult follower, Elisabeth Motsinger, is on the school board and running for re-election. Even 30 years later, the Camel City Dispatch thought the item, plus a recap of Rajneesh activities in their Wasco County heyday.
Windermere welcomes Foote: The Dalles native Charlie Foote is a new Realtor at Windermere Glenn Taylor Real Estate. He, his wife and their two daughters moved back to The Dalles in October 2012, where he began working as a mortgage loan officer at Westcorp Mortgage Group.
"I felt that my heart was on the other side of the transaction," Foote said. "I then became a licensed Oregon Real Estate Broker for Windermere Glenn Taylor Real Estate in mid-June and am ecstatic about this opportunity." Foote said he played an important role on the mortgage side, but looks forward to more personal relationships with his clients.
Foote can be reached at 541-296-5932 or by email at charliefoote@windermere.com.
Making headway: One of the east The Dalles landowners who fought against the high cost of minor land partitions gained some ground June 19 — well, not exactly ground, but a minor partition of land he already owns. Hager had appealed a March 17 decision regarding a minor partition and won his appeal.
City of The Dalles minor partition rules earlier required land owners the pay for street and sidewalk improvements at the same time, whether actual development was taking place at the time or not. Landowners appealed to the Oregon Legislature, which passed a law specifically aimed at The Dalles limiting the amount that can be charged for a minor partition. After years of waiting for a remedy, Hager is one of the early beneficiaries.
New at Gorge Grown: Sarah Sullivan has been named the new executive director at Gorge Grown Food Network. She will be relocating from Portland. A longtime fan of the Columbia Gorge and Gorge Grown, she will be transitioning into her new role immediately.
Sullivan is described as a passionate advocate for food security and a gifted community organizer. Her work has included directing the award-winning school garden and scratch kitchen program at Abernethy Elementary School in Portland. She served as executive director of both Hawaii SEED and The Organic Seed Growers and Trade Association. She is also an adjunct professor at Lewis & Clark College and runs a business called Feast, teaching people to cook wholesome, seasonal meals from scratch.
Sullivan will succeed Michelle McGrath, who will go to work at the Oregon Environmental Council.
Do you have an item for Word on the Street? Email kursprung@thedalleschronicle.com or call 541-506-4601.