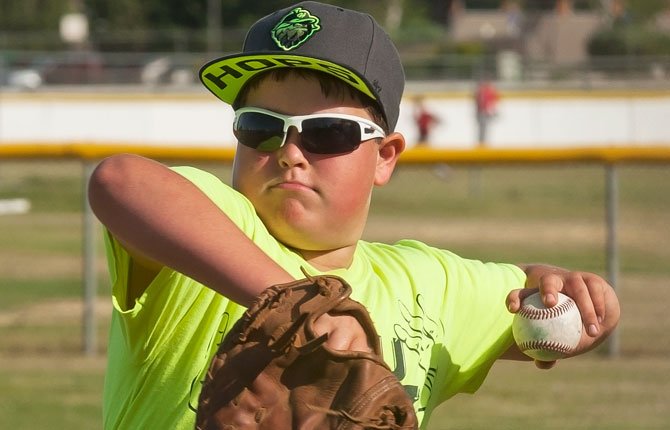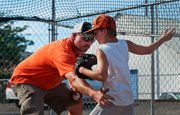 The Dalles Little League's toughest players will be showing off their skills at a regional tournament in Hermiston over the coming week.
Activities start Friday with opening ceremonies. Teams get the first test of their diamond skills as play gets under way Saturday. The coaches put their heads together to pick most of their players, but the players also have input voting to select two players in each age group to represent them, explained Greg Cummings, who manages the team of 10- and 11-year-olds.
"The two highest [vote getting] players are automatically on the team," Cummings said.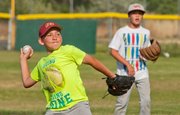 The 10-11 team has the smallest field of competition, with only six teams total in its age bracket for the double-elimination tournament.
"We pretty much go through the following Saturday," Cummings said. "If we keep winning, we have a chance to play for the championship next Saturday."
Cummings said his team will open play against a tough Bend South team Saturday at 12:30 p.m.
"It's pretty serious business," Cummings said. "Every team goes to win and it can be extremely competitive. Sometimes it's political whenever you get parents involved. We just try to go and have fun and let the kids experience baseball at a much higher level than what they're used to in the local Little League program and have some fun. That's the main thing we try to encourage kids to do."
Teams have been practicing almost three hours a night the past couple of weeks.
"They've dedicated a lot of time to this, not only the boys, but also the parents," Cummings said.
The 10-11s, though young in their balance between kids age 10 and 11, are banking on some strong pitching skills to help them keep the tough competition off balance through the tournament.
"We have a good chance, but it depends on whether the kids decide they want to show up," Cummings said.
The 11- and 12-year-old team will face 10 teams during the tournament. Manager Joe Abbas is optimistic about his team's chances.
"We have an experienced group this year on the 11-12 team," Abbas said. "All 12 players have been an all-star previously in their Little League careers. We are fairly deep with pitching and catching this year, which is a great thing to have for the tournament and how it unfolds each year. Our bracket will be played in six days this year instead of seven days, so we will depend on that pitching even more."
The Dalles team has a tough first-round draw, playing Bend South at 12:15 p.m. Saturday.
"The Bend teams are always well-coached and will be a difficult team to beat," Abbas said.
But the team members have put the time and effort into practice over the past two weeks to be as prepared as possible, he added.
"They have become tighter as a group and understand they all play an important role on the team."
Allen Beeks says the team of 9- and 10-year-olds is bringing a really strong defense to the field, with capable pitching on the mound.
"We'll be able to hold better teams to a limited run," Beeks said.
His team will also have 10 teams to face during the tournament week, but has a bye in Saturday play. That means the players will be fresh and ready to face the winner of Saturday's Hood River-Crook County game in Sunday action.
"We have a great group of kids this year," Beeks said. "They're just a happy-go-lucky type of group, but skillful. This week in practice we really had a lot of improvement. They're really excited about the tournament. The kids are gaining friendships they hadn't had."
Many of the teams will camp in the Hermiston area for the event, so they will be able to enjoy some of the local fun in between games.
Beeks' team did some fundraising in partnership with Mike's Bakitchen Bakery to help pay for some activities, such as a trip to the water park on their days off. They'll also enjoy a team barbecue and other activities.
"It'll be a good thing for all these kids to get together," Beeks said.