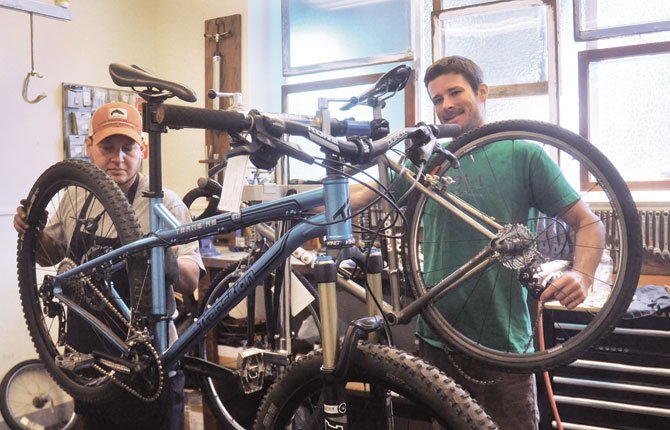 Two residents of The Dalles hope to rally community support for a bike park with dirt jumps and berms that allow riders to test their skills.
"We have a skateboard park in town and it's high time to have a place like that for bikers as well," said Jake Felt, owner of Dalles City Cyclery.
He and Joe Cruz, who helps tune up bikes at the 121 E. Second St. shop, came up with the idea for the project after city officials decided to promote cycling as a way to promote economic development. Many businesses have completed the process, or are now engaged, to become certified as "bike-friendly" through Travel Oregon, which will hold an event in The Dalles in September.
"It's one of those 'If you build it, they will come' type of things," said Felt.
Cruz said children who are not into organized sports can still get daily exercise with the challenges offered by a bike park — and possibly stay out of trouble because they are kept busy.
"There's just so many little places here and there that we could put something like this," he said.
Felt said Hood River County has Post Canyon trails for bike enthusiasts and White Salmon has the type of park that he and Cruz envision.
They said one to two acres that could be "roughed into some humps" would be needed to provide a challenge for bikers. They plan to ask local governments for help finding that property at some point in the future.
However, they first want to form a committee of interested community members to explore costs and come up with a plan for development. The beauty of a dirt track, said Felt, is that the features can be changed to accommodate the wishes of riders and add interest.
"The weather is good enough here to have something going year-round, which is not available everywhere – and that is another draw," said Felt, who assisted with the Post Canyon project.
Of that work, he said, "It was the first time I got involved in a 'big picture' type of thing and I really liked it so I am looking forward to doing it again. In Hood River, the project started small and then gained momentum and I think the same thing will happen here."
Felt invites people interested in helping develop the bike park proposal to call him at 541-769-0771 or visit the Facebook page "Dalles Wants a Bike Park."
Cruz said the page has already garnered more than 160 "likes" since being posted in March.