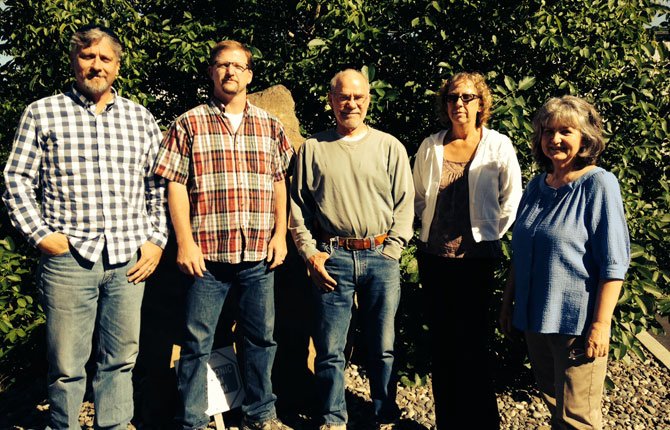 According to North Wasco County School District's latest tally, 96 students were recorded "homeless" in the 2013-2014 school year.
However, the "real" number of area students currently couch surfing, on the run, or who are otherwise without a permanent place to call home is likely at least twice that, according to former district employee and long-time youth advocate Linda Casady.
"There are a lot more homeless and runaway youth in this community than people think," Casady said. "Up to 40 or 50 percent of those are usually foster kids, and just because they're not seen sleeping on the streets doesn't mean they're not there. They're still missing school, probably couch surfing with no regular meals or anyone really caring for them. In most cases, they feel they're intruding on other people's living space — it's just not a healthy situation."
A resident of The Dalles since 2001, Casady said the nine years she's dedicated to working with struggling adolescents and children as a Court-Appointed Special Advocate opened her eyes to "the gaping hole in the area's current service offerings."
"We're the only area in the state that doesn't have a youth shelter," she said. "And that area includes Hood River, Wasco, Sherman and Gilliam counties—there's just nothing here.
"It's a situation that demands to be taken seriously," she said. "I had a CASA client who began having struggles at home and, having no other alternative, ended up a runaway living on the streets of Portland — it was very ugly.
Portland, she said, is one of the biggest centers in the nation for juvenile sex trafficking.
"Kids are very vulnerable around here, and even though the majority are couchsurfers, it still puts them in a potentially very dangerous situation. We want to avoid those kinds of worst-case scenarios."
Casady, speaking on behalf of the Youth Empowerment Shelter (Y.E.S.) board of directors, said they intend to spearhead efforts to bring The Dalles and Hood River a shelter specifically designed for youth facing challenging living situations.
"What we're trying to do is establish a place for youth between the ages of 10 and 17 where they can go when things at home are not working out. Whatever the circumstances are, we want to give them a safe place where they can think about what they're going through and help them sort it out.
"Sometimes it's just a matter of helping them gain access to the services that are already available," she said.
"Our first priority is to help sort out issues going in and get them back into a safe, more permanent living situation as soon as possible."
"We're looking to become a central location where needs can be addressed and kids can go to stabilize and feel safe, both physically and emotionally, while they get ready to tackle their problems," she said.
"It'll be something that's 100 percent voluntary on the part of the kids. In other words, they can leave anytime they want, but it's important that they know they're welcome and we're here to provide support and help them set up a plan for addressing their needs whenever they're ready to do so."
The center, Casady said, would be located in The Dalles and house up to about 10 area children and teens who would be able to stay at the shelter anywhere from a few days to a maximum of four months at a time.
"There are about twice as many kids CASA serves in The Dalles as in Hood River," Casady said, and it is the area "where the biggest needy population is, which is why we want the shelter to be centrally located here, where kids who don't have their own transportation can access it fairly easily and know it's there if they need it."
Several years ago, a youth shelter was listed among the top seven most urgent needs in the county by the board of commissioners, Casady said. While youth services put together a plan to address the needs of the runaway/homeless population in The Dalles and Hood River areas, it never came to full fruition due to a lack of necessary funding.
Which is why, Casady said, she and the Youth Empowerment Shelter board are hoping to establish the new center through funding sources outside the public sector.
"We are already registered as a corporation," she said, "and we've recently filed for tax exempt status as we work through the process of becoming a 501(c)(3). In that line, our most immediate objective is to find and secure a facility." Without a building, Casady said, it's very difficult to obtain the necessary grants and other funding sources needed to jumpstart the program.
"We've been looking at buildings in the area that would meet our requirements, which include those able to house 10 kids, with bedrooms situated in two different areas to allow for gender separation with one bedroom somewhere else for a child who is either much younger or whose needs require a different type of attention."
The bottom line, she said, is the program will require a 5-bedroom home with plenty of room for office and dining space, as she intends the center to not only provide safe housing, but also act as a "home base" for staff to conduct on-site youth and family consultations.
"Mediation will be the first thing we'll try when we begin helping someone work through their issues," Casady said. "Very often, it's just a matter of having the safety to say what they want to say in an environment where listening is guaranteed.
"So much of the time, runaways become vulnerable because they don't know that things can be worked out, so they don't go home in fear of punishment and the situation just builds upon itself unnecessarily.
"I don't think it would take a lot of intervention to keep most kids out of trouble," she said, "but just a place where they can stay and know they'll be both safe and listened to."
Casady encourages members of the public to attend the Youth Empowerment Shelter board meetings, which take place the third Wednesday of every month. The next meeting is scheduled for Wednesday, July 16 at 5 p.m. at Meadow Outdoor Advertising, 1201 Bargeway Road, The Dalles, near The Windseeker.
For more information about the board's efforts or Y.E.S., contact yesyouth17@gmail.com, or call 541-993-0542.