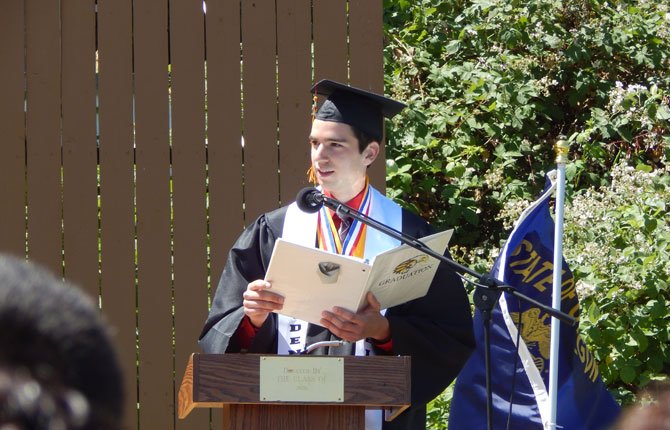 Just weeks after graduating as valedictorian of The Dalles High School, Cole McDowell headed off to serve for two years in the El Salvador, San Salvador East Mission, for the Church of Jesus Crist of Latter-day Saints.
On June 24,, he headed to the Missionary Training Center, where he will have six weeks to work on his Spanish and learn how to be a missionary.
Given his academic prowess, it shouldn't be too much of a challenge.
McDowell was not only top of his class, he was also ASB president, a math and technology whiz and tutor to other students.
McDowell was known as the "Boy Wonder" in the math department at the high school, and received a perfect score on the math portion of his college entrance test (ACT). He passed his AP Calculus test with a perfect 7.
McDowell could often be found in the hallway going over notes or studying the next day's lesson, not just resting on his intelligence, but seeking to develop the gift he had been given.
It is not just his genetics that brought him so far, although he has had to compete with his siblings' successes. He has been very involved in school and the community and is a man of many talents. He was an integral part in the mascot committee process.
He was a leader in YouThink, Leos, Boy Scouts, the high school tennis team, his church youth group, National Honor Society and robotics. He was awarded the May Barnum Outstanding Senior Boy, and received The Dalles Lions Club, Steve Martin Memorial, Wayne Von Borstel, and the Edward J. Ward Jr. scholarships. He recently earned his Eagle Scout award and has been the tech guru for lighting, sound and other technology for the school and the community.
He is following a tradition of service. Rodney McDowell, Cole's father, served a mission in Thailand from 1982 to 1984, oldest brother Lance served in San Antonio, Texas from 2010 to 2012, and older brother Logan is currently serving in Mexico City, due home in May 2015.
Cole said this about serving his mission and what he would miss the most:
"I'm looking forward to meeting and serving new people. I want to help my church to grow in El Salvador. I'm nervous about flying to a foreign country where I am not fluent in the language and I don't know where I will end up or who I will be living with. I'm also nervous about getting parasites which, chances are, I will. I'll definitely miss my family and all the people back home. I'll miss playing lots of tennis and drinking safe and clean tap water, but I know that it will be worth it. My faith and church are very important to me and I want to help share those things with others. I also want to have more opportunities to serve people."