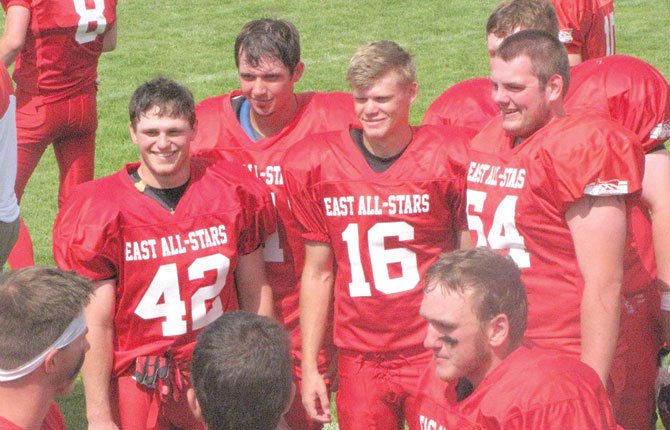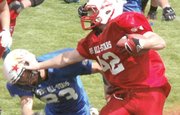 Sherman High School graduate Nick Coleman, along with Dufur High grads Cole Parke and Austin Olson were strapped head-to-toe in football regalia one last time on a warm day on June 21 in La Grande as participants in the 1A Eight-Man All-Star Football game.
Instead of being opponents, the trio joined forces as a united front and long-time head coach and 200-game winner, Jack Henderson, was also able to share in the moment with his two top leaders and a former opponent that had given him fits for the past four seasons.
Although the trio, representing the East, lost this contest by a 43-6 margin to the West, they take with them the memories of being honored one final time before they move on in life.
Henderson, who just completed his 27th campaign on the Dufur sidelines, savored every lasting moment working with his top-flight group of gridiron stars.
"It was a great week working with kids from throughout Eastern Oregon," Henderson said. "It's always fun to get to know kids better during all-star week."
As was a Dufur tradition for the past four seasons, Olson's mother, Stephanie, baked them some cookies for an after-game snack to celebrate the memories of a successful four-year run.
"Austin got his No. 54 and his teammate that have worked hard together since junior high, Cole (42)," Olson said. "And I must give a shout out to Jack Henderson, Dufur's head coach, and he was chosen to coach these boys in the All-Star game. What an honor for a great coach."
While starring on both sides of the ball through his career, Coleman played a pivotal leadership role in his final two campaigns for a young Husky team.
Coleman was part of a Husky program that went 31-14 overall and 20-2 in league play in his four years, including back-to-back Big Sky Conference crowns in 2010 and 2011.
At quarterback, Coleman showed he was a suitable replacement, as he nearly completed 50 percent of his 60 tosses.
Coleman converted 29 of 60 passes for 430 yards and seven touchdowns to go with three interceptions. He also completed five two-point conversions, good for second on the team.
When he wasn't flinging the ball all over the lot, Coleman rushed 40 times for 382 yards, seven scores and four more two-point conversions.
The senior chipped in one catch for 56 yards and a touchdown to his impressive stat line.
Earlier last season, Sherman coach Todd Swan lauded Coleman for bringing a calming element to the football team that had seven freshmen playing significant minutes.
"He is our senior leader. He is a great kid and you could see the kids around him take on his personality," Swan said of Coleman, who plans to attend the Oregon Institute of Technology in Wilsonville.
The list of accomplishments and accolades set forth by the Dufur duo of Olson and Parke is well-chronicled and impressive.
Olson and Parke are both first-team all-league and all-state players, and Parke is the Big Sky's two-time player of the Year.
They have won more than 90 percent of their games in the past two years, and had a fair share of success in many regards, even helping lead Henderson to his 200th career win earlier this past season.
Since kicking off their careers with a 15-8 record as underclassmen, Olson and Parke were pillars of strength for the Rangers in 2012 and 2013, headlining the group to a 19-5 overall record and an undefeated 11-0 marker enroute to successive Big Sky titles.
With Olson as an anchor on the line and Parke juking and jiving from the quarterback position, the Rangers had the state's second-best scoring offense with 698 points scored, and they were ranked as high as No. 2.
After going through the pain of losing 40-30 to Triangle Lake in the 1A state quarterfinals last Nov. 15, Olson expressed a profound respect for his team, as they overcome several obstacles along the way through a solid season.
"I am extremely proud of this team," said Olson. "We have come a long ways, battled through injuries and just came together as a team. We played very well and became a really good program."
Olson, who gained acclaim as a state track standout in his career, will continue life on the campus of Idaho State University in Pocatello, Idaho.
There is no reward more redeeming than walking off into the sunset shoulder-to-shoulder with the scrambling quarterback he tried to keep off his back all these years.
And then there is his coach and mentor.
For one last hurrah, they were together again, all the practices, the hard work, the long bus rides, the successes, the heart-to-heart discussions, the smiles and tears, made this journey well worth it.
"It was a blast to play in the all-star game," Olson said. "Being able to share that experience with my teammate and coach just made the experience that much better."
Parke, who recently competed in the 2A Baseball All-Star game in McMinnville, took control of the Big Sky Conference and spearheaded an offense that scored 1,125 points in the past two seasons.
Parke ended up being a dual threat on offense for a Ranger team that scored 60 points or more on six occasions.
In all, in his final senior campaign, he carried the ball 93 times for 643 yards, and he completed 115 of 198 passes for 1,562 yards.
Parke will now hang up his baseball glove and football helmet for a position at the Oregon Department of Transportation.
Whether it is hoisting trophies or going through the rigors of preparation in the dog days of August, Henderson will hold close to his heart more than just the on-field contributions of Olson and Parke, he sends them off to the real world as men, properly prepared to handle the day-to-day challenges of the real world.
Their contributions will certainly be missed, but the memories will last a lifetime.
"Cole and Austin had a ton of success while they played for the Rangers and it was great to spend one final week coaching them," Henderson said.