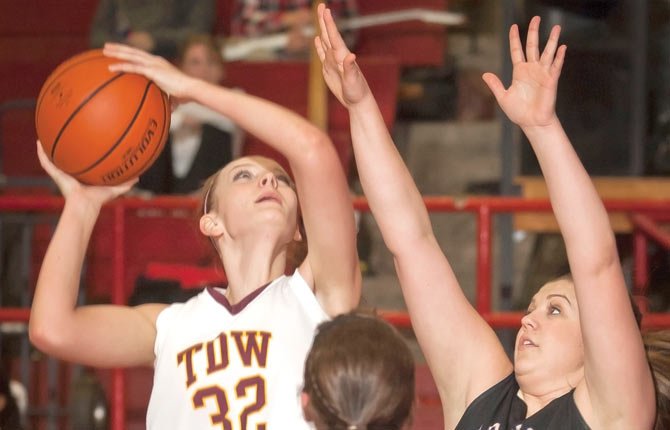 McKenzie Byrd scored a game-high 22 points and teammate Sara Ramirez tacked on another 15, as No. 3-ranked Hermiston completed a Columbia River Conference sweep with a 57-34 victory Friday over No. 7 The Dalles on senior night at Kurt Gym.
At first glance, the score appears lopsided, but most of the distance the Bulldogs created came after a highly contentious opening frame.
In the first quarter, TD senior Emily Bailey scored six points and junior center Olivia Starks kicked in four, as the Eagle Indians were behind 12-11.
Hermiston felt a groove in the second quarter with a 21-9 run, using a variety of shots to carry a healthy 33-20 lead to the locker room.
"They came out pretty much on fire," said TD coach Craig Compton. "They were hitting 3-pointers and we were trying to run a zone because we could not match up with them in man, so it put us in a tough situation. We just couldn't rotate when we needed to and they were able to make shots from all over the floor."
Unfortunately, the Eagle Indians could not muster enough of a comeback charge in the final 16 minutes to dip into the Hermiston lead. The Bulldogs ended the game with a 24-14 edge to seal their third win over the Tribe. In those three wins, Hermiston has averaged a margin of victory of 13.3 points.
For TD, Starks wound up pacing the offense with 10 points, and Bailey netted eight.
Now that the regular season is in the books, Compton emphasized that there is still so much to play for, as TD remains five wins from a state championship.
This is definitely an attainable feat for an Eagle Indian team that has marquee wins this season over the likes of Cleveland, West Salem, Aloha, Southridge and Pendleton.
"We've got to learn from this game and move on and get ready for next Friday's game, for whoever we play," said Compton of next Friday's state sub-round home contest. "The best thing for them is to have short-term memory and move on, and know that we played well enough through this season to put ourselves into the sixth or seventh seed. We have to be ready to go on Friday night."
With two days off until four days of rigorous practices in preparation for Springfield or South Albany (matchups will be announced Tuesday), Compton said the focus of the coaching staff is to fine-tune the rebound game in order to limit second-chance opportunities.
"I am hoping that they take away what they can do extra or whatever they can do to help this team win more games," Compton added. "It is a rebound here, block out there, taking care of the ball and those types of things."
Although Friday's outcome was not exactly the senior night sendoff she expected, Bailey is confident in her team.
This squad is still young in many aspects and they have maximized their potential thus far.
"We definitely have all of the parts to get where we want," Bailey said. "The young girls have not been in this position close to the playoffs or anything, so they don't know what it is like. It is our job as the older girls to give them confidence because we need them to step up, so we can get where we want."
At several points during the season, players such as Katie Conklin, Iliana Telles, Kailin Hoylman, Morgan Goslin and Brooke McCall have shown an ability to make the hustle plays that matter in the final outcome.
With her mature mentality, McCall is not looking past Friday and the possible notion of securing an Elite-8 berth in Eugene.
It is about every component on the roster playing their role and executing when given the chance.
"This is a really good group of basketball players," McCall said. "Most of us have been playing with each other since we were little. I think that we can really bring it together and play as hard as we can, so we can get to the point of playing our best when the games are important."