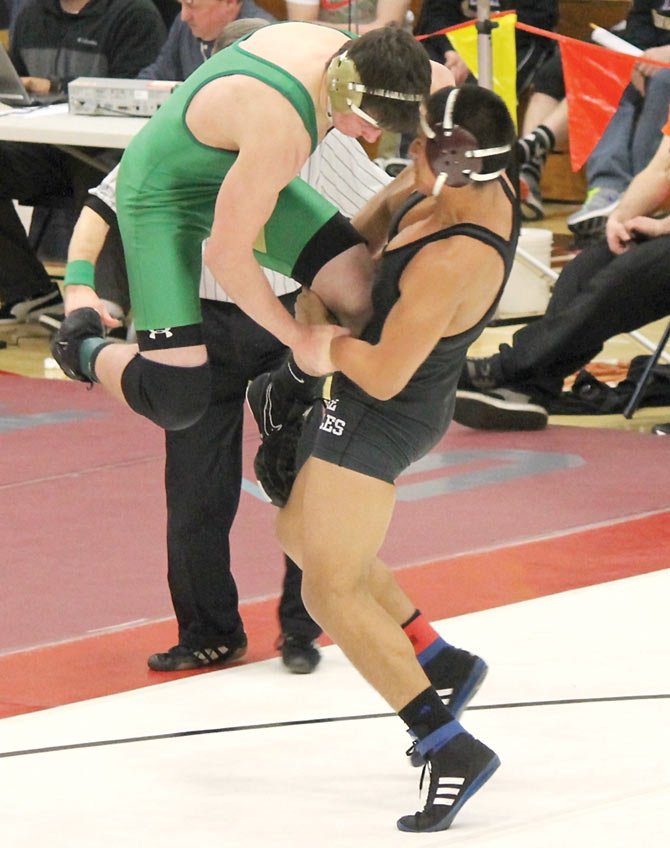 As the sun rose Saturday morning, The Dalles wrestlers Eric Morales and Joe Linebarger were still in contention for podium slots in the consolation rounds after one day of OSAA/U.S. Bank/Les Schwab state wrestling action at Memorial Coliseum in Portland.
While Morales and Linebarger were hitting the mats, sophomore Mitchell Waters put up a valiant effort in dropping both of his 145-pound matchups.
From the get-go, Waters had a tough tussle against No. 1-seeded Tracy Pitcher, out of Mountain View.
Unfazed by matters, Waters staked control in the opening round with a pair of takedowns to grab the lead.
Pitcher battled back in the second round, picking up a reversal and pin at the 3:38 mark to move on.
Just like last week at regionals, Waters had the task of fighting through the consolation bracket.
However, the sophomore ran into Wilsonville sophomore Josiah Day, who notched a pin at 47 seconds in the second round.
Morales, a senior wrestling at 170 pounds, got off to a quick start in his tournament with an opening round 9-4 decision over Bend's Tucker Pies.
In his second match, Morales ended up losing to Sandy senior Devin White by second-round pin at the 2:53 mark.
Morales bounced back in his consolation rally with a second win, taking a 5-1 decision over Churchill senior Mike Monroy
The Tribe senior and two-time state qualifier, had a slim 1-0 lead on Monroy going into the third round, but in the final two minutes, he scored a reversal and a 3-point nearfall to take a 5-1 win.
Early Saturday, Morales entered quarterfinals with a match versus Silverton's David Horsey.
Linebarger followed the same path as Morales, alternating wins and a loss in three state matches.
The sophomore, wrestling at 195 pounds, secured a first-round state victory over Redmond's Zach LaCasse by a 5-1 tally.
Against Sherwood senior and No. 3 seed, Ryan Jurgens, Linebarger could not maintain his momentum in losing by first-round pin at the 1:29 mark.
With his season on the brinks, Linebarger had an even tighter match against his first consolation opponent from Summit High School, Noah Yunker, as he went into the final round with a 1-0 lead.
With most of the match played out with both grapplers on their feet, Linebarger found an opening with 15 seconds left in the final stanza and notched a takedown to add two points to his 3-0 win.
It will have been three times a charm for LaCasse and Linebarger in the consolation quarterfinals as the duo locked horns in the squared circle Saturday.
Linebarger had won the previous two by decision.