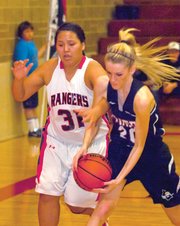 The Dufur Rangers embraced a simple, yet profound message to start their quest for a state championship – 'Why not us?'
Dufur outscored Perrydale in the first three quarters of play and held off a late charge to pull out a 49-40 win Friday in 1A state sub-round girl's basketball playoff action at Dufur High School.
For the first time since 2007, the Rangers advance to the state championship site in Baker City as part of the Elite 8.
It is an earth-shattering accomplishment in many ways for senior point guard Alexa Macias and fellow seniors Teneille McDonald, Sierra Gerber, Sammi Ghramm and Kelly Heemsah, who are making their first-career trip to the hoops Mecca Wednesday.
From the humble beginnings of off-season workouts, summer league games and team camps, the Lady Rangers have put some extra elbow grease in this accomplishment.
"We have worked hard. That is why we changed our team motto to 'Why not us?' 'Why can't we get there?'" said Macias, who scored eight points and dished off seven assists in the win. "I think it is about us believing in ourselves and believing in each other. We did that tonight. I am really happy with the team effort we gave. Everybody came out with the same mindset and did their best to help us get this win. I am so happy."
Up by 17-7 after one quarter and 32-18 at the half, the Lady Ranger lead swelled to 44-26 with six minutes and eight seconds left in the final period after a pass from Macias made it to Taylor Darden for a layup.
Perrydale then went on a 10-0 run on two 3-pointers and a layup by Cheyenne Locke and a driving layup from Sarah Nelson in a span of 3:44 to cut the lead down to 44-36 with 2:06 remaining.
McDonald sank a layup at the 1:52 mark to make it 46-36, but then Perrydale misfired on its next two possessions. Darden hit 1 of 2 free throws, the Pirates committed a turnover and Macias added two charity shots to run the lead to 49-36 with 52 ticks on the watch.
Locke and teammate Madison Perkins hit late baskets in the final 38 seconds to cut the lead down to nine points, but the game was already well in hand at that point.
"We missed some free throws (2 for 7 in the second half) that could have cut the lead a little bit more and we missed some shots, but the kids never gave up," said Perrydale coach Luke Lindell. "They never gave up. They scrapped and did what they could, but you have to give credit to Dufur, they earned the win."
Locke scored 14 of her 22 points in the second half to lead the Pirates, who drained 15 field goals and went 8 for 15 from the line.
Nelson tallied eight, and senior Sierra Grimsbo, who battled foul difficulties, was held scoreless.
Darden hit 11 of her 17 points in the first half, including a buzzer-beater to end a 17-7 run in the first quarter.
Ghramm had 11 points, on three 3-pointers, McDonald added seven points, and Hannah Harris chipped in with three points, as the Rangers had 19 field goals, five from long distance to go with a 6 for 12 split from the line.
"We had to come out with a lot of energy," Darden said. "These guys are a lot quicker than we are. We had to play tough defense and we knew we had to execute on offense and that is what we did."
After losing by 30 points to Condon-Wheeler in the Big Sky Conference title game, it seems like the rangers have flipped the switch at the right time.
The offense has averaged 50 points a game and the defense has held tough against two stout offensive teams holding them to 36.5 points.
What has been the biggest difference?
"I think we just realized what we wanted. It all came together at the right time," Macias said. "Everyone has gotten on the same page and that really helps. We wanted this more than anything, so we came out and worked for it. I am really proud of them for that."
Given injury issues earlier in the season to McDonald, Taylor Darden and a few others, there was some uncertainty in whether or not the Rangers had the adequate depth to overcome those elements.
As the season wore on, coach Hollie Darden has leaned heavily on a lot of less-experienced players to contribute a little more.
They have done so in a major way, leading the Rangers to 19 wins and a perfect Big Sky record.
"It is not about one or two girls, it is about this entire team," coach Darden said. "We would not be at this point without all 13 players on the varsity team that finished the season. They worked hard in practice. We talked about how everyone on this team is just as important and integral part of our success. These girls have taken on the mindset that it does not matter how many minutes, they play, they are going to come in and give it all of their might."
Dufur is scheduled to play St. Paul at 3:15 p.m. Wednesday in Baker.