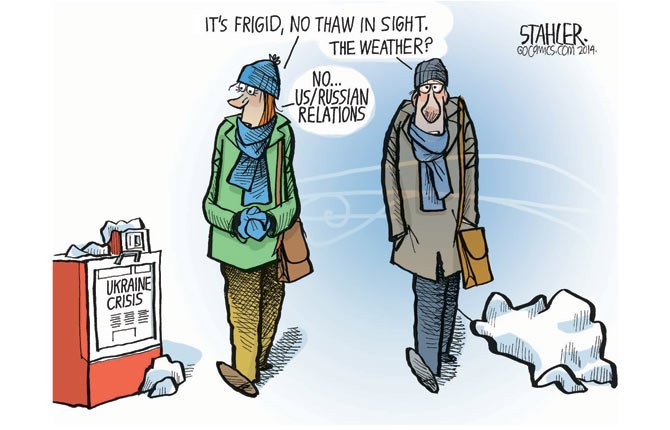 The United States and its allies are threatening to send Putin's Russia back into the frostbite of Cold War-style sanctions, if the Russian president doesn't back off his aggressive stance in Crimea.
At the same time, the Obama administration this morning promised a $1 billion energy subsidy package to Ukraine, plus training on financial and election institutions and anti-corruption efforts. And the U.S. could slap economic sanctions on Russia as early as this week. U.S. allies, President Obama has assured the Russians, won't be far behind.
The world has seen the ouster of quite a few strong-man leaders over the past few years. And quite a few of those ousters lead to full-blown civil war.
At this point, world leaders are being less timid than they have been in other nations. With a foreign government now occupying a portion of Ukraine's territory, they have strong reason to step out in unity this time.
While some of Obama's detractors — U.S. Sen. John McCain in particular — say the measures so far aren't strong enough, they aren't factoring in the devastating effect an economic sanction could have on Russia. European Union sanctions, in particular, could prove devastating.
Russia relies much more heavily today on world markets than it did during the last Cold War. Its leaders, including Putin, have money sunk deeply into non-Russian banks. The country could also suffer greatly if it loses big trading partners like Germany, which gets much of its energy from Russia, and sells many of its own products there.
Considering the decaying relationship between the United States and Russia over not only the Ukraine, but also Syria, Germany's Angela Merkel is the world leader best positioned to negotiate with Putin.
Any saber rattling on the part of the United States is more likely to incite action than deter it.
We've seen evidence that Merkel's talk with Putin may already be having an effect. The Russian president suspended exercises by 150,000 troops along the Ukraine border and ordered them back to base.
The fact of the matter is, the U.S. has no need to rattle sabers in this instance, nor does the European Union. The most powerful tool at their disposal is their economic power.
Russia's economy is struggling. The ruble is tumbling and financial sanctions could have a much more devastating effect than any military movement.
Russia's military might remains strong, but only if Putin can afford to feed and pay his troops.
At the moment, the Ukraine's most immediate problem is that its treasury has apparently been ravaged by ousted President Viktor Yanukovich. As much as $70 billion has been sent out of the country, according to reports from the new government.
The Russian troops in Crimea present another challenge. Though international law hasn't yet acknowledged it, Putin was able to grab territory from Georgia in 2008 by following the same playbook he appears to be drawing from in the current crisis.
The good news is that the international community seems less inclined to stand by and may soon bring the weight of its economic weapons to bear on Russia.