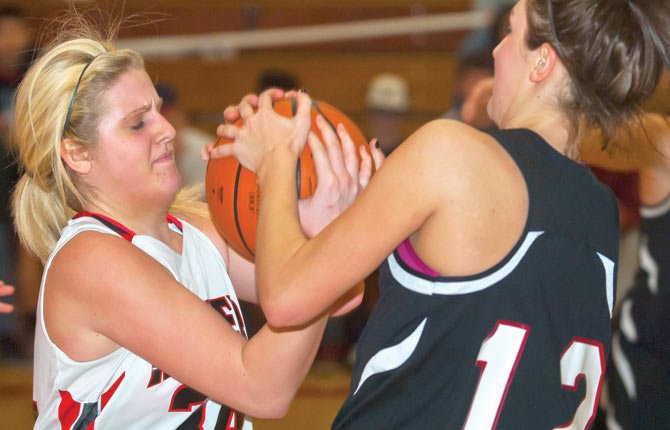 Just three wins remain.
The Dufur girl's basketball team is set to embark on a new journey, a trip no player on the roster has ever experienced before, and that the program has not enjoyed since the 2007 season.
Don't ask about nerves or apprehension, the Rangers have had a memorable ride to get to this point in the season with a chance to hoist some hardware in a weeklong tournament at Baker City High School.
"I am so proud. I am honored to be a part of this team," said junior forward Taylor Darden. "I love every single one of our girls. Our seniors are so excited and I am glad we were able to give them this opportunity at state. That was our goal. Obviously, we are not satisfied yet. We got a lot left, but that was our goal to get to Baker and we did it, so it is an awesome feeling."
In the past two state sub-round contests, wins over Cove and Perrydale, the Ranger offense has been clicking for 50 points a game with all of the elements adding some consistency.
"I cannot say enough about the work that these girls have put in," said Dufur coach Hollie Darden. "Nobody in the state deserves to go to Baker more than these girls do. They have worked extremely hard during the season and in the off-season. This has been my favorite team to coach because of what they have given me as players."
The Rangers have a good draw in the state tournament with an opening-round matchup at 3:15 p.m. Wednesday versus St. Paul, out of the Casco League.
The two teams played earlier this season on Feb. 3, with the Lady Buckaroos (18-11 overall record) taking a 45-41 comeback win.
While there have been some previous head-to-head matchups, coach Darden said his team has taken the approach of adopting a mentality that they are starting with a 0-0 record.
"We are focusing on taking it one game at a time, trying to give our best effort each time we come out on the floor," the Ranger coach said. "We want to come out and maximize our opportunities and give it our best."
If Dufur (21-7) happens to advance to the quarterfinals, they would have a day off and play the winner of No. 1 Condon-Wheeler and Crane at 1:30 p.m. Friday.
Macias said the group is not satisfied with just extending their basketball season by one week.
"We still have a job to do and I think everyone knows that, so I am excited to see what we can do," Macias said. "We are the same team, but we are all on the same page working hard. We just need to go out and play our game and not worry about things. We will go out there and have fun to end on a good note."
In the bottom bracket, Prairie City plays Triangle Lake at 6:30 p.m. Wednesday, and Country Christian battles Damascus Christian at 8:15 p.m.
The losers of Wednesday's contests play Thursday at 9 a.m. and 10:45 a.m., and the winners play Friday at 1:30 p.m. and 6:30 p.m.
The fourth and sixth place game kicks off at 9 a.m. Saturday. At 1:30 p.m., teams play in the third and fifth place matchup.
The 1A title game starts at 6:30 p.m. Saturday.
"We have to come out and play as a team like we have in these past two games," said Taylor Darden. "We are just playing together. It feels like everything is clicking. We have to realize that the journey is not over. We got to play with a lot of momentum and play every minute like it is our last."