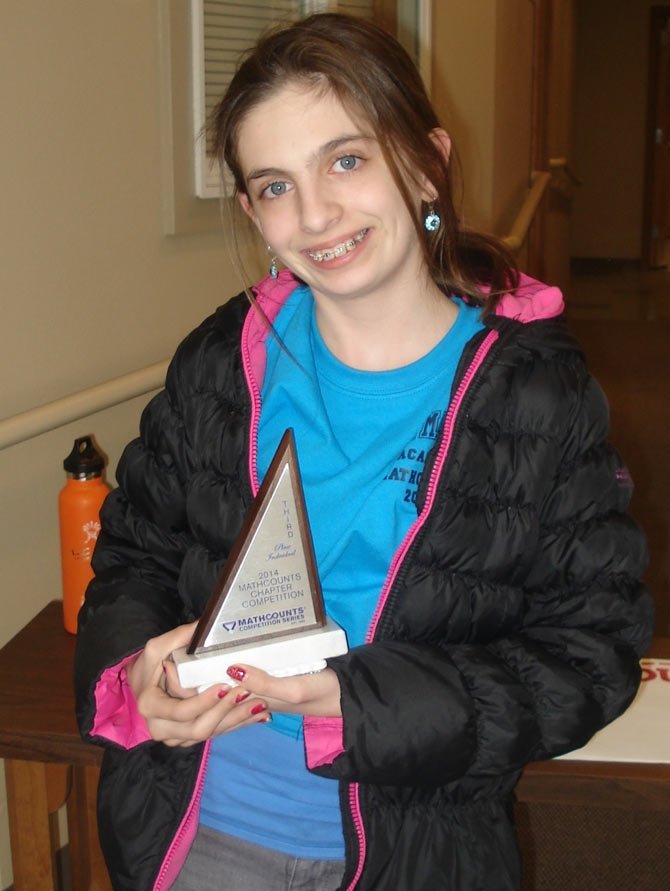 On a recent sunny Saturday morning in Redmond, 45 kids from six schools gathered to test their math prowess in both team and individual competition at the annual Central Oregon Chapter Mathcounts competition.
Gilly Wolf, a seventh grader at St. Mary's Academy in The Dalles, emerged with a trophy for third place in the individual competition.
In a Jeopardy-style round, where questions were posed to the group and the first competitor to get it correct got a gift certificate, three others from St. Mary's took prizes: seventh graders Blake Kienlen and James Pashek, and eighth grader Bill Burns.
The two-hour competition on Feb. 21 had three phases: a first individual round where calculators were not allowed, a second round where they were, and then a team competition.
The official four-person team from St. Mary's, whose members won their spot based on test results, included Wolf, Burns, and eighth graders Lily Ontiveros and Grace McLoughlin.
A second team of individual competitors, who won their spots based on attendance at weekly Mathcounts meetings, included Kienlen, Pashek, seventh grader Marena Decker and eighth grader Markas Pierce.
The Mathcounts program at St. Mary's, run by parent volunteer Traci Waddington, runs from September through February.
"I love doing Mathcounts with these kids, it helps them build confidence and become more comfortable with a subject that they will use for the rest of their lives," Waddington said.
At the competition, if top individual placers were also part of the winning team, they were not given individual trophies, so as to allow more students to collect a prize.
Wolf said the competition "was OK. I had to do math all day – so there was that. But it was OK. It was fun." She acknowledges she's good at math, but said her career goal is to be an author.
When it came time to start the competition, parents and coaches were shooed out of the testing room at the Redmond Public Works building. Then the kids got down to business.
Afterward, as their tests were being scored, the kids noshed on pizza and heard from Rod Ray, Ph.D., and CEO of the competition's main local sponsor, Bend Research. The event is also sponsored by the Professional Engineers of Oregon.
Ray said math was a language, and one that was spoken across many disciplines. He pointed to a support beam and the ceiling in the room they were sitting in, and said math was used in the structural design of the building, to ensure the roof wouldn't collapse under the weight of snow.
Tom Headley, the coordinator of the competition, later told a reporter his own work as an engineer involves building with cement and concrete. "Everything over our heads and under our feet is calculated by engineering and science."
In his short talk, Ray posted slides of patterns in nature – from wave-like cloud formations to the fractures in dried mud to the way a water droplet separates from a stream of water – and said each pattern could be explained mathematically.
The students at the competition also performed impressively in the non-scored Jeopardy round, done for prizes, with hands darting up within seconds of a complex problem being posted on a screen.
For James Pashek, that was his favorite part of the competition. "My mind is very fast paced so it just worked out better for me," he said. Pashek plans to be an architect, which involves "a lot of geometry and also algebra."
Pashek also liked the "good insight" from Rod Ray, who encouraged students to repeat in college any math and science classes they took in high school and earned college credit for. "That's what I plan on doing," he said.
Lily Ontiveros said she wants to be "some sort of scientist" when she grows up. She enjoyed the fact that the competition "didn't seem very stressful, I didn't get very nervous." She also enjoyed learning about the patterns in nature.
She also appreciated all the help from the adults who volunteered to organize and staff the event. "It was cool that all the people wanted to help young'uns learn math."
Grace McLoughlin, who plans to be a nurse, said she liked the guest speaker. "He had really interesting information."
For Marena Decker, who doesn't have career plans yet, the best part of the competition was the team segment. While most school work is a solo endeavor, for this event, she enjoyed "working together with people you know."
Blake Kienlen, who plans to join the U.S. Army, doesn't plan a career involving math, and said the best part of the event was "probably getting done with the test."
In the same vein, Markas Pierce, who plans to make board games for a living, said the highlight of the event for him was "the pizza." Like Pashek, Bill Burns also plans to become an architect.
"It was interesting," Burns said. "The test itself was hard. It was neat to see how math could be used in seeing stuff around you in nature."
Mathcounts, online at www.mathcounts.org, is a national organization for grades six through eight, funded by major private engineering and science firms like 3M and Texas Instruments as a way to not only make math fun and engaging but also is effectively a talent search to find the most brilliant young mathematical minds across the nation through math competitions like the one held in Redmond.
The top team and top two individuals from the competition advanced to the state competition being held this month.
The St. Mary's team traveled the farthest for the competition. Other schools were in the Bend-Redmond area, and included Crook County Middle School, Jefferson County Middle School, team winner REALMS Charter School, Seven Peaks School and St. Francis School.