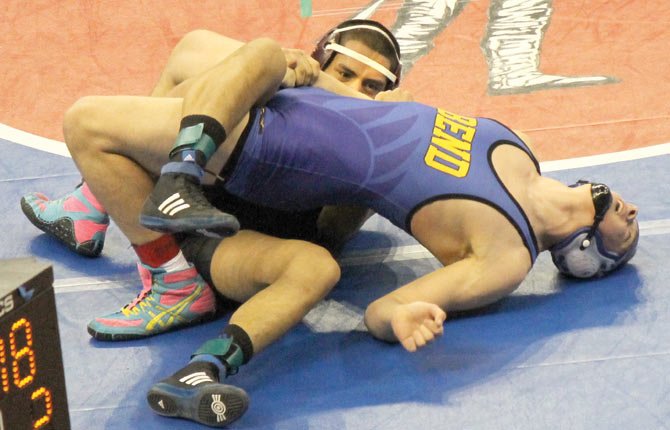 With Eric Morales and Joe Lineberger in the consolation quarterfinals, all they needed was one win to earn a spot on the podium.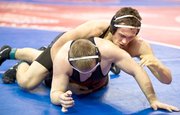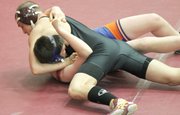 Morales fell one win shy, but Lineberger secured one win in his final three matches to pick up sixth-place honors Saturday on the second day of OSAA/U.S. Bank/Les Schwab state wrestling action at Memorial Coliseum in Portland.
Up first for the sophomore Linebarger at 195 pounds early Saturday was a matchup against Dallas High School senior and No. 4-ranked wrestler, Caleb Naughton.
The Tribe wrestler fell behind on the scoreboard by tallies of 4-0, as Naughton staked control with a two-point takedown and a two-point nearfall.
Linebarger rebounded with two points to inch to within a 4-2 deficit entering the second frame.
Both grapplers fought to a standstill in the second round, with Naughton adding one point to his total to go ahead 5-2 with just two minutes left in the match.
Linebarger picked up an important point to start the final stage down 5-3.
A hard fight between this duo took place on their feet with both wrestlers working hard, but they were each unsuccessful in takedown attempts.
With 45 seconds remaining in the match, the Eagle Indian scored a key double leg takedown to tie the match 5-5.
Just 13 seconds later Naughton broke the deadlock on an escape for a point and a 6-5 lead.
As time was running down and Linebarger's podium shot dwindling, Naughton tried to stall out the clock by hanging heavy on Linebarger's head, thwarting all of his attempts to score a decisive takedown.

Still behind on the scoreboard by one and with seven seconds left, Linebarger saw his chance and exploded for a takedown try by attaching himself to Naughton's legs to score two points and take the lead with just five ticks left on the watch.
The TD sophomore easily rode out the rest of the match to advance to the consolation semifinals with a 7-6 decision and most importantly, secure his place on the final podium.

"This was a huge turning point for Linebarger," said TD assistant coach Chad Sperry. "It is truly the first time I have seen him have the poise and confidence under tremendous pressure to execute his takedowns and come out on top. You could see his level of confidence increase as we continued on through the state tournament with each match getting better and better."
With at least sixth place in the books, all that stood in front of Linebarger and third place was two wins against highly regarded athletes.

His first match was opposite No. 3-ranked Ethan Pomeroy, of Eagle Point.
Pomeroy proved to be a difficult nut to crack, as tough feet and strength thwarted all of Linebarger's shot attempts.
As the match wore on, the two wrestlers exchanged points with Pomeroy scoring takedowns and Linebarger adding escapes, but the Eagle Point sophomore and No. 4 seed held on for a 7-3 decision.
This loss put Linebarger in the fifth and sixth place match where he would square off versus Wilsonville senior, Justin Hamilton.
There had been some previous history with this tandem at the Hood River Elks Tournament in January where Hamilton secured a first-round pinfall at 29 seconds.
Both wrestlers had gone through the meat of their bracket in two days, so energy and enthusiasm were at a premium.
With 20 seconds left to go in the match, Linebarger broke ahead by a 5-4 margin off two takedowns and an escape. Unfortunately for the TD sophomore, he was whistled for locking hands and was given a one-point penalty, followed by a Hamilton escape in what turned the tide in a season-ending 6-5 loss.

Even in defeat, Sperry took pride in seeing a sophomore athlete grow up before his eyes.
"While it was disappointing to see Linebarger come so close and fall just short in his last match, it is still a huge testament as to the improvement he has made over the course of the year," Sperry said. "Just six weeks ago, his final opponent had gone out and crushed him in 29 seconds and now he was going toe-to-toe with the senior from Wilsonville and pushing him to the very end."
The future appears bright for a deeper run and additional podium visits over the final two campaigns.
"We look forward to what he will do next season if this is any indication of his rapid improvement," Sperry concluded.
Coming off a 5-1 decision on Churchill senior Mike Monroy, Morales (170 pounds) had a bit of momentum entering Saturday's action with his first match scheduled against No. 5-ranked David Horsey, of Silverton, a wrestler who had a 31-6 record.
Horsey wound up gaining an earlier advantage in this matchup, however, using a first-round pin at 53 seconds to move on and end Morales' season.
The Silverton senior lost his next match and notched fifth place.
Morales could be seen as a driving force behind the upsurge in the Eagle Indian program for head coach Greg Burkart.
His attitude and work ethic are what helped raise his wrestling acumen to a higher level.
Sperry appreciated the effort Morales put in to his craft for this season and his years with the program.

"(It was) a bitter end to a tremendous high school career," Sperry said of Morales. "Eric was instrumental in helping to rebuild the wrestling program being one of the few wrestlers in recent years to qualify for state in back-to-back years."