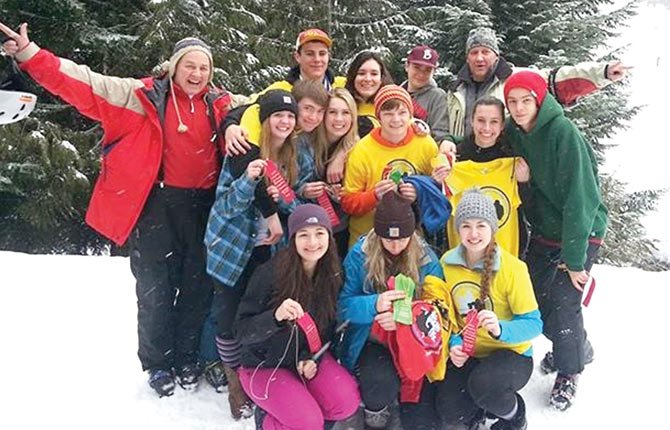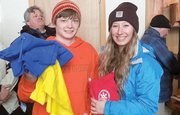 This week, members of The Dalles Ski Team have been thoroughly determined to put their best foot forward while competing against the best in the state for a chance to hoist some hardware.
Last Saturday at Mount Hood, several athletes on the varsity squad were rewarded with ribbons and given other accolades for outstanding seasons at the Mount Hood Ski League Awards ceremony.
Eagle Indian standout Eli Holeman competed in five events this season and amassed 326 points for his efforts in slalom and giant slalom to chalk up second place behind Hood River Valley's Austin Keillor (480).
William Lamer, of Hood River, placed third with 298 points, Gateway's Alder Crammond (172) reeled off a fifth-place outcome and Cleveland's Jay Raitt (170) chalked up sixth.
Holeman had 160 points in two slalom runs, and he added 166 to his slate for three giant slalom matchups.
Also on the boy's side, senior Mark Johnson nabbed fourth place, with his best outputs coming in giant slalom, as he tallied 121 points for three runs.
Although he did not rack up enough points in both events, Preston Klindt forged forward in slalom where he had 52 points for a ninth place tie with Johnson in the 31-racer field.
The Cordell sisters, Bailey and Carsen, had one of their best seasons on the slopes in a final campaign ending in top-6 finishes.
Bailey Cordell secured fourth place in the rankings with 230 points and final times of nine minutes and 29.23 seconds, as she posted her best marks in giant slalom with 141 points.
She ended up just four points behind St. Mary's Academy skier, Zoe Rischitelli (145).
Hood River Valley's Lucy McLean completed the clean sweep with 480 points. Her four first-place outputs during the 2013-2014 campaign accounted for the majority of her impressive ski numbers.
McLean's teammates, Kelli Clarke (280) and Korey Cimock (260) rounded out the top-3.
Carsen Cordell picked up sixth place overall where she had 141 points combined. Cordell's numbers are swayed a bit due to not participating in one event, where a good finish could have vaulted her to sixth place in giant slalom and fifth overall amongst the 52-person field.
Head coach Jeff Cordell took pride in this performance.
"This is the strongest finishing team that we have had since the late 1990s," the coach said.
In addition to the skiing accomplishments, six athletes chalked up sportsmanship recognition.
That esteemed group is headlined by Carsen Cordell, Timarra Roth, Susanna Talenti, Griffin Martin, Preston Klindt and Eli Holeman, who were rewarded for their actions on the course.
Bailey Cordell and Johnson each won the coveted sportsmanship awards as well.
"This is voted on by all the race official and team coaches, so it is quite an honor," coach Cordell said of Bailey and Johnson's nominations.
While it is nice to see his skiers draw high praise by their peers, coach Cordell is eyeing a brighter future with many young names establishing good building blocks for the future.
"It takes awhile to learn the sport. Every year, we are getting different kids maturing and learning to ski faster," coach Cordell said. "The freshmen are doing well, but it will take them a few years to start finishing competitively in this league."
Starting at 9 a.m., the Eagle Indians hit Mount Hood Meadows again for the OISRA state championships Thursday and Friday.
With this latest affirmation, coach Cordell is looking ahead to what could transpire under the pressure of state competition.
"This year, we have Mark Johnson and Carsen, who are starting to really nail the courses. They are coming on very strong," the Eagle Indians coach said. "Bailey came on strong last year and Eli always does a good job out here."