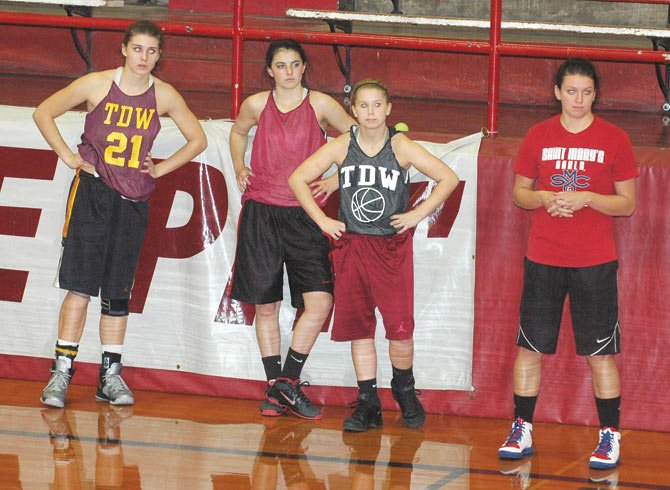 With an opportunity to earn a trip to the big dance next week in Eugene, No. 7-ranked The Dalles has its focus set on a 5A state sub-round home matchup at 7 p.m. Friday night versus Corey James, Ali Nelke and the No. 10 West Albany Bulldogs.
With a group of eight juniors, a senior and four underclassmen, the Bulldogs are coming off an opening round 64-38 win Tuesday at home to Roosevelt.
In the past two games, West Albany (14-11 overall, fourth place in the Mid-Willamette League) has found its offensive stroke, averaging 67.5 points a game, 48.4 for the season.
When they score 55 points or more, the Bulldogs are 8-2.
They will go up against a TD defense that is a perfect 10-0 when opponents score less than 33 points, with six of those wins coming in the friendly confines of Kurtz Gym.
One point of emphasis put out by TD assistant coach Craig Compton is playing strong enough defense to limit West Albany's perimeter chances, an area they excel.
"We will need to cover the three-point line in transition and limit their second-chance points," Compton said.
In addition to James and Nelke, the Bulldogs have Rylee Wetmore, Kyla Duvall and Saylor Siegner on board to score points.
In Tuesday's 26-point home win over Roosevelt, that trio racked up 20 points to support the team-high 14 dropped by James.
The Bulldogs were able to establish early momentum in the opening quarter by using its full court pressure defense to force 12 turnovers and run out to a 21-3 lead.
Compton needs his team to keep its spacing and passing skills in tune to try to break down the tough Bulldog defense.
"We need to control tempo and stay under control against the full court press," the Tribe coach said. "They also play a 2-3 zone and transition well looking to shoot three-pointers."
On the season, the Bulldogs are 8-2 at home and they struggle a bit on the road with a 6-9 record, including a 2-5 split in their last seven games, with those decisions coming against Woodburn and South Albany, two teams with a combined 9-36 record.
Led by former Columbia River Conference Player of the Year, Emily Bailey, Olivia Starks, Iliana Telles, Katie Conklin and Brooke McCall, the Eagle Indians enter action with an 18-5 record and a second place outcome in league play.
TD is 6-4 in its last 10 games, but have hit a bit of a rough patch of late as loser of three of their last four games, two to No. 3 Hermiston, with an average margin of defeat at 12.3 points.
Blessed with an ability to score points, the Tribe has notched 46.7 points a game in the last 10 matchups, a drop of 4.3 points off the season total. When the offense is clicking, TD boasts a record of 10-1 when it scores 55 or more points, the only loss on Feb. 21 in an overtime loss at home to Pendleton.
That was only the Tribe's second home loss of the 2013-2014 campaign (6-2 overall), a place where the average score is 46-31.
Numbers and records aside, the Tribe is playing with a sense of urgency to try to take another step in the right direction.
All that stands in the way is 32 minutes of playoff basketball action — for a chance to extend the season another week for a shot at a championship.
"We have to be ready to go on Friday night," Compton said.