Second of two parts. See Part 1, Ranchers: wolf trouble, published in Tuesday's Chronicle.
Oregon wolves
Oregon Department of Fish and Wildlife photo and video galleries are available.
The first wolf sighting in Oregon in decades was a female tracked in 1999 from Idaho to the middle fork of the John Day River, about 80 miles east of The Dalles. She was darted, caged and returned to her home state.
Other wolves followed her lead and the state now reports 64 wolves in eight established packs. The packs are: the Walla Walla, Umatilla River, Imnaha, Mt. Emily, Minam, Snake River, Wenaha and one pack not yet named.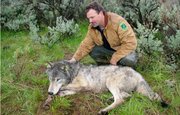 A matter of time
To date, Oregon's packs have been concentrated in the northeastern region, although that picture is expected to change, said Jeremy Thompson, district wildlife biologist who works out of ODFW's office in The Dalles.
He said individual wolves break away from a pack and wander large distances to find their own territory and a mate. For example, a collared 2-1/2-year-old male entered California in 2011 after traveling from northeast Oregon. Tracks of a lone wolf have also been found on the east slopes of Mount Hood, although there has been no actual sighting so it is unknown if the animal was just passing through or is still around.
"There have been sightings throughout the state and we try to investigate anything that seems like it has potential," said Thompson. "We all recognize that, at some point, dispersal will come into the local area."
Thompson said Central Oregon does not have as many deer and elk herds as the eastern edge of the state so there is less likelihood that a major wolf population will establish in the area. However, because of the distance they cover when hunting, there could be packs in the Cascades that hunt the grasslands, he said.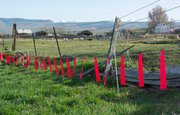 Action now may reduce impact
If livestock kills are reported in the area, the US Fish and Wildlife Department will take the lead in the investigation, with ODFW assisting. Both agencies are coordinating with Wasco County Chief Deputy Lane Magill and Keith Nantz, president of the North Central Livestock Association, to train deputies to investigate and confirm kills. Kills are investigated as crime scenes, and confirmation a wolf kill can help landowners receive compensation or a tax credit for the lost animal.
Russ Morgan, statewide wolf coordinator for ODFW, is working to educate ranchers around the state about the rules that are in place to protect wolves and what they can do to prevent depredation.
It's important for ranchers to clean up bone piles of livestock that has died due to disease or a health problem, he said. Wolves have a keen sense of smell and can pick up the scent of a carcass from far away. He said they scavenge on dead animals if provided with the opportunity and can be drawn to an area by unburied carcasses.
"You want to get rid of any attractant that is going to bring them near livestock," he explained.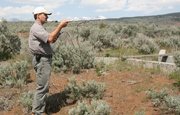 Predator interaction studied
Morgan has also begun a study in partnership with Oregon State University to gather information on the interaction of wolves with cougars. There are more than 6,000 mountain lions across the state and research over the next several years will also seek to determine what effect the presence of two predators has on deer and elk herds in eastern Oregon.
Twelve wolves are currently collared in Oregon and Morgan said their movements, and those of collared cougars, will be monitored to see what happens when they make contact and if cougars withdraw once wolves take over a territory.
"As wolf numbers increase, it will be important to understand their impact on other predators and on prey populations," he said.
As of Oct. 10, 2013, ODFW reported that 81 livestock or domestic animals had been killed or injured by wolves since they took up residency in the state. Morgan said the number of confirmed kills in 2013 was 13, which is higher than eight confirmed in 2012 and about the same as kills in 2011.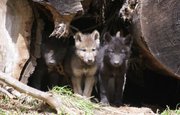 "We're still at a fairly low number in Oregon but, as [wolf populations] expand, their potential for depredation expands," he said.
The majority of kills have taken place in Wallowa County, where Todd Nash, chair of the Wolf Committee for the Oregon Cattlemen's Association, has a 650-head herd in Enterprise. He and other ranchers now patrol their property to fend off attack.
They are also spending time and money on other prevention measures, such a guard dogs, electric or flagged fencing, and radio-activated boxes that emit a noise when a collared wolf approaches. In addition, they move cattle more frequently from one range to another in hopes of making it more difficult for wolves to hunt the animals.
Yet they continue to see predation by wolves, and believe animals that have learned to kill cattle should be removed.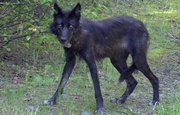 Wolf status under review
John Stephenson, wildlife coordinator for U.S. Fish and Wildlife, said his agency is now taking public comment on a proposal to de-list wolves in the Northwest and other states where they reside. The Mexican Gray Wolf in New Mexico and Arizona would still be listed because officials have determined it is still struggling to establish a foothold.
"The feeling is that we've gotten wolves back from the edge of extinction so most states can now manage their populations," said Stephenson.
Stephenson said a hunt could be arranged on the western side of the mountain if a wolf pack becomes responsible for "chronic depredation."
"We would take things on a case-by-case basis," he said.
He said a decision on that issue is expected to be made by the end of 2014. However, Defenders of Wildlife, Oregon Wild and other groups have stated their intent to challenge any change to existing rules in court.
ODFW could begin the process to delist wolves in Eastern Oregon by 2015, when there are expected to be four verified breeding pairs, two adults and at least two pups.
If wolves are delisted on the eastern side of the state, protections could continue in western Oregon until the populations there also reach four breeding pairs for three years.
Oregon plan approaches renewal
Next year the Oregon Wolf Conservation and Management Plan, adopted by the Fish and Wildlife Commission in 2005, has its second five-year review.
Nash said that while pro wolf groups are well represented at the state level, it is important for state officials to hear from ranchers and citizens who believe there should be more balance within the existing rules.
"We can't live with this wolf plan, as it's written," he said. "We need people who think an injustice is being done to get involved so state officials aren't just hearing from conservationists and people who live in large metropolitan areas."
A Rancher's Life is a year-long series by reporter RaeLynn Ricarte and photographer Mark B. Gibson of The Dalles Chronicle. Here are the stories so far:
A Rancher's Life and A 'big picture' outlook started the series January 25, 2014.
All in a Day's Work and Moving cows is just the beginning were published February 12, with Weathering the storms. An audio slideshow, Working cows, was also published in February.
March started with a look at wolves in two parts, Wolf trouble and Wolves on the move. It continues with Springs promise, a look at calves and spring on the ranch.
An editorial, "More defenses needed," wrapped up coverage on this issue.
May started with the story exploring the trouble faced by one ranch, whose story is told in new feature-length movie screened locally in Hood River. One family member currently lives in The Dalles, and in "A Place to call Home" she tells her story.
May also featured multiple stories addressing the issue of public grazing, an issue researched by reporter RaeLynn Ricarte for over four months. The issue is first explored in"Battle rages over grazing rights." Much of this battle has been fought in court, and "Taxpayers foot the bill of resource lawsuits" explores one aspect of this battle. Additional stories followed: Seeking balance on our public lands, A place for cattle, Activist disputes accusation of fee gouging, An embattled system,and Walden: Scrutiny need on species regulation.
The May presentation ended with an editorial expressing the need for public grazing in the western states, Resources to Thrive.
A special section, Farm and Ranch, further broadened and expanded the series in June. it is available as a .pdf document: Farm and Ranch.
As July brings hot dry weather, it's a great time to explore the impact water, and a lack of water, has on the ranch community. Water is a precious commodity in Eastern Oregon. Ditch walker Sam Cobb is in charge of how the water in water stored in Rock Creek Reservoir is distributed in the article "Ditch Walker: Water is gold, here"
In August, the second edition of Farm and Ranch explored the stories and people behind some of the brands in the region.
Water issues were further explored in August, with three-part presentation:
State and federal rules water rules impact ranchers throughout the region. Water dispute boils explores state regulations and how they impact ranch operations. A related story looks at a study launched by ranchers working with OSU to study water issues in arid and semi-arid lands.
Federal proposals to change or clarify what waters are under federal jurisdiction has many agriculturalists worried, and represents yet another clash over water.
Locally, efforts are being made to work collaboratively to improve water quality on 15-mile creek for both fish and farmers. The creek is used for irrigation.