I don't need to worry about identity theft because no one wants to be me.
— Jay London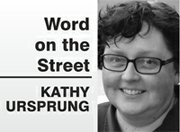 Hacked off: I was pondering what book to read to lull me to sleep last night when I had the random thought, "Gee, it's been a few weeks, I wonder if my tax refunds had arrived yet?"
I logged on to my checking account website and found, happily, they had. Sadly, I also discovered charges from motels in Grand Coulee, Wash., and Spruce Creek, Pa. I hadn't made them. Neither had my husband. I was suddenly wide awake, realizing I was the victim of identity theft.
Within moments, I was on the phone with my bank's 24-hour customer service rep, reporting the crime and cancelling my check card. The charges were a little more than $400, and could have been so much worse. The bank rep launched an investigation and told me it would be a few days before they could restore the money. He also shared a little information about the biggest vulnerabilities for credit and debit cards. They weren't anything new to me, but well worth a reminder to everyone.
The Internet, of course, is the biggest vulnerability. Whenever you order something online, you run a risk. Also, he said, gas station pump terminals are a risk.
It's no more than a moment's work for an identity thief masquerading as a service technician to install a reader that collects card data on gas pump terminals, collecting weeks worth of personal data. The safest alternative is to have the card run inside at the station, not at the pump.
Since I've been buying gas only in The Dalles over the past few months, and haven't been buying anything on the Internet with my check card, that suggests someone out there may be running around with some of your information, too. So check your accounts to make sure you aren't unknowingly headed to Grand Coulee or Spruce Creek.
Another recommendation: Use a separate credit card for these kinds of purchases — something with a low limit and no access to your other bank accounts.
Learn from someone who's been there: How to Grow and Sustain a Healthy Business is the topic of a free presentation Thursday, March 6, from noon to 1 p.m. at the White Salmon Valley Community Library with guest speaker Carola Stepper of Cascade Acupuncture Center, LLC.
Learn how a former nurse turned her passion into a thriving business. In 2005, Stepper started her business in Hood River with no business training. She worked hard to learn how to grow and sustain a healthy business and by 2013 she had three locations and 14 employees.
The workshop will review 12 topics and resources that apply to any business.
Register at the Mt. Adams Chamber of Commerce, at 509-493-3630.
Coffee by any other name: The Dalles Area Chamber of Commerce is looking for a new name for its Coffee Connection networking event.
They want to have something that represents the event and The Dalles.
Ideas can be emailed to Lisa Farquharson at lisa@thedalleschamber.com.
Efficient ideas: The Bonneville Power Administration is looking for partners to develop, advance and demonstrate technologies that can improve the operation of the Northwest electric power system through breakthroughs, increased efficiencies and avoided costs. BPA's Technology Innovation Office is accepting proposals for its 2015 research and development portfolio until March 27.
"We're looking for new concepts and technologies that can address operational gaps and challenges," said Terry Oliver, BPA's chief technology officer.
BPA's current research portfolio includes 38 projects in topic areas such as climate change, data mining, demand response, dynamic transfers, energy efficiency technologies, energy storage, hydrosystem modeling, and voltage stability and damping controls.
If you have questions about the submission process, contact Matt DeLong, financial assistance officer, at mldelong@bpa.gov or 503-230-7549. To learn more about the research topic areas, contact portfolio manager Sheila Adel at sabennett@bpa.gov or 503-230-3152.
Employer council: The Oregon Employer Council State Conference for Business, an annual event, will be held on Monday and Tuesday, May 5 and 6, 2014 at Seven Feathers Casino in Canyonville, just south of Roseburg.
The State Conference offers keynote speakers and breakout sessions on human resources, labor law, and business topics, as well as opportunities to network with businesses from around the state. There are over 20 HRCI credits pending for this state conference.
Early bird registration for the state conference is $299 per person, or $329 after March 28. To register or for more information, contact Greg Ivers at 503-947-1305 greg.e.ivers@state.or.us. Agenda and all forms are available at www.oec.org.