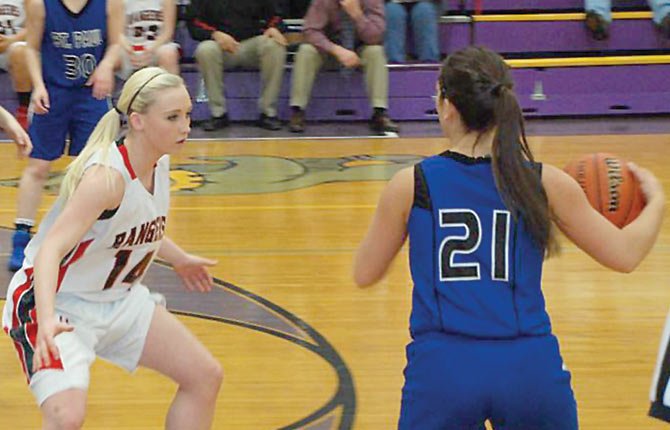 It was a tale of two halves.
For the first two quarters, Dufur shot 50 percent and led by five points, but St. Paul clamped down in the final 16 minutes to hold the Rangers to 4 of 22 in a 25-11 run in a 42-33 first-round win Wednesday in OSAA/U.S. Bank/Les Schwab state girl's hoops action in Baker.
"They are a man-to-man defensive team and with that, we weren't able to get the wide-open perimeter looks when we play against zone defenses," said Dufur coach Hollie Darden. "We also had a tough time with their size and could not hit shots. It was a combination of those things."
The Rangers used the opening half to go on spurts of 8-7 and 14-10 to lead 22-17 at the break, and they were in front, 29-28 entering the fourth quarter.
St. Paul pushed ahead with a 3-pointer and a layup by Remy Brentano to make the score 33-29 with five minutes and 32 seconds left in regulation.
On Dufur's next possession, Taylor Darden retrieved a pass from Alexa Macias and sank a jump shot to inch closer at 33-31 with 5:25 left.
However, that was the last field goal Dufur would hit in a span of 4:42 of the fourth frame, as they missed six consecutive attempts.
In that span, St. Paul padded its lead with a basket and a free throw, capped by a layup from Sara Pierson to swell the advantage to 38-31 with 42 seconds remaining.
Macias then hit a jumper to run the count to 38-33, and after a front-end free throw miss by St. Paul with 39 seconds left, the Rangers had the ball with a chance to creep closer.
Dufur missed its next two shots and the Buckaroos hit a pair of free throws to take a 40-33 lead.
After another miss, St. Paul forward Jessica Wilmes drilled two free throws with eight ticks on the clock to seal the win.
Macias paced the Dufur offense with 12 points and three assists, and Taylor Darden followed up with nine points and four rebounds.
The only other Ranger player to hit multiple field goals was Teneille McDonald, who added five points, five rebounds and a steal.
St. Paul Coach Michael Murphy said 5-foot-11 sophomore post Cassidy Merten played a big role for the Lady Bucks on defense, checking Dufur's talented post player Taylor Darden.
"I think Cassidy bothered Taylor a little bit because she has such long arms," Murphy said. "Taylor's a good player and we had to be aware of where she was all the time."
Murphy said his team's overall defense limited Dufur's open looks, especially in the second half when the Rangers shot 18 percent.
"We tried to get a hand in their shooters' faces whenever we could," Murphy said.
Merten had four points, a game-high 12 rebounds, two blocks and two steals.
Pierson led all scorers with 15 points, Brentano tacked on 12 and Wilmes dropped 10 points, five rebounds and a steal.
St. Paul shot 16 of 46 from the floor, and went 8 of 14 from the line, including a 6 for 9 split in the second half.
"Defensively, we did a better job of rebounding and getting to some loose balls in the first half," coach Darden said. "In the second half, we missed out on those opportunities. They got some offensive putbacks and we didn't cash in on the offensive boards."
In Thursday's game against Crane, McDonald scored 13 points and had nine boards, as the Rangers cruised to a 47-35 victory.
Dufur shot 48 percent on 20 for 41 from the floor for the game, and rode that streak for runs of 15-3 and 19-8 in the first two frames for a 34-11 halftime cushion.
Macias added 10 points, six assists and five rebounds and Taylor Darden was good for nine points.
Crane, who lost 67-34 Wednesday to Condon, shot 12 of 47 and had Claire Hammond lead with 11 points.
Teammate Bryanna Dunn tacked on eight points
Dufur plays at 9 a.m. Saturday for fourth place.