A bill allowing Oregon cities and counties to temporarily ban medical marijuana stores was approved by the House of Representatives March 5 and is awaiting concurrence from the Senate.
In 2013, the Legislature approved a bill allowing medical marijuana dispensaries statewide, but several local governments have already enacted bans or zoning restrictions on the facilities. House Bill 1531C would allow bans to be effective only until May 2015. The original bill called for a permanent provision, but House leadership revised the bill to have only temporary status in an effort to counteract objections in the Senate.
Allowing a temporary ban gives the communities "breathing room" to prohibit the new pot outlets while they decide how they want to go forward with regulating them, said Rep. Paul Hovey, D-Eugene, the Rules Committee's vice chairman.
The bill also gives dispensary owners who have paid the $4,000 fee to register their pot businesses an option to get a refund if their location becomes subject to a local ban. The state's pot dispensary registration website, which went live Monday, has already received nearly 300 applications.
As far as The Dalles City Attorney Gene Parker knows, no applications have been received for The Dalles. He briefed City Council on the subject on Jan. 27 and advised them that a watch-and-wait approach might be best.
Some cities have adopted laws
o ban the dispensaries either based on zoning ordinances or business license provisions that prevent issuing licenses to businesses that violate federal law. But Parker said he has received conflicting opinions from various legal authorities.
"Legal counsel for the League of Oregon Cities said we can take action, but the legal counsel with the state said cities don't have the authority," Parker said.
He also consulted the city's insurance carrier because there has been talk of litigation against cities that have adopted bans. And the carrier said there was a risk the cities might not prevail and the coverage might not include this kind of litigation.
"It felt risky for us to go in with an ordinance that is possibly not enforceable and possibly not have an insurance carrier to protect us," Parker said. "I recommended to the council that they just sit tight, and wait and see what happens with the state legislation."
The issue could come back to the council, Parker said.
At this point, however, marijuana dispensaries have been more of a non-issue in The Dalles. The council hasn't discussed or formulated a policy and, to Parker's knowledge, no one has applied to open one.
"I'm kind of surprised myself, in a way," he said. "I thought we might have someone pursue it, but so far we haven't."
Wasco County hasn't deliberated the issue of local controls either, but Commissioner Scott Hege, chair of the Wasco County Board of Commissioners, said he would expect the local board to support local controls.
He noted that YouthThink has been a strong opponent in Wasco County to marijuana use in its various forms.
"The counties in general are against marijuana use," Hege said.
Through the Associated Oregon Counties, Hege said counties have had a healthy debate over the issue and, whether allowed or not, they want to make assure local control "including taxation, if there is taxation."
According to the Oregon Health Authority, no applications for dispensaries have been submitted for Wasco County or Sherman County. Hood River County has one application.
Mothers Against Misuse and Abuse, which advocates drug policy reform based on personal accountability and informed decision-making, was founded in Wasco County. It operates three clinics, including one in The Dalles, where registered medical marijuana users can share and exchange marijuana as long as no money is exchanged. They also help people get registered as medical marijuana users.
But Executive Director Sandee Burbank says the nonprofit organization has no plan at this point to open a dispensary.
"The rules are so totally crazy," Burbank said. "You just have to see how they play out. It's a lot of money people are putting up just to find out if they can even be considered."
The application fee is $4,000 and $500 of that may be kept, even if the application is denied.
"Let's say I apply and 15 minutes later you apply only a couple of blocks away," Burbank said. "They take our money and give the dispensary to me, but deny you because you're so close. And they keep your money and you never know why you were denied."
Burbank said some people are already operating outlaw dispensaries and are stocked and ready to do business under the new law.
Burbank thinks a legal dispensary could operate without problem in Wasco County.
"It would just bring business to the area," she said. "People are going to have cannabis anyhow and the prices are going to come down. The black market is horrible. We could make a lot of tax money on it in this county."
Burbank said she expects the number of registered users to go up because more people will qualify for the discount under the Oregon Health Plan. Currently, full cost to apply for a medical marijuana card is $200. People on food stamps pay $60 and people on the Oregon Health Plan pay $50.
"Right now, a lot of people who actually qualify for the Oregon Health Plan couldn't get in the lottery and couldn't get the discount," Burbank said.
So more people will now have the opportunity to sign up. And the fact they may be able to buy marijuana, rather than growing it themselves, will encourage even more people to sign up, she noted.
The local ban bill has gained the support of the Associated Oregon Counties, League of Oregon Cities, Oregon Sheriff's Association, Oregon District Attorneys Association and Oregon Police Chiefs Association, said Rep. John Huffman, R-The Dalles, who supported the original bill and continued to support the short-term bill.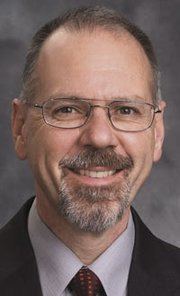 "It gives the communities the time and ability to put ordinances in place," Huffman said. "What is still unclear is what about after 2015?"
Huffman said most of the legislators who support the bill want to facilitate local governments' ability to regulate dispensaries.
However, Huffman said the prospect of gaining Senate concurrence is growing dimmer by the hour as the legislative session draws closer to its conclusion and the Senate continues to address other embattled bills.
"There are a number of bills in the hopper right now that are causing angst on the Senate side," he said.
Editor's note: Rep John Huffman will review some of the outstanding bills, and some of his measures that have seen success in an upcoming issue of The Chronicle.