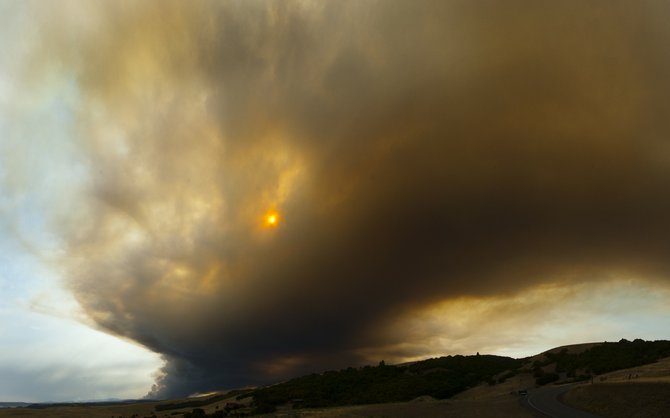 Albany Democrat-Herald, Feb. 26:
Who would have thought it possible: A sensible measure to reform federal wildfire policy appears to be making headway in Washington, D.C.
On Monday, President Obama said he would endorse a plan being pushed by a bipartisan collection of Western lawmakers to fund major wildfires the same way as other natural disasters — a move which could clear the way to free up funding to prevent future fires.
Specifically, Obama said he plans to incorporate a bill (S. 1875) by Oregon's two senators, Ron Wyden and Jeff Merkley, as part of his 2015 budget proposal, which the president will release next week. The Senate bill also is sponsored by Idaho's two senators, Mike Crapo and James Risch. The House companion measure is sponsored by Oregon Rep. Kurt Schrader and Idaho Rep. Mike Simpson; Oregon Rep. Greg Walden has introduced a similar bill.
Currently, federal agencies base wildfire suppression budgets on the average cost over the past 10 years. But that approach has underestimated the actual costs of fighting fires over eight of the last 10 years. Here's what happens then: The U.S. Forest Service and the Department of the Interior are forced to take money from other programs to cover the shortfall, a practice known as "fire borrowing."
And typically, the programs that get shortchanged tend to be efforts such as the work to thin dangerous — and flammable — undergrowth and other fuel from our overgrown national forests. One result, of course, is that fires in our forests tend to burn hotter, increasing the cost of fighting them, which then forces the agencies to suck more money out of areas such as forest maintenance, and so it goes.
Merkley put it well: "We've been trapped in a vicious cycle of robbing fire prevention funds to pay for fires that are already burning."
The solution in S. 1875 would treat the largest 1 percent of wildfires as natural disasters. Such a designation would allow those fires to be fought using money from the same disaster account that funds hurricane and other natural disaster relief efforts.
There's no doubt that the nation's biggest wildfires qualify as genuine disasters. Certainly, they qualify as financial disasters: The Forest Service estimates that the biggest 1 percent of fires consume 30 percent of firefighting budgets.
Removing those big fires from the regular budget could free up to $412 million for agencies to use to fund fire prevention and fuel reduction projects — a small step, considering the amount of work to be done in our forests, but a significant one nonetheless.