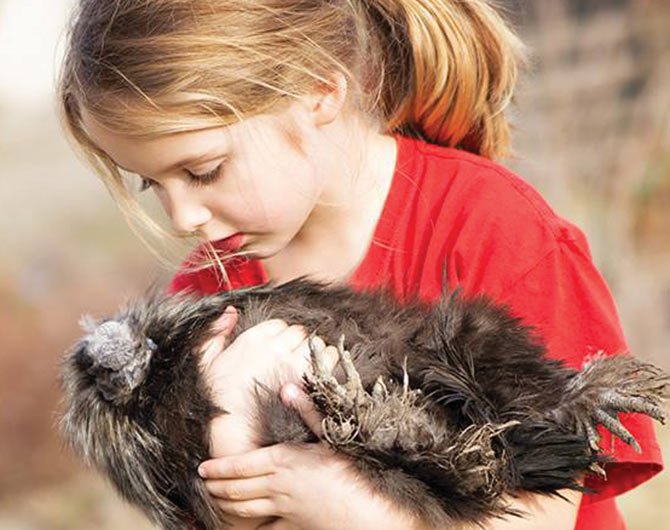 Dallas the rooster isn't going anywhere for the time being, but his fate is still up in the air.
Dallas is a bantam silkie rooster that lives in Dufur with his owner, 5-year-old Ayla Macnab. A complaint was filed with the Dufur city government in February, claiming that the rooster is in the city limits in violation of the city's nuisance ordinance. The ordinance includes a specific 2012 provision banning roosters.
The rooster and his owner have gained worldwide attention in the past few weeks in response to a petition and Facebook page put up by Ayla's mother, Jill Macnab. The petition drew more than 30,000 signatures and the Facebook page more than 7,500 likes.
But all that social media exposure is immaterial to the governmental process in Dufur, said Mayor Arthur Smith.
"I don't give two hoots about Facebook," Smith said. "It has no bearing, but there were several people, citizens of Dufur, who did approach me and said it might be a thing to look at, not just because of this rooster, but now that they think about it there could be implications for 4-H."
Smith heard discussion on the matter Feb. 25 in his role as hearings officer and made his ruling this week.
"I issued an order upholding that the rooster was indeed a nuisance, but because I felt it was in the best interest, I stayed the order to have the rooster removed until the city council is able to discuss it," Smith said.
If the council chooses, they can review that portion of the ordinance, which was enacted in response to a 2013 situation where one resident kept upwards of 20 roosters, he said.
"Perhaps now, the council may want to take testimony and hear witnesses, because perhaps the populace has changed its mind. All I've done is allow for that action to take place."
Smith said that is the appropriate process for considering provisions of an ordinance. If the council chooses not to reconsider the rules, Smith said the stay will be lifted and Dallas will have to be removed from the city.
"We're not surprised by this ruling in slightest," said Jill Macnab. "It just means we get to present our information at city council."
Macnab said her family will attend the March 10 city council meeting to request the council consider a change to the law. If the council does agree to hear the issue, the hearing will be set at a later date.
"Dallas is safe and can stay until then with no fines, which is a relief," Macnab said. "Ayla is excited. She is ready to go out and start knocking on doors."
Her mother describes her as a defender of animals and people.
Macnab said her family was concerned when they combed the public meeting minutes leading up to the ordinance change and found no mention of complaints in other meeting discussions.
"And there are no complaints on record except one in July 2010, not until our first complaint in 2013.
"If there were truly complaints … the system failed somewhere. It's not on public record that they occurred. Something is missing greatly in the whole process."