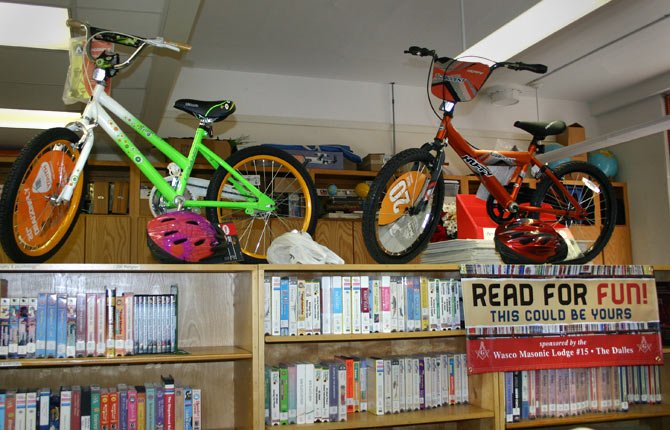 The Mason's Club has purchased one girl's and one boy's bike for each of the North Wasco County School District's elementary schools, where they are put on display to "get students excited about reading."
The contest is open to 3rd through 5th grade students, and requires that each participant check at least one book out from the school library, read and then report on it in order to obtain a raffle ticket for one of the bikes.
At the end of the contest period, a drawing is held to determine the winners from each school, and every bike comes equipped with both a helmet and a lock.
The Mason's Club is a men's community organization that's been active in The Dalles since the 1850s and is dedicated to a variety of charitable efforts in the community, including the annual award of two $2000 scholarships to eligible high school seniors.
"We're always looking for good men," club member Fred Wendt said. For more information about how to get involved with the Mason's Club, contact Wendt at (541) 298-4163.
To learn more about the "Books for Bikes" contest or it's Mason-funded reading contest counterparts at other area schools, call District Librarian Jim Tindall at (541) 506-3499 at extension 4010.