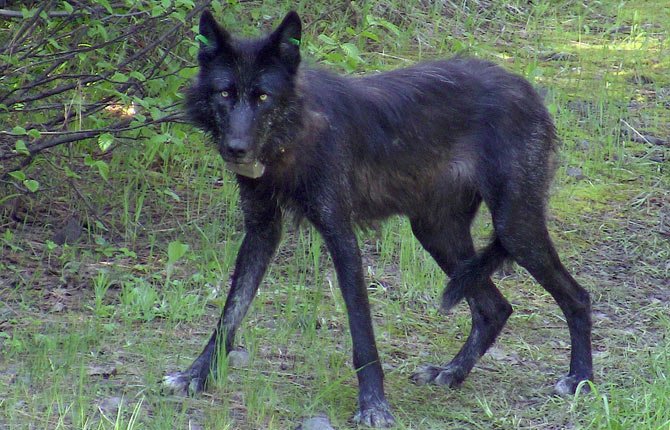 Whether dwelling in a cubicle farm or on the open range, stress can be a major contributor to adverse health issues.
In human beings, it can contibute to heart trouble, weight gain, sleep deprivation, high blood pressure, anxiety and a host of other problems.
Link that stress to a traumatic event and the problems multiply.
A new study from Oregon State University shows that exposure to wolf attacks can cause lower pregnancy rates and weight loss in cattle — and that means decreased profits for cattle ranchers.
That hasn't yet been an issue in this part of Oregon, but the day when cattle and wolf conflicts emerge in this part of the state is not far off.
Oregon Department of Fish and Wildlife has documented a single wolf in the White River Unit.
Authorities don't know whether the wolf is here to stay or was just passing through, but as wolf packs grow in Eastern Oregon, the likelihood of young animals breaking away to form their own packs elsewhere in the state isn't far off.
Their presence in Eastern Oregon has created a challenge that ranchers there say they haven't found a satisfactory way to combat — not within the restrictions of the state's compromise plan anyway.
The plan offers compensation for confirmed wolf kills, and money for deterrent measures.
But proof of wolf kill is hard to establish, ranchers say, particularly when carcasses are spread across a large range area and may be subject to decay and other predation. And loss of productivity, which can affect much of a herd, isn't compensated.
They've found defensive measures like electric fences and fladry meet with only limited success. The intelligent animals soon learn how to get around the measures.
Wolves are high on the food chain for a reason. They hunt cooperatively in packs, making them more successful in taking down animals larger than themselves.
While their wild food supply usually consists of deer and elk, cattle are a ripe target and their behavior can encourage surplus killing, according to Living with Wolves, a nonprofit aimed at raising wolf awareness.
"Unlike their wild cousins, livestock have lost much of their survival instinct," the organization's website explains. "Spending a good amount of their existence fenced in or being herded, their reaction to a predator in their midst is very different from that of wild prey. Calves and yearling cattle, for instance, flee during the chaos of the chase, but once the wolves have made a kill, rather than continuing to move away from danger, they have been known to stand nearby, watching in curiosity..."
The presence of wolves has been shown to benefit the entire ecosystem. Evidence has shown when elk populations are controlled, less riparian ash and willow trees are eaten, which can provide more habitat for beavers and songbirds.
But what happens if cattle, a less challenging prey, becomes the preferred item on the wolf menu?
Predators have been a subject of concern in agriculture, no doubt since Abel tended his flock. But Abel and his followers had a right to defend their flocks and herds. Modern Oregon ranchers' are effectively working with one hand tied behind their backs.
While we don't want to see the extinction of these magnificent animals, we do think more aggressive — if nonlethal — control methods are warranted.
Shock collars and nonlethal ammunition have been found to be effective in other states, as have alarm systems triggered by the radio collars wildlife agencies use to track the animals.
Ranchers may also need to further rethink their processes, adding more range riders and changing how they graze their animals to provide more safeguards.
It's pretty clear wolves aren't leaving Oregon any time soon, so ranchers need to be able to use as many tools as possible to protect their herds.