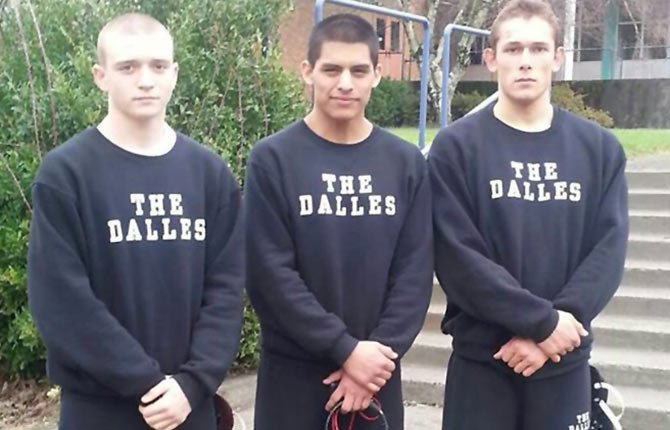 Wrestling is much more than strength and execution on the mats, it takes a solid resolve, hard work and dedication through the course of a calendar year to become one of the elite in the state.
Just a week after experiencing state wrestling action in Portland, Eric Morales, Joe Linebarger and Mitchell Waters discussed in detail what it was like and how they are content the 2014 season outcome.
Morales, a senior, capped his career with back-to-back state appearance, ending this past weekend one win short of earning a podium spot.
He did win two matches in his 170-pound weight class, so there is a lot to be proud of for the three-year grappler.
"The dedication and hard work made the biggest difference," Morales said. "I had a lot of coaches who pushed me hard to accomplish more. They believed in me. They knew I could make it to state, so it motivated me to do better every time I wrestled."
With a bevy of experienced coaches assistants, Chad Sperry and Brandon Hansell to name a few, head coach Greg Burkart had a solid cast around him to lend a hand in teaching wrestlers the finer points.
Morales was a torch bearer because he blazed a trail for wrestlers who aspire to follow in his footsteps.
"Senior Eric Morales has been one of our most consistent wrestlers over the course of the last couple of years. He has been a great inspiration and example to his fellow wrestlers over the course of his career," Burkart said. "He is a wrestler and team leader, who is not really vocal, but provides a positive example through his actions."
TD's wrestling team had a promising start with 29 wrestlers initially signed in, but with grades and injuries, the numbers were shaved down to 10-12.
Wrestling is a rough sport that requires commitment 24-7, there are two to three hours a day of working on technique and drilling and then there is weight management, diet, and conditioning.

Sperry knows full well what is asked of every wrestler when they sign on.
"You not only have to be mentally very quick you also have to have the best fitness of your life with a low body fat, strong core, and high cardio fitness to truly compete," the coach said. "These factors all contribute in paring down the kids who can step up to the challenge while meeting grade requirements."
As the season came to a close, Morales, Sam Tyler, Cole Davis, Mason Bansch, Luis Herrera, Damion Morris, Waters, Colton Lee, and Linebarger were the few athletes still on the roster for regionals.
Six of those wrestlers placed and three earned state trips.
"This was by far the most successful season we have seen in recent years," Sperry said. "We have begun to change our way of thinking in no longer looking to field a huge team or even try to fill out a complete weight line. We are committed to investing in the kids who are willing to invest in themselves."
Waters had some peaks and valleys in his sophomore season, but caught fire in February.
At regionals, he lost in the opening round, but jumped back into contention with four consecutive wins to punch his state ticket.
"That match (at regionals) was a turning point in my season and career as a wrestler," Waters said. "I saw the goal there and knew I had to make it. I had to make it no matter what happened. Just to have that satisfaction of accomplishing a goal like that just gave me all of the confidence in the world."
Burkart said it was no surprise to him that Waters had the inner fight to battle through early struggles to make his state berth.
He said it is a validation of what commitment, hard work, sacrifice and determination can produce.
Waters lost his only two state matches, but he has many more tools in his shed to use down the line.
"I am impressed with the mentality that Mitchell brought into the state event," Burkart said. "He was very positive in his approach and wrestled with an aggressiveness and confidence that is not usually found in someone experiencing his first state meet. I am encouraged and excited to have Mitchell returning to the program for the next two years. We will be expecting him to become a team leader and positive example for our incoming wrestlers."
Wrestling involves more than just the matches and tough practices. Waters said it is about a family bond.
Nothing is given. Every athlete who puts on a singlet desires to work hardest when it matters most.
With added time in the weight room and a season in cross country, Linebarger said his sophomore year taught him to be confident in matches.
Every day, he and Morales would fight it out in practice, and they both were integral to each other's rising up the ranks.
"Eric has been a great help for me," Linebarger said. "I think he deserves as much praise as I do. He helped me a lot in my wrestling and I owe him so much."
The one match that added a new level of confidence came when sixth place and podium were on the line against Dallas High School senior and No. 4-ranked wrestler, Caleb Naughton. Linebarger came from behind to score the dramatic 7-6 decision.
"That match that made me place meant the most to me," he said. "That was a really tough match. To win by one point with a takedown in the last few seconds, was really special. I was very happy to accomplish that."
At 195 pounds, Linebarger said the offseason plan is to work in the weight room to gain more muscle mass to add to his top endurance and skill set.
"I want to come back even better next year. I think this showed me that anything is possible," Linebarger said. "The coaches are really supportive and want me to do well. They keep telling that I have the potential. I work at practice to accomplish my goals. Next year, I want to reach for more of them."