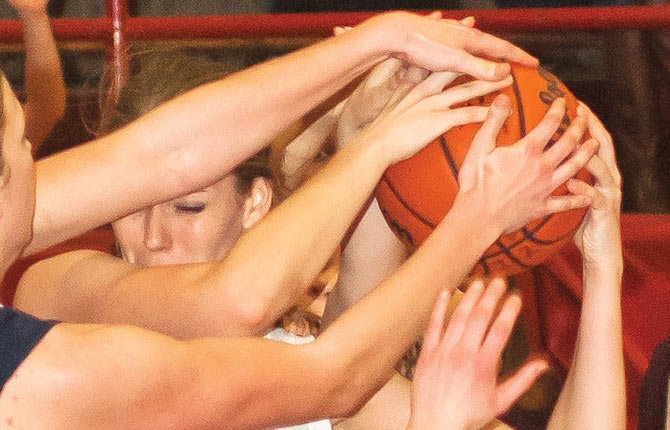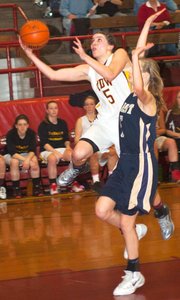 One by one, players from The Dalles girl's basketball team emerged from the locker room with their eyes reddened from tears of defeat.
The season was over.
The quest for a state site berth climbs to 13 years.
The Eagle Indians have vaulted to within one game from taking that next step for the past five campaigns. For senior Emily Bailey, it has been the fourth consecutive season losing in the sub-rounds.
Freshman guard Iliana Telles was overcome with emotion because there was more than just a scoreboard reading a 45-41 home loss Friday to West Albany, she felt as though the squad did not give their teammate that perfect sendoff.
"We feel like we let Emily down," Telles said. "This is her senior year and we could have done a little better. I hope she knows that we really tried for her. That's what hurts the most right now."
At the six minute and 49 second mark of the third quarter, West Albany led by 14 points, but the Eagle Indians tied the score at 34 at the end of the frame and led 36-34 in the opening seconds of the fourth quarter.
Over the next 2:19 of the finale, the Bulldogs used a layup by Georgia Smith, and then a three-pointer followed by a running layup by Corey James to expand the lead to 41-36 with 4:53 on the clock.
Both teams went scoreless for 1:08 until Tribe junior Olivia Starks sank 1 of 2 free throws to make it 41-37.
On their next possession, the Bulldogs ran some time off the clock, also using a timeout in that span, when a miss turned into a loose ball that went into the waiting hands of an open Kyia Duvall.
The junior guard had a clear path for a 22-foot 3-pointer that swelled the lead to 44-37 with 2:41 remaining.
"Kyia is an excellent 3-point shooter and she has been clutch several times for us," said West Albany coach Mike Haberly. "You could tell that it gave us a sense of relief. You can look to several moments in this game that helped us win, but that shot was huge for us."
Starks followed with 1 of 2 free throws to draw the Tribe to within 44-38, but then both teams traded turnovers and multiple misses to keep the margin at six points.
With 49 seconds left, James missed on a front-end free throw and TD recovered the rebound, but quickly gave the ball back.
Duvall missed on another front-end attempt, and on TD's next time up the floor, Bailey drilled a 23-footer to inch her team to within 44-41 with 30 seconds left in regulation.
After another missed front-end free throw, the Eagle Indians had possession of the ball with a chance to tie or make it a one-point game, but a missed shot in the paint went to West Albany on a rebound.
Bulldog junior Ali Nelke made 1 of 2 charity shots with 14 ticks on the clock to increase the lead to 45-41.
TD missed a late three-pointer and could not get the final shot off in time, as time expired.
"I know all in our hearts that we wanted it, but we just didn't come out with the intensity that we hoped for," Bailey said. "We didn't match their intensity right away and our shots weren't falling and in playoff games, you've got to have those shots. We have off nights, it is just unfortunate it happened to us tonight."
Through the first 17:11 of the game, The Dalles managed 17 points and were down 31-17 with 6:49 to go in the third quarter.
But, the Tribe gave themselves a chance for a final push with an inspiring comeback for a 17-3 run in the final stage of the period.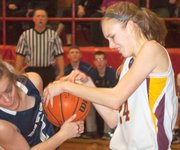 Telles hit a free throw, and then Katie Conklin and Starks added consecutive baskets to make it 31-22 with 5:32 remaining.
Bailey netted two free throws and then assisted on a layup by Conklin and the Eagle Indians were down only five points with 3:31 showing on the scoreboard.
Both teams traded baskets on successive possessions, and with the score 33-28, TD freshman Brooke McCall hit 1 of 2 free throws.
After a Bulldog turnover, another Tribe freshman, Kailin Hoylman, banked in a 3-pointer to trim the West Albany lead to 33-32 with 1:39 left.
James hit 1 of 2 free throws to run the count to 34-32, and then Telles rattled home a layup to tie the score at 34 to end the frame.
"It was one of the best third quarter comebacks I think I can remember seeing," said TD coach Craig Compton. "To come back against a quality team like that by 10 points in one quarter was impressive. It burned a little too much energy and they hit some critical threes when they needed them. That was the backbreaker for us."
Nelke, a senior, had 21 points, and James tacked on 14. In all, the Bulldogs had four players hit on the 14 field goals. The team also went 14 of 24 from the line, including 3 for 8 in the second half.
The Dalles hit on 14 field goals as well and added a 9 for 17 margin from the line, 7 of 12 in the final 16 minutes.
Starks had 11 points, and both Bailey and Conklin added nine points apiece.
"I've got to take my hat off to The Dalles," said Haberly. "When you are down by 14, it is the third quarter and things aren't going well and to do what they did, shows the character of their team."
On one end of the spectrum, West Albany is making its fifth straight state tournament appearance, even in a season where they lost two stalwarts, Ellie Cale and Ashley Siegner to season-ending injuries.
With all of the accolades of earning two consecutive Columbia River Conference Player of the Year awards and adding a McDonald's All-American nomination, Bailey said she would gladly give it all back for one game in Eugene.
She said it was an honor to play with this team and learn from the coaches.
Bailey even called it a blessing that her older sister Andrea was back home as a volunteer assistant.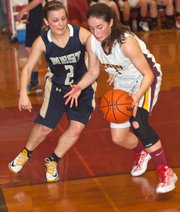 "It was a team loss, it wasn't about one player," Bailey said. "Things happened tonight that didn't allow us to win this game. I don't think they let me down. We battled hard the entire time."
Off to the Colorado School of Mines next year, Bailey will cheer from afar, with hopes that this group can stay together to give themselves a chance to hoist some hardware.
They amassed 18 wins and were ranked in the top-7, so the winning formula, given a few tweaks, is there.
"They now know what it takes," she said. "It will take all that they've got to take it to the next level. I think tonight will be a good learning experience for them. I just wish I had one more year."