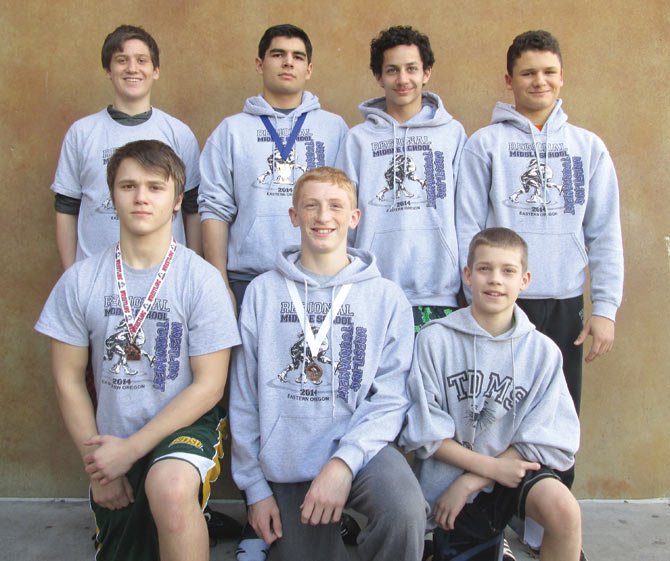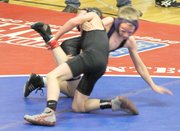 In the last match of the day, every member of The Dalles Middle School wrestling team surrounded the mats while 220-pound teammate Michael Parrish went to battle in his championship match.
In unison, for the entire six minutes, the group chanted his name at the top of their lungs in an effort to spur on their teammate.
The extra motivation worked like a charm.
Parrish secured a regional title in his weight classification and six other TDMS wrestlers chalked up state berths after regional wrestling action Saturday at Boardman High School in Riverside.
"When he pinned the kid, they all started jumping up and down and yelling 'Wildcats,'" said TDMS head coach Paul Beasley.
In addition to Parrish, Orville Grout, Glenn Brecterfield, Jacob Schacht, Christian Markum, JR Scott and Steven Preston punched their state tickets by finishing in fourth place or better.
"Overall, I was pleased with everyone's level of competitiveness," Beasley added. "Everyone has gotten tougher throughout the season. Everyone made huge improvements."
Parrish, an eighth grader, capped his regional run with a display of domination. He will most likely be seeded high in Saturday's state tournament in Woodburn, in his initial try for a state crown.
"He is everything you want from a wrestler," Beasley said. "He shows dedication, is a hard worker, is passionate, coachable, a pleaser, a good student, and has gotten tough over the year. Everyone roots for Michael."
Of the other six grapplers to grab state nods, sixth-grader Preston (80 pounds) and Markum (160) enjoyed solid performances on the mats with third-place outputs.
For Preston, Beasley said that his evil twin emerged, as he out-worked his foes with 'chain' wrestling and an exotic array of moves.
"I had not seen him wrestle like this all season," Beasley said. "He rose to the level of his competition and got better as the day wore on."
With every gutsy performance comes surprises, and Markum proved to be a welcome surprise for Beasley and the Wildcat coaching staff.
Even given so much adversity through the winter season with missed practices, the seventh grader notched third place by pinning Schacht to seal his place on the Woodburn bus.
"He has enormous talent," Beasley said. "He is tough and is a competitor."
Although he lost to Markum in their match, Schacht (160) garnered fourth place and will have a chance at a possible rematch at state.
Beasley heaped words of praise for Schacht and his rise up the ranks in his first year on the team.
"He has the talent and physical ability to be very successful at the high school level," Beasley said of Schacht. "He showcased these physical talents by exceeding expectations."

On one hand, Markum opened the eyes of his coaching staff with a premier wrestling output, but Grout slayed a lot of dragons and proved many naysayers wrong in picking up fourth place for his initial state trip.
"This was a very gutsy performance by Orville," Beasley said. "He is a first-year, blue-collar wrestler. He was not very tough until Saturday when he turned it all around and gutted his way to the state meet. He proved that hard work and attitude will win the day. I could not be prouder of a young man."
It was a good thing both Brecterfield (125) and Scott (132) were put through countless hours of cardiovascular training because the duo combined for 18 matches on the day.
Beaten, battered and bruised, this tandem heeded the words of their coaches to find an inner reserve to perform at a top level when the energy was waning.
"We told them they needed to find it within themselves to get the job done," said TDMS assistant coach Mark Scott. "They came out with that warrior's mentality. They reached deep and just totally impressed everybody with their commitment to winning and refusing to lose. They really embodied what we were trying to represent here in The Dalles. Those guys had a never-say-die attitude and went after it and got it done."
Brecterfield was in a 32-man bracket to start the day, but he had to do most of his wrestling in the consolation bracket after losing his second match.
He went on to win six straight matches, an impressive feat.
"Glenn wrestled some tough kids and had the most matches of the day," Beasley said. "He is an incredible competitor, coach-able, and a great, supportive teammate."
When March rolled around and the weather warmed up, so did JR Scott.
The seventh grader in his first campaign at TDMS, seized the moment in his 132-pound class and motored out to fourth place to his journey with a state bid.
Beasley said Scott wrestled inspired in the last two meets entering regionals, and his momentum surge and fundamental style opened the door for a memorable rally.
"He had lacked top level results early in the year, but he came out on fire on Saturday," Beasley said. "He is capable of chain movement and when he is the aggressor, he can compete with anyone. He showed a lot a guts."
This week, the group of seven wrestlers will hit harder during practices at the middle school with high schoolers Joe Linebarger, Mitchell Waters and a few others lending a hand in preparation.
"We are going to work on things to fine tune their skills and do things to help them be successful in their style of wrestling," coach Scott said. "We want them to enjoy the moment and wrestle the kid in front of them, no matter who it is."
Action starts at 9 a.m. Saturday in Woodburn.