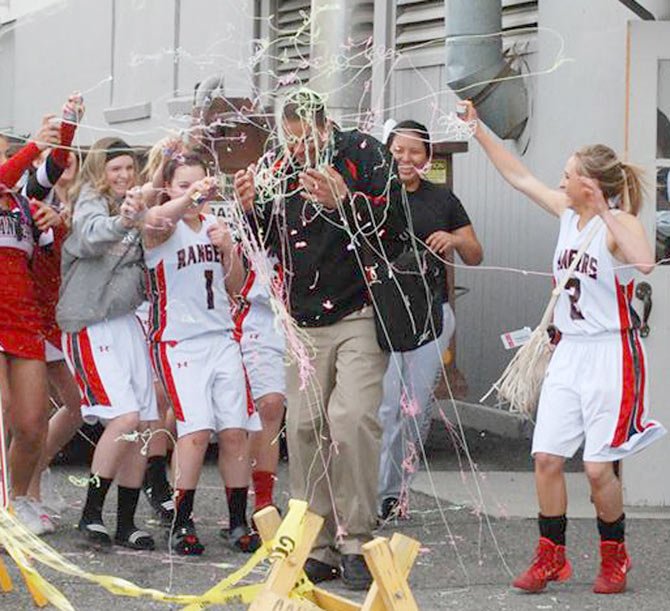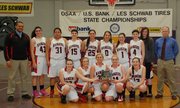 Dufur drops Prairie City by a 46-38 margin in consolation
At the end of the day, Dufur coach Hollie Darden received a silly string shower from his players.
It was a fitting end to a solid season for a girl's varsity hoops program that eclipsed 22 wins and earned its first state tournament berth since 2007 after a 46-38 triumph over Prairie City for fourth-place Saturday at the OSAA/U.S. Bank/Les Schwab state championship tournament.
"In a long season, preparation is critical to success and they never let down in the entire time," said coach Darden. "I hope that they are proud of the fact that they were able to leave here knowing they were major parts to putting this program back on the map. To get fourth place is a great way for them to go out. Only a few teams in the state get a chance to finish the season on a win and we were one of them."
In Saturday's contest, the Ranger fell behind by a 10-4 margin after one quarter, but rebounded the rest of the way for a 42-28 run to capture the win.
After shooting 20 percent in the opening stanza, Dufur came out firing in the final 16 minutes by hitting on 11 of 5 shots, as senior forward Teneille McDonald led the charge with nine of the teams' 29 points.
McDonald added a team-high 11 rebounds and three assist in her 28 minutes.
Another senior, Alexa Macias, paced the offense with 13 points, four rebounds and three assists, and junior center Taylor Darden was good for nine points and seven boards.
"I am just proud of the girls. They were able to go down to Baker and rebound from that opening round loss," coach Darden said. "They came out with a lot of passion. They had to play a couple of early games and they had the same energy to play well. It is a tribute to the heart, desire and belief in themselves and all of the hard work that they put to get into the state tournament."
Before they could enjoy the fruits of Saturday's accomplishment, the Rangers had a make-or-break game versus Crane.
McDonald scored 13 points and had nine boards, as the Rangers cruised to a 47-35 victory.
Dufur shot 48 percent on 20 for 41 from the floor for the game, and rode that streak for runs of 15-3 and 19-8 in the first two frames for a 34-11 halftime cushion.
Macias added 10 points, six assists and five rebounds and Taylor Darden was good for nine points.
"I thought our girls really came out strong and kind of took care of business early and set the tone that we were there to play basketball," coach Darden said of Thursday's tilt. "Crane is a tough, physical team and I told the girls that they were going to play us aggressively. We came out and answered the bell."
Overall, the Rangers amassed 22 wins and remained ranked in the top-10 for most of the season.
Even with most of the big guns on the roster saddled with injury issues in the early part of the season, there were several reserves who stepped on the court and contributed to more than a handful of those wins.
After losing in a lopsided manner to eventual state champion Condon-Wheeler in the Big Sky district championship, Dufur reeled off four wins in their final five games, averaging 48.3 points a game.
"This group is one of the hardest working that I have been around," coach Darden said. "They were ready to work every time they practiced or played in a game."
Darden complimented the show of leadership from his five seniors, McDonald, Macias, Sammi Ghramm, Kelly Heemsah and Sierra Gerber for being strongholds in the locker room to get all of the other players on the same page when the games grew in importance.
He was especially happy for four-year players, McDonald and Macias, who got the opportunity to finally play in Baker after three previous missed trips.
"I just want to tell these seniors how much they meant to the program," the Ranger coach said. "Your whole goal is to try to get as far as you can every year and make it to the state tournament. The first three years, their season ended disappointingly, but they were motivated to get here and they accomplished that goal. I am just really proud of the fact that they got a couple of really tough wins to make it to Baker City."
With a large section of the team headed to graduation, this is going to be a critical off-season for coach Darden and the team.
While there are a good chunk of players coming back, he will need them to further develop to take the place of the five stalwarts who scored points, grabbed rebounds and made the right passes at the right moments.
"This offseason is going to be huge for us." coach Darden said. "We are losing five seniors off the roster, so we will need to continue our progression. The girls that we have coming back got a chance to play quite a few minutes this year and they really improved. It will be important for these other girls to come in and play some big varsity minutes. Some of them will be young with limited varsity time, but they are just as important if we want to get back to this point."