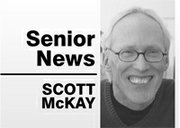 Is it beginning to feel like spring? We are getting closer with the first day of spring, or the vernal equinox as they say in the more educated circles, arriving March 20.
And just like flowers sprouting in the gardens, and ants climbing on the kitchen counters, the Mid-Columbia Senior Center is busy with activities.
So stay with me as I share with you many of the upcoming events:
• The center's Saturday Breakfast returns from its two month winter hiatus. We're still working on the menu but the serving line opens at 8 a.m. and better arrive by 9:30 to enjoy a delicious breakfast for only $5.
Remember, as Jack always said, "Breakfast tastes better when someone else cooks it!"
• With the UpLifting Elevator Fundraiser picking up steam, one of the ways the center can show community support when applying for grants is increasing its membership numbers.
To date, the center has raised the bar for 2014 to a goal of 500 members: an increase of 100 from laste year. And we are about half way there.
The cost is still $35 per person or $60 per couple; and then there is the Super Duper membership for $50 per person.
In addition, this year we added the convenience of buying your membership online. Go to the center's website, www.midcolumbiasenior center.com, and click on the "Buy Now" button under membership.
• Debra Jones is continually growing the arts program at the center and her latest is the Creative Arts Spring Series — two Tuesday classes in March, April and May.
You can choose which classes you want to attend, but you need to call the center to register for each because space is limited. The next class on drawing with watercolors and pen and ink is from 1- 2:30 p.m. March 25. This class is open to all skill levels and is a great way for beginners to learn to use watercolors.
Jones is the instructor and the cost is $2 per person. For more information you can contact her at 541- 298-2131 or visit the center's website for a full listing of all art classes.
• The good news is that "Barley Draught" will be playing at the center on St. Patrick's Day, March 17, starting at 7 p.m., to raise funds for the elevator. It is a 21 and over event with Irish beer, Irish pizza and Irish soda bread.
• The bad news is that you will have to make a choice on that evening, because folks will also be celebrating St. Pat's Day with the Cascade Singers, a children's choir, and the Almost All Irish, Almost All Brass Band.
Music starts at 7 p.m. at St. Peter's Landmark. Admission is a free-will offering to continue preservation of the historic structure.
• There is always music at the center every Tuesday from 7-9 p.m. Truman will be playing his Country Gold on March 18. On the 16th, the Pie and Music Jam will be making its monthly stop at the center from 2-5 p.m. and there is no charge to attend.
The answer to last week's question is Mad Magazine whose mission has been described as "being ever ready to pounce on the illogical, hypocritical, self-serious and ludicrous." And the goofy looking boy often found on the cover? It's "What — Me Worry!" Alfred E Neuman. (And the winner of a free breakfast this coming Saturday is Mad Man (Dennis) Morgan.)
This week's "Remember When" question was inspired by an email from Marv Elsberry reminding readers not to forget these famous flyers of WW II.
To send a message to Japan and to boost American morale after the bombing of Pearl Harbor, in April of 1942, 16 B-25s, each with a five-member crew, took off from the deck of the aircraft carrier USS Hornet to bomb Tokyo and five Japanese industrial centers.
What was the name given to these 80 WWII heroes? And, for bonus points, what was the name of the 1944 Hollywood movie based on the raid? E-mail your answers to mcseniorcenter
@gmail.com, call 541-296-4788 or send your answers with a picture of the B-25 nicknamed "The Ruptured Duck".
It has been another week feeling good until I don't. Until we meet again, as Paul Newman once said "It is useless to put on your brakes when you're upside down."
"In retrospect, it becomes clear that hindsight is definitely overrated!" Alfred E Neuman.
Menu
Wednesday (12) Roast Beef with Mashed Potatoes and Gravy
Thursday (13) Meat Loaf
Friday (14) Two Faced Turkey Sandwich
Monday (17) Salisbury Steak
Tuesday (18) BIRTHDAY DINNER – Pork Roast and Gravy