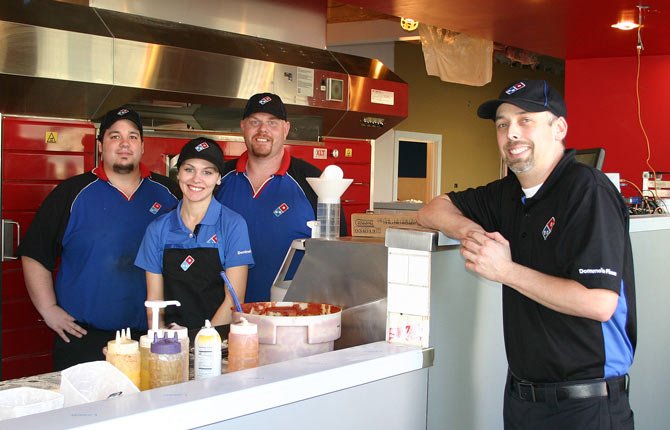 "Pizza Theater" may soon be the next answer to dinner and a show in The Dalles.
That's the theme of the remodel under way now at the local Domino's Pizza. The idea is for diners to be entertained by the pizza-making process, as pizza makers revive the drama of their creation including tossing the pizza crust. Special steps near the ordering area will allow younger members of the family a better view of the whole process.
"We're bringing pizza-making back to the front of the store," said Josh Richardson, supervisor of The Dalles, Hood River and Portland Domino's stores operated as Harmonious Pizza by owner Dennis Poe. "People can watch the whole process."
Once the pizza is made, it will be popped into the restaurant's brand new fire engine red pizza oven.
"It's the only one in the U.S. like it and it was offered to us," Richardson said. "It's one of only five in the world."
The triple-decker oven can bake six pizzas in six minutes.
Domino's is also expanding into the space next door to add a new family-friendly dining room seating 40. A window into the kitchen will allow diners to continue to enjoy the pizza-making process. Or they can watch the flat-screen TVs on the walls.
"Games will be on during college football or NFL games, things like that if you want to come in, have something to eat and watch," Richardson said.
One wall will be painted in blackboard paint, allowing for specials to be posted daily on the upper portion. The lower part will be a drawing area for young diners.
In addition to their current food offerings, the store will also offer pizza by the slice and ready-to-go side dishes.
"That way if you order another side, you no longer have to wait for it to be prepared," Richardson said. "It's ready to go.
They'll also be offering smaller salads, in addition to the larger ones they now sell, he added.
All local contractors have been used on the remodel, led by Adams Construction as the main contractor and consultant. The work is expected to be completed within the next three weeks. It will also include new exterior paint, bright red awnings and the new Domino's logo, which has migrated away from the name in favor of graphic brand recognition with the red and blue domino.
Employees will also get new uniforms reflecting the change.
Meanwhile, Domino's continues to provide normal carryout and delivery services and maintain top-tier health code standards, posting a 94 out of 100 on its last inspection.
Domino's Pizza is located at 804 E. Second St. or call 541-296-7000.