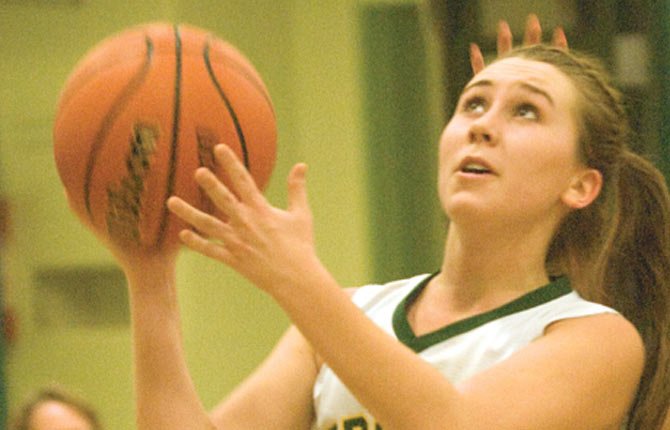 With the impending graduation of Joy Kelly, Sonya Schmitz and Zoe Morelli, the South Wasco County girl's basketball team will need some key returners to take the reins with more leadership. Junior Roxanne O'Neal is expected to fill that role next season, so the transition is expected to be seamless as the group plans on taking their game to a higher level beyond the district realm and into the state category.
"She has played solid minutes for the Redsides all three years and continues to lead by example," SWC head coach Ron Townsend said. "With her leadership abilities and continued hard work, she should have a great senior year."
Townsend liked the development he saw from O'Neal, who took on a larger role as the team's point guard and lead ball distributor offensively.
On the season, O'Neal averaged six points and three rebounds a contest to lead the Redsides to 10 wins and third place in the Big Sky Conference. For her season, O'Neal was named to the all-league team as an honorable mention.
"Roxanne stepped in to the role of point guard this year and showed improvement as the year wore on," Townsend said. "Her ability to run the team as well as her shooting ability bodes well for her future."
Through the season, the Redsides forged wins over Portland Lutheran, Crosshill Christian and Lyle-Wishram to highlight the non-league slate. SWC notched a few victories in Big Sky play, including a 38-33 triumph at home on Jan. 3 against Sherman.
In that game, O'Neal sank a pair of free throws with 1.1 seconds remaining in regulation to preserve the win.
The Redsides showed some grit in this contest by coming from a four-point halftime deficit, and it showed O'Neal that her team has the ability to bounce back in big games.
"Something that we have been learning a lot this year is that there is always hope," she said. "As long as we push ourselves, we can be a good team. Believing you can win is the first step to winning. We kept in mind that we could do this. We trusted in each other as much as we could. It is a huge win for us and we are excited. Every win is a good one. Now we have to focus on building on each game."
In order for this team to maintain its momentum, Townsend said the team needs to spend the off-season doing all of the little things to make themselves better ballplayers.
Playing summer ball with some additional minutes in tough Big Sky Conference against teams like Dufur, Sherman, Ione and Condon-Wheeler would only help make the team better in the long run.
"It shows us what we need to work on specifically," O'Neal. "It is good to pinpoint the skills that we need to perfect. I really think our defense is going to be really helpful for us. We have a lot of quick people and we have a lot of girls that have a lot of potential."