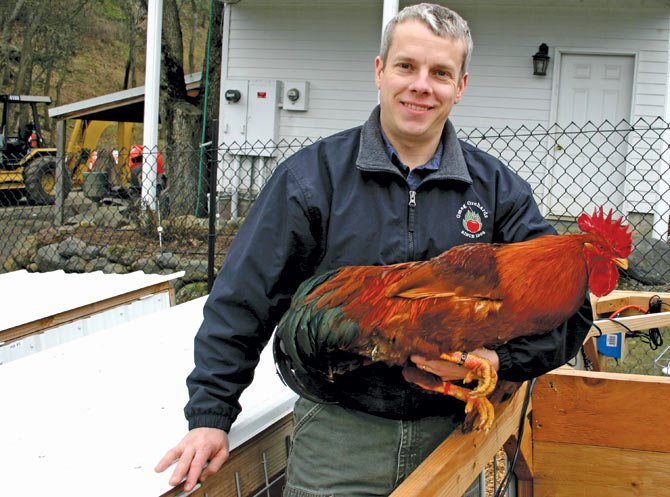 Mike Omeg has always had a thing about poultry — and over the last few years he has applied that interest to the job of restoring one particular heritage breed of chicken, the New Hampshire.
"I've always liked chickens and I've always found poultry to be fascinating to me," Omeg said.
Omeg has framed images of a dramatically plumed rooster and hen in his office. They're prime examples of a rooster and a hen from a 1938 Poultry Tribune and, anymore, exist only in literature.
He has those images firmly embedded in his brain as a guideline for what he wants his birds to look like.
"I'm not there yet," he said. But after four years he's getting close — close enough to win multiple awards, including a reserve champion award in the American Class among hundreds of birds at the Pacific Poultry Breeders Association show in Stockton, Calif.
As a youngster, Omeg raised chickens as his 4-H project and showed them at the Wasco County Fair. When he moved home to take over operation of the family orchard, he said it was important to him to maintain a working family farm. That means vegetables, poultry, milk cows and pigs, among other things.
He started out with a scattershot approach.
"There are hundreds of breeds of chicken," Omeg said, "so I got a whole bunch of different kinds."
Eventually, the New Hampshire began to stand out.
"The breed has a really fascinating history," he said. "Prior to the 1950s, the poultry industry in the U.S. looked very different than it does today."
Today's commercially grown chickens are almost exclusively the Cornish rock cross breed, the Cornish cross for short. The Cornish cross hybrid has been bred to mature amazingly quickly requiring less feed time than traditional breeds.
"Most of the chickens you eat from the store are between three and eight weeks old," Omeg noted. They are also prized for their white feathers, which leave fewer dark spots on the meat after plucking.
The little Cornish game hens sold at the store? They're just younger versions of the same breed, around the three-week end of the spectrum.
"That is possible by the incredible amount of genetic breeding that has gone into them," Omeg said.
He used garden seed as a comparison. When gardeners buy corn seed they might by an F1 or F2 hybrid, meaning one of two levels of cross breeding. The Cornish cross chicken has been cross bred 37 times.
"They grow so fast and so large that they aren't able to reproduce," he said. Instead, the commercial hens require artificial insemination. Omeg describes them as "Frankenchickens."
They're the same birds that are featured in the large-scale commercial poultry production on documentaries like "Food, Inc." where birds grow so fast with breasts so large (because that is the most popular part of the bird) that their legs break under them or have heart attacks.
"I don't think it's a stretch of anyone's imagination that eating a hen that's five or six weeks old, raised with 18,000 other chickens in total darkness so they won't fight is a good thing," Omeg said. "I don't think anybody can call that animal husbandry."
Omeg heard a speaker who reported that chickens fed regular corn feed and feed laced with painkillers would choose the painkiller feed more often than not, leading him to the conclusion that the chickens are in constant pain as they rapidly grow.
Prior to the advent of the Cornish rock cross, the New Hampshire breed was the premier breed. A large, full-bodied breed with colorful brown and teal plummage, was what ended up on most Americans' dinner tables. Then, within 10 years, the Cornish cross transformed the industry.
"The New Hampshire was essentially lost," Omeg said.
Over time, the breed lost its integrity and few people were actively breeding it. But they were still bred in parts of Europe. Under the Marshall Plan in which the U.S. helped rebuild Europe after World War II, the New Hampshires were sent over to restart the European poultry industry.
"About five to seven years ago, a poultry breeder from the United States was traveling in Germany and he saw these beautiful, productive New Hampshire chickens."
The breeder imported hatching eggs from Germany and used the resulting birds to revitalize the American New Hampshire line.
"It's very ironic that the U.S. had the premier poultry industry and they exported it to Europe," Omeg said.
Omeg started out with much smaller birds than the prize-winning specimens he is raising today. Generation by generation, he has chosen the largest and best examples of hens and roosters for his breeding program. Hens that don't quite measure up may be used as egg layers. Roosters are butchered for meat.
"The adage is, 'Breed many from a few,'" he said.
He relies on the expertise of mentors who are fellow members of the the Pacific Northwest Poultry Association and says they don't have to be raising New Hampshires to have valuable knowledge to share. Between them they have more than 100 years of poultry breeding experience.
"They're a very knowledgeable and dedicated group of people," he said.
He also has mentors in other parts of the country who are involved in restoring the New Hampshire breed.
One of the best things about breeding poultry, Omeg said, is that breed improvements occur rapidly. Admittedly impatient, he likes to see rapid results from his efforts.
"If you're raising horses, you have to wait years and years," he said. "With chickens, every year you raise dozens and dozens."
At this point, the breeding program is a hobby for Omeg. Health and safety rules limit the number of birds he can butcher on the farm without having a Department of Agriculture-certified facility. And no other such facilities exist in the local area.
If a facility being developed in Glenwood, Wash., under Washington Department of Agriculture certification also gets Oregon certification, he said, "It could change my perspective on production."
He also hasn't ruled out the prospect of having his own inspected facility in a few years.
For now, his poultry and other livestock are mainly for consumption by friends and family. He butchers about 150 birds a year.
"One thing I really like about raising our own poultry is that I know what kind of food I'm getting and its treatment," he said. "Also, they aren't genetic freaks of nature."
Many studies have supported the idea that hens raised on pasture land have a much higher nutritive value in the eggs and meat.
Omeg is a strong advocate of raising backyard chickens for egg and meat production.
A rooster is not required and households will know what methods were used to raise the animals.