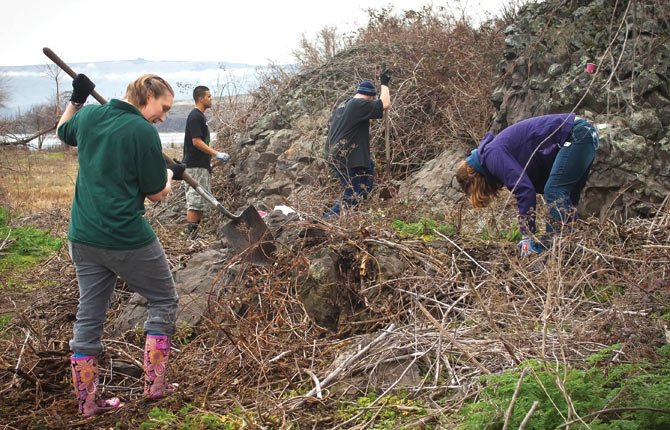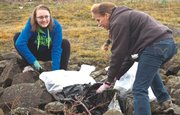 More than three dozen volunteers donned gloves, took up trash bags, shovels, rakes, clippers and chainsaws and set to work cleaning up trash and old fencing and cutting back invasive plants in the east end of Riverfront park Saturday, March 8. The area is in the second year of restoration, which began with the mechanical removal of invasive vegetation beginning in the fall of 2012.
The project is spearheaded by the Wasco County Soil and Water Conservation District and the The Dalles Watershed Council, who received two grants to fund the invasive species removal. These included a grant from the Oregon Watershed Enhancement Board, funded by Oregon Lottery dollars, and a national grant from the Fish America Foundation, a nonprofit organization focusing on sport fishing access. In addition to volunteers, ongoing maintenance is overseen by the Wasco County Parks and Recreation District.
"No local funds were used on the project," noted conservation planner Josh Thompson of the soil and water district, although Wilson Excavating and Ellet Construction offered their services at competitive rates. The U.S. Forest Service also helped with the archaeological survey, which would have doubled the cost of the project.
The original work included mechanical removal of invasive species, which had largely overgrown the area, and replanting native trees, shrubs and grass. The park and recreation district has continued to mow the area, two or three times a year, although that need will diminish as the new plantings grow and shade out the weeds, Thompson noted.
Although not all the plantings have survived, that is to be expected.
"We over planted, we expected some mortality," Thompson explained. So far, the plantings and grass seeding have turned out well. "In places, the grass was very good. In some areas it will need reseeded."
It takes a practiced eye to note, though.
"Grass seeding always looks horrible the first two years."
Now that the roots are established, the plants will flesh out and the change will become visible.
So far, things are looking surprisingly good, he added.
"I was expecting a big battle with weeds coming back in, but we haven't seen that."
On Saturday, volunteers bagged trash — much of it drifted in from the river or blew in from Interstate 84 — and cleared dead debris from the "Hobo Camp," an area back from the river sporting large boulders that before the project were completely overgrown with brush and briars.
"Hobo Camp isn't a derogatory term; that's what it was," noted Thompson. "Hobos camped and gathered here for years, with a fire among the rocks."
They weren't the only transient residents, either.
"This was a transient camping site for Native Americans as well. We found evidence of that in our archaeological survey. It was a nice, sheltered area."
If restoration continues as planned, the site may once again become a pleasant, sheltered area, although camping will not be allowed.