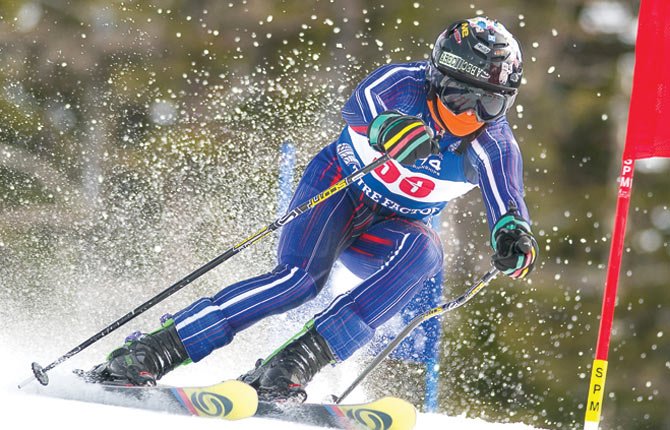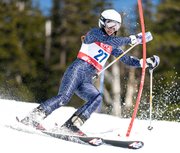 For the first two days, weather played a huge part in the final outcome of last weekend's Oregon Interscholastic Ski Racing Association state ski event at Mount Hood Meadows.
On the final day, however, the sun rose and the Eagle Indians put together some solid performances.
Leading the way was Tribe standout Eli Holeman, who hit the Middle Fork run with a fiery rage after finishing 30th the day before in his slalom try at Stadium.
Holeman churned out two-run times of 41.31 seconds and 42.08 for a time of one minute and 23.39 to take hold of eighth place out of the field of 103 racers.
"Eli had two really fast runs and finished eighth in GS, which is our best finish since the late 90s," said TD head coach Jeff Cordell.
Senior Mark Johnson added outputs of 47.85 and 46.51 to total out for a 1:34.36 and 48th place, and freshman teammate Preston Klindt added a 2:17.92 for three-time marker of 4:37.21 and 11th place in the team standings.
Paced by Trevor Maxwell's 1:19.28, West Linn rallied for the best team time of 4:09.75. Sunset's Jack Botti finished in second place individually at 1:21.00.
On Day 2, the girls went to work on the Stadium Run for slalom action with South Eugene's Phoebe Rogers putting out a 1:28.82 for top honors.
Jenna Jansky, out of Jesuit, chalked up second place with a 1:29.60 to move her squad ahead in the standings at 4:57.64.
For the Tribe, Bailey Cordell had the best marks of the trio where she carved out rallies of 52.00 and 57.20 for a 1:49.20 and 24th place.
Carsen Cordell followed with a 2:05.82 and Susanna Talenti kicked in a 2:10.85 to give TD a combined time of 6:05.87.
"The girls did well with Bailey leading the team," coach Cordell said. "The rest of the girls skied a little conservatively, as there were large ruts due to the warm weather."
The venues were flip-flopped on Day 1 Thursday, where the weather conditions were at their worst, but manageable enough to complete the more than 200 runs.
Holeman had his struggles in his opening slalom run at Stadium by crashing, but he still put forth a two-run time of 1:48.94 for 30th place.
"Eli crashed on his first run, totally a surprise since he has been so consistent in slalom all year," coach Cordell said. "I think he hit some loose snow and deflected his tip around a gate. He had a good second run, but was out of contention."
Johnson was right behind in 31st place where he stopped the watch in 1:49.88, and Klindt followed with his marker of 2:00.56 for 56th place in the individual rankings.
Xavier Micheal motored through the course in 2:07.55 to tally 61st, and Griffin Martin placed 68th with his 2:17.49 to give TD a 13th place time of 5:38.94. West Linn won the slalom event with a 4:33.28.
Lakeridge's Ashlay Ruddick took home first place in the boys slalom with a time of 1:25.32, and Sunset's Jack Botti added a 1:25.32 for second place.
While on the Middle Fork Run, Bailey Cordell completed a pair of solid outputs for her 1:43.06 and 25th place in the standings.
Carsen Cordell scored 47th place in 1:53.91, and Talenti reeled off a 1:55.76 for 50th.
"The girls did fairly well on the GS side and Bailey finished with a respectable 25th," coach Cordell said.
With the final times of the Cordell sisters and Talenti, TD racked up 11th place in the team standings at 5:32.65, behind Jesuit (4:43.11).
Jansky placed first overall with her 1:24.73, and South Eugene's Rogers garnered second place in 1:26.46.
With both teams combined, Jesuit notched first place in 18:48.39, Hood River Valley grabbed second in 19:15.09, and West Linn picked up third place at 19:32.36.
The Dalles placed 10th at 21:54.67.
"Bailey ended up 19th in the combined standings, and she and Marl Johnson were recognized at the sportsmanship winners for our league," coach Cordell said.
When evaluating the 2013-2014 campaign, coach Cordell saw some drastic improvements from his younger group and some rise in the efforts of his seniors and upperclassmen through the course of the season.
"Overall, it was a great season," the Eagle Indian coach said. "There was lots of improvement from the whole team, and a really dedicated core group of varsity racers."
With Johnson and the Cordell sisters and Talenti and Xavier Micheal, foreign exchange students, hanging up their high school skis after this state meet, their coach was appreciative of their effort through the course of their careers.
"It is always sad to see your exchange students leave," coach Cordell said. "They become such an important part of the team, then have to leave after one season. These three seniors will be missed immensely. They have been the backbone of the team for several seasons and are leaving big shoes to fill."
Although the rosters will be re-loaded next season with an influx of new freshmen and key returners like Alyssa Carrico, Timarra Roth, Courtney Anderson, Emma Ell-Smith, Klindt, Holeman, Martin Carter and Griffin Martin to name a few.
"We should have a strong boys' team again with Eli, Preston and Martin returning," coach Cordell said. "Those boys really love to ski race. The girls will grow in maturity and skill with another season."