In the Spring, I have counted 136 different kinds of weather inside of 24 hours.
—Mark Twain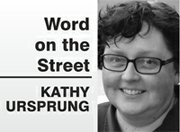 OK, not actual fleas: Breezeway Boutique Antique Market is organizing a monthly flea market one Sunday a month during May, June, July and August in the parking lot area outside the shop's back door. The first event is planned May 18 from 9 a.m. to 3 p.m. and is open to the public as sellers and buyers.
"We're limiting the spaces," said co-owner Terry Lee. "It will be first-come, first-served in getting a space."
Those who would like to reserve what Lee describes as "good-sized" spaces can visit her shop at 313 E. Second St. and pick the one they want.
The sky is the limit in merchandise, as far as Lee is concerned: crafts, collectibles, hand-made clothing, household goods, tools and more.
"Pretty much anything goes as long as it's a legal thing to have," she said.
Lee wanted to offer something on Sundays that will attract more shoppers to downtown The Dalles. The parking lot area in back of her shop is a good choice for that. It's clearly visible Interstate 84.
Crop until midnight: Urban Paper, downtown The Dalles' resident scrapbooking and craft site is hosting a 14-hour crop event Saturday, March 15, from 10 a.m. to midnight.
The event benefits the Walworth Music Foundation, which provides music lesson scholarships for local students.
It is owner Jill MacDonald's way of launching the Northwest Paper Chase event involving 26 participating scrapbooking stories in the Pacific Northwest.
"Most are toward the Seattle area," MacDonald said. "A couple are in Portland. Then there's me."
Scrapbookers purchase a passport and visit individual stores, receiving discounts, make-and-take projects, and charms.
"The overall theme is music," MacDonald said. "My theme is Surfing USA."
She likes to do a charity crop once or twice a year and thought the Walworth Foundation would mesh nicely with the musical theme.
The event will include food, prizes and giveaways.
Reservations are required. Call Urban Paper at 541-298-2767 to reserve a spot or get more information.
Run with the 'Pro's: The Dalles Area Chamber of Commerce Yo-Pro's are hosting runs on Tuesdays at 5:30 p.m., starting from Clock Tower Ales. The events will be a 5k run, jog, walk or trot on the Riverfront Trail.For more information, contact Maggie Hanna at maggie@mcedd.org.
GO! Green Drinks: Mountain Sage Medicine invites gorge residents to the Gorge Owned (GO!) Green Drinks this Thursday, March 13, from 5:30 to 7 p.m., at 410 E. Jewett, No. 2, in White Salmon.
Dr. Jennifer Silapie, owner of Mountain Sage, will share health advice for the body, community and planet. Winemaker Rachael Horn of AniChe Cellars in Underwood will discuss how wine additives affect the wine experience, and will offer tastings. Everybody's Brewing is providing beer and Feast Market & Delicatessen is providing fresh, local food.
RSVP at the Gorge Green Drinks Facebook page.
What's your search ranking: Scott See of J. Hammock and Associates will provide training focused on search engine optimization to help build business presence in a program offered through Mid-Columbia Economic Development District.
The event will be Tuesday, March 25, from 6 to 8 p.m. at Goldendale Grange. Participants should bring their laptop. Dinner will be provided by the Grange. An RSVP is required. Email Carrie at
carrie@mcedd.org or call 541-296-2266.
Seminar postponed: The Put Your Money Where Your Heart is seminar originally scheduled for March 13 through The Dalles Profession Women's Alliance has been postponed. Add your name to the invite list and rescheduling notification by emailing melissa.a.lee@nm.com.
WOTS goes social. Starting this week, in addition to appearing in The Chronicle's print edition and on our website at www.thedalleschronicle.com, Word on the Street will also appear on our Facebook page each week at The Dalles Chronicle.com.
Do you have an item for Word on the Street? Has your business remodeled? Hired a new professional? Expanded its business? Is it putting on a special promotion?
Email kursprung@thedalleschronicle.com, or call 541-506-4601.