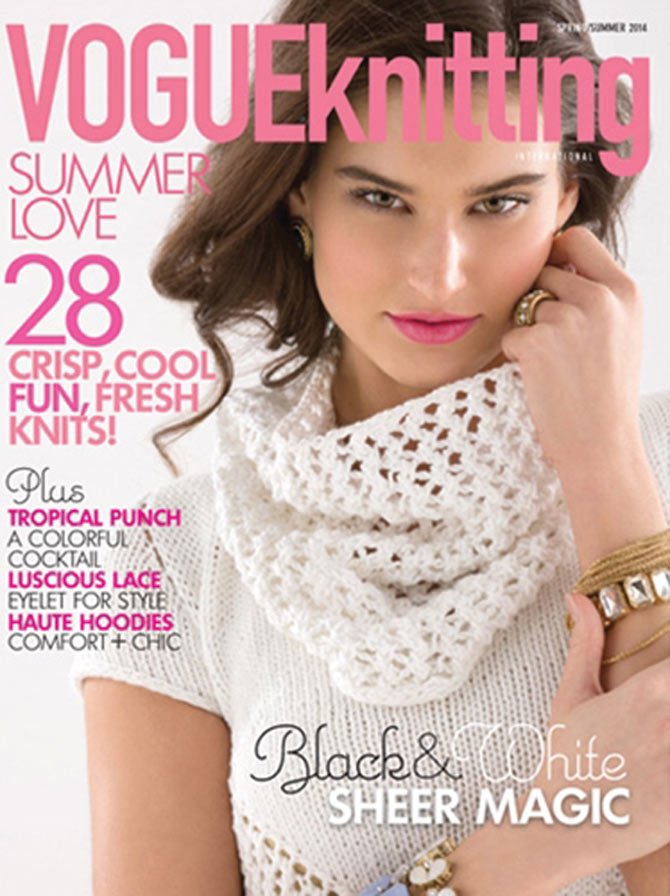 Abigail Phelps started knitting just over three years ago, and started designing knitting patterns shortly after that. Today two of her designs are on the cover of the spring/summer issue of Vogue Knitting.
"It just clicked," Phelps said March 11 by phone. "I started writing my own patterns shortly after discovering I couldn't find exactly what I was looking for. I've taken off from there and had a lot of fun. I'm finding out all kinds of fun things. It's a way to channel my creativity."
Her designs also garnered a two-page spread inside the magazine to start a black-and-white fashion feature called "The Jet Set."
Phelps has launched her own label, Blackberry Knits, featuring mostly accessories like shawls, vests, hats and scarves. Many have a whimsical theme, including a collection inspired by the "Lord of the Rings" trilogy.
"She is quite creative anyway," said her mother, Vicki Davis of The Dalles. "She used to make all kinds of clothes for her Barbie. She learned to crochet from an old family friend, when she was just in grade school. But that was just a passing thing."
Phelps revived her interest in crocheting when her children were born as something to do while she is on bed rest, but knitting is what made her creative juices flow.
She lived in The Dalles until she and her family moved to Sunriver a few months ago for her husband's job.
"Most of my patterns center on lace work and thinking outside the box," Davis said. The patterns featured in Vogue Knitting include a lacework cowl and a cap-sleeved T-shirt with lacework flowing down from a solid, V-shaped bust.
Paulette Brook from The Whole Ball of Yarn in The Dalles encouraged Phelps to submit the patterns to the most prestigious of the high-fashion knitting magazines.
"I got an email a couple months later saying they wanted to use one of the patterns," Phelps said. "I didn't find out about the cover until I had to sign a release for the first cover shot and first promotion."
Normally designers submit a swatch and a sketch, but Phelps had already knitted a sample in in Imperial Ranch wool. However, the design was planned for the spring-summer issue, so Vogue asked her to knit the shirt and cowl in the lighter-weight white Debbie Bliss cotton that appears on the cover.
"She's crazy good," said Brook. Phelps used to work for The Whole Ball of Yarn when she lived in The Dalles. "It's scary she's so good. She's like a savant."
Early in her design career, Phelps had a technical editor test knit her design.
"She took me under her wing for my first pattern and gave me a lot of tips and pointers," she said. "She helped me be consistent in my writing style and in general consistency. Now I've been able to both help other people and I've occasionally sent other people to her."
Phelps is continuing to build her home business.
"It's just like starting any business; I'm still laying the ground work," she said. Asked if the business has become profitable she said, "It depends on how you define the term 'profitable'. I get to stay home with the kids and get enough money to pay for knitting and to pay for odds and ends — and snow tires."
She sees that as a success considering the cost of daycare for three children had she worked full-time outside the home. All three are in school now, which gives Phelps some time during the day to work on designing and building her business.
Online:
http://blackberryknits.net/