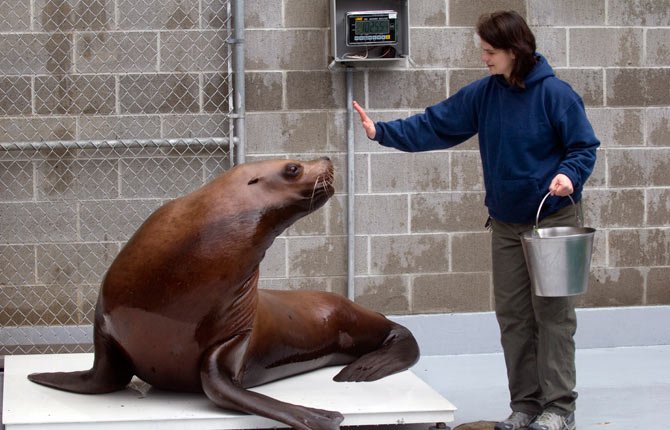 The Daily Astorian, March 10: We need a solution to sea lion problem:
Sea lions are fascinating to observe. Along with other maritime attractions such as close encounters with enormous ocean-going ships, sea lions are one of the features that make the Astoria waterfront so compelling. Most people never get to see these things and are willing to travel a great distance for the chance.
But there can certainly be too much of a good thing. At the East End Mooring Basin, sea lions have become a nuisance for most people who live in the immediate vicinity. It is difficult to imagine having to endure their noise and smell for very long. The fecal matter on mooring basin facilities and in surrounding waters must be a health concern on some level; pity the poor sailor who falls in.
These large creatures are intimidating for humans who have legitimate reasons to access the mooring basin. Physical danger cannot be completely discounted. They obviously have more to fear from us than vice versa, but who wants to get into a shoving contest with a sea lion?
As our story last week reported, the Port of Astoria is seeking ways to address the concerns raised by mooring basin tenants, while still trying to provide places for tourists and others to enjoy the spectacle of lounging marine mammals. In this era of professional wildlife protectors, the port also must be cautious of running afoul of well-intentioned litigators.
If the organization Sea Shepherd is genuinely interested in providing significant assistance in building a wooden haul-out facility that would be specifically dedicated to sea lions, its leaders should get busy and provide details. And though sea lions are, to say the least, unloved by many Columbia estuary residents who lament their salmon predation, providing such a "sea lion-only" space could even merit some degree of public funding. The long popularity of Sea Lion Caves near Florence shows that "fins have legs" as a tourist attraction.
It's obvious that the mooring basin needs to be reclaimed for the uses for which it is intended. It is unacceptable for areas to be off-limits for humans for fear of dangerous interactions or because causeways have been degraded by the presence of 1,000-pound animals. The metal bumpers developed to address the same issue in Newport appear to be a good solution, though it must be hoped that not too many will be needed, since they cost $3,500.
Port Commissioner Bill Hunsinger is right: It's time to quit procrastinating and do something about this problem.