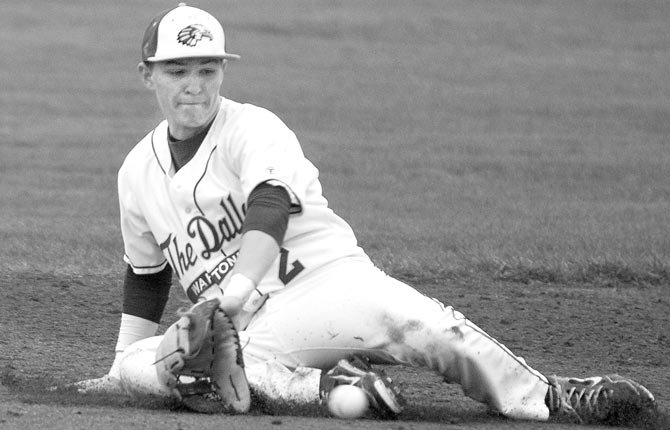 As time flies by, TD trio motivated to end year at top levels

And just in a snap of a finger, time flies by.
One of the most bittersweet parts of high school athletes is the four-year journey comes and goes with a snap of the fingers. Such is the case for eight seniors on The Dalles baseball squad.
Of course, there are wins and losses, success and failures, pain and ecstasy, all-encompassing buzzwords that are as much part of the game as line drive, hit-and-run and off-speed pitch.

"It has flown right away," said senior third baseman Nolan McCall. "I can't believe that it is almost over. I remember playing in my first varsity game and it was exciting. It is my last year, so hopefully we can go farther than we have in the past three years that I have been here."
Clay Copper remembers trying out for the team as a wide-eyed freshman, before being called up to varsity.
He has taken advantage of his opportunities with an all-league honor, and is one of the leaders on the baseball team at catcher.

Copper is back for his final season, with hopes of finishing with a bang.
He owes it to so many to stay on course with good grades, solid citizenship and a positive attitude to make it all work out.
There is no turning back now. "It really does give us more reason to stay together and play all the way through to see how we can do," said Copper. "I really want all of the upcoming varsity players up to be coachable, so that all of the older players can teach them more about the game and correct them to make them better players in the future when I am gone. I think if we all make each other better, we can play with anybody."
Being coach of TD for his eighth year, head coach J.R. Runyon mentored many productive young men over his career.
In that span, this senior group is one of the largest he has coached.

From McCall to Copper and from Steven Bartells, Austin Wilson and Clayton Ringer, just to name a few, Runyon has played a fatherly role in the lives of other seniors and graduated players from the past.
"Coach has been there for us, teaching a lot about the game," Bartells said. "We owe it to him to play our best."
Bartells, an all-state shortstop, has yet to come to grips with the fact that he is wearing an Eagle Indian uniform for the last time.
"It is crazy that this is my last year here," he said. "When you look at it as a freshman, you think 'I will never be there,' and all of sudden, it hits you. It is the end of the year with springtime sports, so it is becoming a reality real quick."
Through the course of their time in the program, Runyon said all of the athletes have been through the grind across the JV and varsity ranks.

When the final out is recorded at whatever point in the season The Dalles makes it, these athletes will shake hands, share hugs, shed some tears and move on in their lives to either college or career in locations near or far away.
The one bond they will always share is baseball and all the camaraderie shared over the years in get-togethers, bus rides and practices.
No price can be put on that notion.
"We have been playing together since we were eight years old, so we know a lot about each other," McCall said. "I know I will do anything for them and they would do the same for me. Baseball is the just a small part of it."