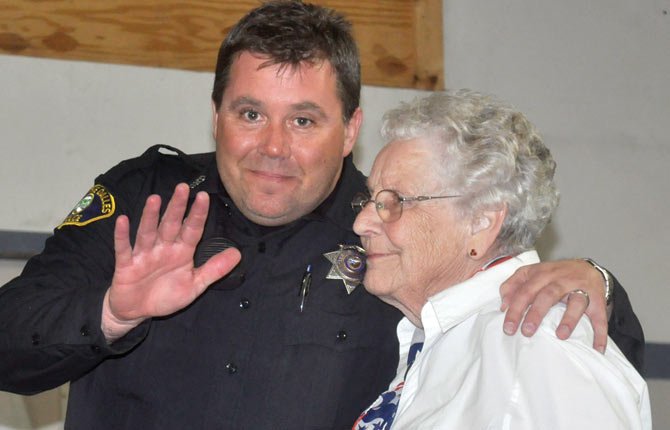 Firefighters and law enforcement officials traded good-natured jests at the 25th annual Emergency Responder Appreciation Dinner hosted March 12 at the old armory by VFW Post 2471.
Mid-Columbia Fire and Rescue Chief Bob Palmer announced that he would be participating in Dancing with the Gorge Stars this year. He asked Wasco County Sheriff Rick Eiesland, who won the contest in 2013, to show him some dance moves.
"If he can do it, I can do it," said Palmer, who invited the group to "come watch me fall on my face."
After Eiesland broke into a few soft shoe moves, his "right hand man," Chief Deputy Lane Magill, turned to Oregon State Patrol Lt. Pat Shortt and asked, "So, can I come work for you?"
The good working relationship between fire agency, sheriff's office, state police and The Dalles Police Department personnel was also the source of several speeches.
"I could stand up here and recognize each and every one of the agencies," said Eiesland. "I just want to thank all of them for the cooperation over the last 27 years."
He also thanked members of the auxiliary, led by Vandee Mauser, for organizing an event each year to honor emergency responders. The program was started by Olivera Hall, vice-president of the nonprofit group, a quarter of a century ago and has become a tradition.
On March 12, the auxiliary served a spaghetti dinner with all the trimmings plus a variety of deserts —and plenty of praise.
"We know what you guys do every day — you put yourselves on the line and we thank you," said Pat Lucas, secretary. "It really means a lot to us to be able to appreciate all of you and I don't think you get the attention that you deserve."
Following the meal, the agencies each gave out awards to top employees.
Shortt said OSP had chosen Trooper Matthew Zistel as the Officer of the Year and had extended the award to his wife, Ashley, in recognition of her support while he was recovering from a gunshot wound last fall. Zistel was shot in the line of duty after the driver of a vehicle stopped on Interstate 84 opened fire in mid-October. He was treated for the injury and has since recovered and returned to his patrol duties.
"As any police officer will tell you, our greatest strength comes from the love and support of our families," said Shortt. "Ashley is a great example of that support. She was there waiting for Matt when he showed up at the hospital and helped tend to his wounds while he was healing at home. She weathered the storm of Matt's shooting with a sense of humor and class."
Eiesland honored Donna Lindsey, who recently retired from many years of manning the front desk at the sheriff's office — and providing deputies with baked goods. He also gave special recognition to Jennifer Spino, a 911 dispatcher for her outstanding work.
Chief of Police Jay Waterbury was not present and Capt. Ed Goodman, on behalf of the agency, named Detective Jamie Carrico as the Officer of the Year. Carrico was shot by a rape suspect last August during a foot chase in Wishram, Wash., and received medical treatment before returning to work.
Palmer gave certificates to Employee of the Year Dana Woods, EMS (Emergency Medical Services) Responder of the Year Doug Foster, and Volunteer of the Year Jeff Holland.