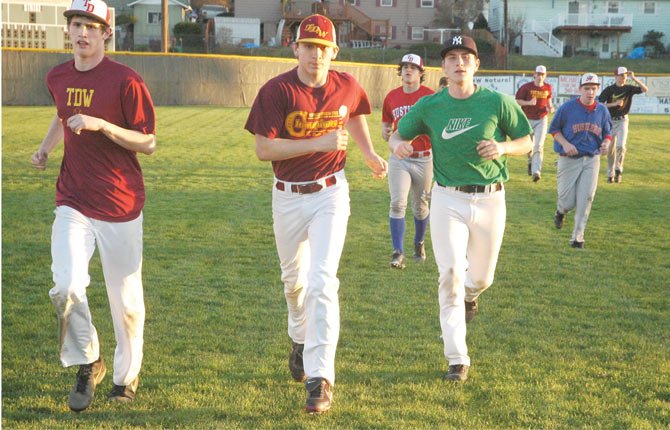 Coming off a successful 2013 season that saw it claim a Columbia River Conference championship, boast a top-8 scoring offense and a ranking as high as No. 2, The Dalles baseball team will contend with a different role going from hunter to hunted.
All-league catcher Clay Copper is confident is his team's approach to the season with the mindset that they will have a target on their backs.
"We've got to go out there with the confidence knowing that we are the league champs and we are going to go out there ready to give it our best," Copper said. "I think there will be a lot of teams coming for us. We need to find a way to respond to that."
With a re-tooled roster of eight newcomers and five returners, the Eagle Indians have the pieces in place to keep the momentum going, but the emphasis in place is getting all of the players to mesh for a common goal.
Most of those athletes will fill roles in the outfield, on the mound and at second base.
"The younger players bring versatility to this year's team, allowing us to have options defensively, offensively and on the mound, while our older players bring experience, determination, passion and drive," said 2013 CRC Coach of the Year and Tribe manager J.R. Runyon. "We are excited to see how all the work this summer, winter and these past couple weeks translates into this season."
TD won 19 games last season, swept league rival Pendleton in four games and had four players named as all-state recipients, with Nolan McCall and Steven Bartells returning for their senior campaigns.
After securing an honorable mention slot on the all-state list in 2012, McCall, a third baseman, followed that breakout season with a team-high nine home runs and 42 RBIs with a .407 batting average and parlayed those numbers into a spot on the first team all-state squad.
He was a co-Player of the Year and a first-team recipient for his play in Columbia River Conference action.
The right-hander scored 24 runs and had a team-high 37 hits, seven walks, and an on-base average of .451 and a robust slugging percentage of .802.
McCall will be an anchor in the middle of the order and he will be flanked by Bartells and Copper.
Bartells led the team with 26 runs scored, 11 doubles and had a team-low five strikeouts in 104 plate appearances.
The slick fielder rattled off a .309 batting average, drove in 17 runs and had a .430 on-base average.
Playing one of the toughest positions on the field, shortstop, Bartells had a fielding percentage of .927 with just seven errors on 96 chances.

He also helped turn six double plays.
Aside from that trio, the rest of the batting order is blessed with speed and athleticism, so elements of stealing bases, hit-and-run plays and sacrifice bunts are critical if the team intends on getting back to the level that saw it score 185 runs last year.
Another all-league pick, Austin Wilson, has the stick to drive in runs, and there is potential with the likes of Zach Keimig, Payton Eaton, Gordy Harris, Zach Cantrell, Mason Bansch, Clayton Ringer, Colin Noonan, Colton Walker and Alex McCall.
"This team is really fast, so we will be able to steal some bases," McCall said. "We are a good hitting club, so I think we can be just as potent as we were last year. It is important for us to take advantage when we have guys on base, this way it gives our pitchers a way to stay more calm on the mound."
The pitching staff provides one of the biggest question marks coming into the 2014 campaign, as the Tribe will try to replace the production of graduates Connor Mathisen and Dakota Walker.
Wilson and Ringer each bring a crafty skill set as southpaws and Walker, Noonan, Bartells, Cantrell and Eaton possess a vast repertoire from the right side.
"We have some young guys who are pretty good," said Copper, the team's starting catcher. "They are inexperienced, but are athletic. It will be interesting see where they fit in so they can execute the best."
One of the biggest roles Copper will play is as a stabilizing influence for this staff, as they navigate through a tough schedule.
His role as catcher is one of leadership, so he is excited for the opportunity to bring this staff and bullpen together.

He has some words of advice to his hurlers.
"You always have to stay within yourself to make sure you are working well with what you have instead of what you think you have," Copper said. "Throwing strikes is important. I have to make sure they are keeping an even head, locating well and doing their best to keep the other hitters off-balanced."
During the 2013 season, the Tribe amassed winning streaks of seven games and six games.
TDW was also 15-2 overall at Quinton Street Ballpark, averaging 8.2 run a game and won 13 consecutive games at one point in the friendly confines.
That winning streak and the season came to an abrupt end last May 22 in a 2-1 state playoff setback to Corvallis.
"It was a sour ending to our season, but this year is our chance, for the seniors it is our last chance, to go out there and show what we have," Copper said. "It will give us a chance to go out there and give our all."
Before the Eagle Indians can even think about playing playoff ball in late May and early June, Bartells talked about using the preseason to implement the fundamentals and establish a good rapport in the dugout, so that the steady progression is consistent through the rigors of a 27-game regular season slate.
"We've got to get better one day at a time," said Bartells. "In every practice, we got to come ready to play, ready to get better every day. Those young guys have to step in and play well and the older guys have to do their jobs as leaders. Our pitching has got to step up, but other than that, we need to play error-free ball and hope we can score some runs."
TD kicks off the 2014 season with a home game on Bob Williams Field at 4 p.m. Monday versus Marist.