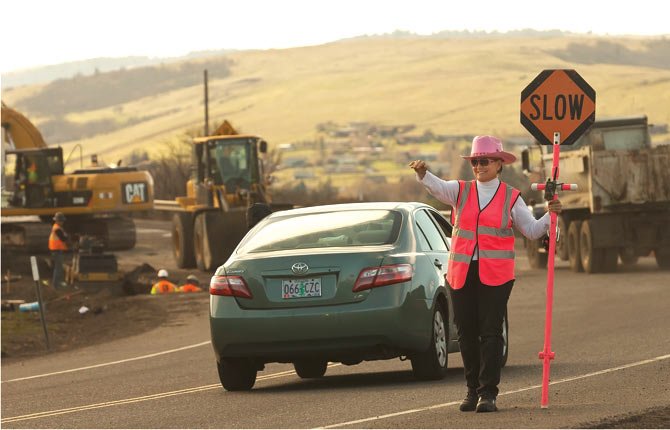 Earthmoving activity at the western border of property leased by Walmart has prompted some residents to think construction of the proposed super center has gotten underway.
In actuality, the Port of The Dalles is working at the edge of the property near the Chenoweth Interchange. The agency is making infrastructure improvements to accommodate development of a business subdivision.
Walmart's plans for a 150,000 square foot retail outlet are on hold pending the outcome of a challenge by Citizens for Responsible Development. The group based in The Dalles is disputing the state's issuance of a permit in May 2013 that allows the store to be built on about 20 acres of land zoned for commercial and industrial use.
Karl Anuta, a Portland attorney, will represent Citizens at the April 29-May 2 hearing before the appellate arm of the Department of State Lands. They lost their first bid to have the permit overturned by a lower court hearing in January 2013. The appeal was filed shortly after Walmart signed a 99-year lease for the property in April of that year and then received the wetland permit.
Anuta confirmed Wednesday that two federal agencies were recently sent a 60-day notice that Citizens might legally contest their approval of Walmart's wetland mitigation plans. He said it might not be necessary to take that case to U.S. District Court if Citizens is successful in overturning the state permit.
According to Anuta, the U.S. Army Corps of Engineers and National Marine Fisheries Service did not comply with Endangered Species Act or Clean Water Act protections for the Walmart property in several ways.

He said the agencies did not adequately address the effect of having stormwater from the parking lot run into Chenoweth Creek, which is critical fish habitat. The waterway is travelled by Mid-Columbia steelhead, which are not endangered, and lower Columbia River coho salmon, which have made the list.
The agencies did not compile sufficient data to show the potential loss of these species from pollutants, which is required by law, said Anuta.
He also noted that, although seasonal pools of water on the property are not home to listed fairy shrimp, they might be at some point in the future.
In a Wednesday interview, he said there are unlisted shrimp in the pools and fairy shrimp often co-habitat with that species. He said invasive species of vegetation will become part of the landscape after the soil is disturbed and threaten the ecosystem to further threaten fish runs.
"Citizens have said all along that this is the wrong place for a Walmart," he said. Because of an inadequate evaluation by federal authorities, Anuta said the state did not have enough information to proceed with issuance of a permit.
Rachel Wall, senior manager of communications for Walmart, said the company has spent the last six years addressing concerns raised by local, state and federal officials to get the necessary permits.
"We're confident that our plans for the proposed site meet or exceed the requirements for all relevant agencies," she said. The Wal-Mart center in The Dalles will create 200-250 full and part-time jobs in the area and promote other economic development opportunities.
In addition, she said the company made a commitment in 2013 to buy an additional $50 billion in American products to stock its stores. And this month a five-year program was launched to grow U.S. manufacturing to encourage job creation and growth.
Bill Simon, president and chief executive officer of Walmart, has committed the company to partnership with 280 of the nation's mayors to fund grants for innovators in the manufacturing sector.

Anuta's legal brief on behalf of Citizens contends that there is strong evidence against the project bringing enough of an economic benefit to the public to offset the harm of a large development.
Walmart filed its application for a store in The Dalles in 2008 and it was approved by local officials in January 2010.
A little more than two years later, U.S. Rep. Greg Walden met with state and federal regulators to find out why Walmart's application had been held up so long. He wanted a brainstorming session about how agency officials could remove impediments to economic development.
He said job creation and business growth was essential to fund public services during a time of continuing public budget constraints.
The subject of "vernal pools" dominated the two-hour meeting. The seasonal puddles had been identified by the state as a relatively rare form of wetland created by rainfall and snow runoff across the basalt-based scablands that are a common feature of the area.
Federal agencies became involved in the wetland review process after determining that runoff from Walmart's property fed into navigable waterways, over which they had jurisdiction.
The challenge of wetland protection was made more complex after state officials determined that creating a mitigation bank for vernal pool was not possible. Bill Ryan of the Department of State Lands, told Walden that most of the other lands where pools exist are already protected by the Columbia River Gorge National Scenic Area or state land-use regulations.
He said the resolution was to do on-site mitigation with Walmart for pavement under the building and eight-acre parking lot with the creation of two small and one large wetland.
In addition, Walmart agreed to enhance habitat on property that was degraded by prior excavation and the placement of fill material.
The company gained approval from regulators to pre-treat water coming off impervious surfaces with sediment-trapping catch basins, biofiltration swales and similar methods already being used with other large developments.
That is not sufficient, said Anuta, to replicate the functions of existing vernal pool wetlands. His legal brief states that it would be five years before Walmart's created wetlands began to assume some of the ecosystem functions they are meant to.
Even after that happens, he argues that the store will discharge herbicides, pesticides, fungicides and other chemicals into the wetlands it does create.
"There will still be pollution even after all that because stormwater goes into Chenoweth Creek," he said.
In other states, competing grocers have funded the opposition to Walmart's projects but Anuta said that was not the case with Citizens. "I'm not aware of their being funded by any other entity that would be in competition with Walmart," he said.
If his clients prevail, Anuta said city officials should revisit their zoning designation for wetland properties.