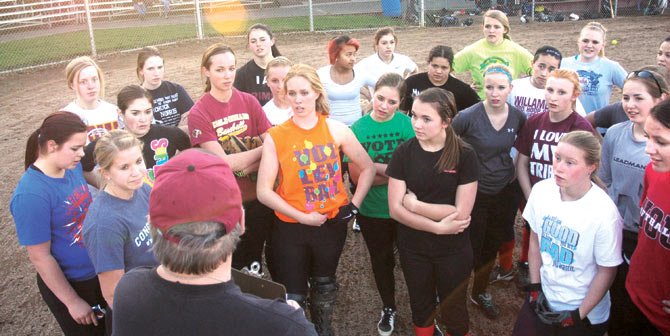 Youth will be served this season for The Dalles softball team.
With a roster of six freshmen, four sophomores, two juniors and two seniors, head coach Steve Garrett and assistant Doug Brock have the task of preparing and mentoring a young group in order to get the program back to its historical glory.
Last season, the Eagle Indian run of five consecutive semifinal berths came to an end, so this squad has aspirations of trending upwards to re-establish its place in the 5A classification.
"Doug and I look forward to the challenge of putting all the pieces together this season with this group," Garrett said. "The confidence level of this young team is amazing and, in many ways, they may not even be aware of what they are truly capable of. It will be a fun season and this is an awesome bunch of girls to work with."
One luxury for Garrett and Brock is the fact that one of the seniors on the roster is ace workhorse pitcher, Morgan Triperinas.
Blessed with pinpoint control and dizzying movement on her pitches, Triperinas is looking to duplicate her performance from last year, as she was one of the main reasons why the team won 12 games and finished one run shy of a quarterfinals berth.
"I am excited for this season. I am stronger and better than I was last year, so I can't wait to see what I can do," Triperinas said.
With her style in the circle, Triperinas pitches to contact, so the onus will be on the defense to make the plays and limit the errors that extend innings.
Ruthie Ford (centerfield), Hannah Harris (left field) and Lori Cimmiyotti (right field) are in line to patrol the outfield, as a trio of speedy leather toters with good anticipation and strong, accurate arms.
Morgan Goslin and Grace Helyer are penciled in at either third base or catcher depending on situations.
Maddy Bradford, Jez Farrell and Timarra Roth will man first base.
Shortstop and second base is an unknown early on, but Garrett said those spots would be filled depending on who is pitching.
No matter what, Triperinas is confident that her team is capable on that end of the field.
"I have to trust that my teammates will make the plays behind me," Triperinas said. "As long as we play under control and know the situations, I think we will have one of the best defenses around."
In softball, 1-0 games are a rare sight, so the offense will need to propel itself to a higher level.
Last season, the Eagle Indians racked up 170 runs, but were held to two runs or less 10 times with four shutouts in 28 contests.
Harris, a first team all-league recipient last year, is scheduled to be the table setter at the top of the lineup, but the rest of the batting order will materialize as the season progresses.
Although without the power bat of all all-state catcher Katherine Kramer, Triperinas said the team will rely heavily on manufacturing runs.
"We have a lot of quickness and I think we will produce a lot of base hits," she said. "We will not have the same amount of power as we had before, but we have girls who can get on base and make things happen with their speed."
There are several interchangeable parts that Garrett can tinker with through the season, and Kailin Hoylman, Laney Schanno, Shaynie Watson, Sierra Watson and senior outfielder, Samantha Gibson, are set to fill roles when needed.
Sierra Watson and Bradford will see some additional time in the circle on doubleheader days and tournaments to form a dynamic trio of arms.
"All of the girls are going to do very well," Goslin said. "They are going to be put in positions that help themselves and the team get more success. They are going to be seen and they are going to be heard. Nobody can overlook them."
In terms of overlooking the Tribe, it can be easy for some teams to discount the level of varsity and big-game experience they have as a whole, but over the years, a vast majority of these names have been in the throes of tough competition in travel ball, so the transition may come sooner rather than later.
As Triperinas said, being young is not an excuse, the goal of making the playoffs does not change.
"I think we may just fly under the radar a lot this season," Garrett said. "Most teams will look at our youth and inexperience and suggest that this is simply a building year for the final season under the TDW banner. I don't see it that way. I think, that with hard work and the great attitudes that have emerged in the first couple of weeks of workouts, we may just surprise a few folks."
The Dalles kicks off its regular season at 4 p.m. Monday against Marist.