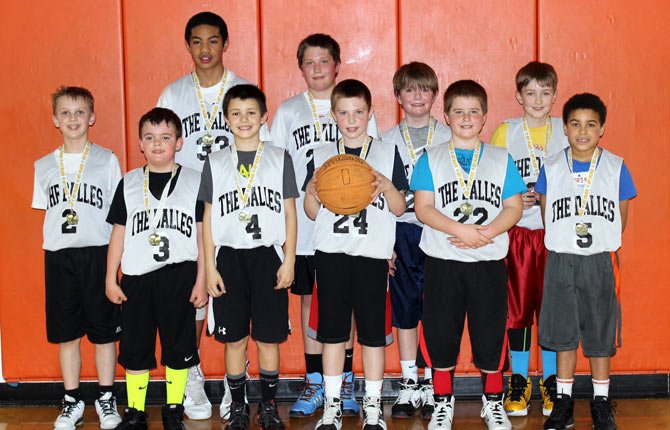 Basketball appears to be heading in the right direction in the Columbia River Gorge, as a group off 44 participants wrapped up play this winter with a great deal of success against some tough competition from across the state.
This group, ranging from eighth graders to second graders from Sherman, Dufur, Dallesport, and The Dalles, was split into five teams for tournament action in Vancouver Wash., Hood River and Sherman.
On March 9, the 10U team of Andrew Savaiinea, Jaxon Pullen, Spencer Taylor, Wyatt Townsend, Conner Cummings, Spencer Coburn, Isaac Anthony, Quincy Townsend, Colin Shubert and Styles DeLeon capped their season in auspicious fashion with a 3-0 record for first place.
"I was very proud of the work the boys put in, and I saw drastic improvement from the first practice to our last games on March 9," said CGBA coach Bob Townsend.
Although the numbers swelled to nearly 50 in the program's initial season, Townsend is eyeing a larger population as he hopes to continue to build on its success and the number of participants in the future.
In addition to the names representing the 10U, 13 players in the eighth grade have hopes to carry over a momentum-building winter at the high school level.
Those names include, Blake Davis, Curtis Crawford, Dakota Murr, Jacob Justesen, Kristos Kiser, Pedro Ayala, Pedro Lopez, Ricky Lopez, Taren McCall, Treve Martin, Nathan Floyd, Javier Hernandez and Jaquez Garcia.
On the seventh grade side, Colton Baughn, Connor Baugh, Jack Bonham, Josh Nisbet, Tyler Vassar, Caden Cummings and Ricky Esiquio were stalwarts on the hardwood racking up wins at an impressive rate.
Aiden Telles, Andy Lopez, Dalles Seufalemua, Jacob Hernandez, Michael Armstrong, Miguel Aguilar, Arnold Maldonado, Austin Weir, Evan Despain and Trenton Schacher spanned head and shoulders above their sixth grade peers.
Added to that, fifth grader, Taylor Beeks, fourth grade standout, Peyton Beeks, and the third grade duo of Eduardo Aguilar and Osbaldo Lopez.
Townsend added that although the tournaments were more exciting for the participants, the practice time served as the most beneficial opportunity for the kids to improve their skills and work toward being successful high school student-athletes in the future.
"Our success varied in terms of wins and losses, but in terms of growing interest in youth basketball and providing an enjoyable experience for the boys, I think we were very successful," Townsend said.
To inquire about the hoops program or to volunteer, call 541-993-7952.