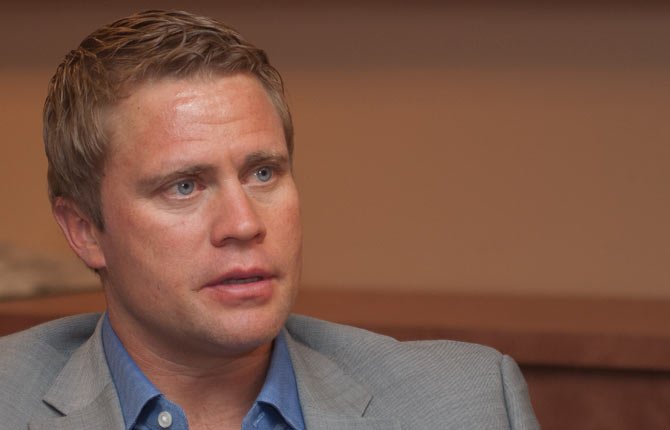 Human trafficking is "the second largest criminal industry in the world, netting over $43 billion each year," according to the Child Rescue Association's website.
"A lot of people have a hard time comprehending this," author, activist and former CIA operative Timothy Ballard said, "but [human trafficking] is the fastest growing criminal network in the world. Close to two million children are enslaved right now, thousands are sold every year. The lucky ones become labor slaves, the unlucky ones end up in brothels— and that's just the children. Men and women are enslaved too, but most of us just go about our lives and have no idea."
Ballard visited The Dalles March 7 as a result of an invitation he received from the Coalition for an Educated Electorate, headed by local resident Katherine Arbon. During his stay, he gave a presentation and engaged the community on topics that ranged from discussions on personal philosophy and the points at which religion meets history, to raising awareness of the plight of children across the world who are being bought and sold into slavery every day.
The exact number of victims has been debated, but recent research indicates that each year in America over 100,000 children are exploited in our own cities and neighborhoods; at strip clubs, on web sites and in homes."
Ballard began his career at the Central Intelligence Agency working on cases dealing with terrorism and Latin America. Following that, he spent over a decade as a special agent at the Department of Homeland Security, where he was assigned to the Internet Crimes Against Children Task Force and deployed as an undercover operative for the U.S. Child Sex Tourism Jump Team.
"Basically, my job as an operative was to go in, infiltrate the organization that was selling kids and pretend to be a buyer," he said. "We'd negotiate a deal, buy the kids, I'd let myself get arrested in order to maintain my cover and make sure the real perpetrators were put behind bars so they never could kidnap again."
However, Ballard said he became increasingly frustrated with the many roadblocks he kept encountering on the job.
"It was stifling," he said. "The bureaucracy, the crazy jurisdiction policies and the apathy—so much of it served to drag out the process of rescuing kids that, by the time everyone touched the ball and we were cleared to go in, the bad guys were already gone."
So, Ballard decided he needed to hang up his agent's hat and forge a more independent route.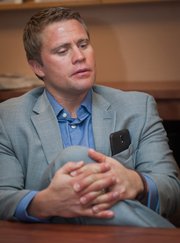 Upon vacating his position as a government employee, Ballard founded Operation Underground Railroad (OUR) on behalf of the Child Rescue Association of North America, a national non-profit organization that works to educate the community about the issue and provide funding for organizations like OUR that are dedicated to identifying and dismantling illegal networks that deal in the trafficking of minors."Essentially, I'm doing the exact same thing I did as a government agent, but in the private sector," he said. "And, after just about a month and a half in business, we've already rescued 35 kids. That would have taken me at least a couple of years to pull off at the government level, and that's mostly due to jurisdiction limitations. Even if the government was doing everything it should, there just is no jurisdiction that would allow the U.S. government to intervene in some nations, and those are usually the ones where the most children are being hurt."
The dismantling operations, Ballard said, are always conducted with both the knowledge and cooperation of the involved country's local government and law enforcement authorities.
"We work directly with the local governments; they always know we're coming and they always want us there. We go in and do the dirty work, and then they come in and make all the arrests. We conduct trainings where law enforcement officers learn to use software that will allow them to identify, track down and eliminate hidden child pornography operations. Essentially, we teach them how to liberate children from sex slavery."
Ballard said he and his team had recently returned from successfully completing just such an operation.
"A couple weeks ago, we were in Haiti, which is just a horrible place for kids," he said. "They have about 50,000 kids who don't have parents and the government there doesn't have the resources to find where they're located. It's a trader's haven, basically.
"We were able to identify the organization that was selling the children, go undercover as a trafficker and get it all recorded and taped in cooperation with the Haitian authorities. Two kids were delivered, and we ended up liberating about 28. We provided proof that those two kids had been sold, and made sure to relocate them to a pre-designated place where they would be safe and where they could never be sold or raped again."
"I don't care how poor or corrupt a government might be, there's always someone that cares," Ballard said. "Everywhere I've gone, I've had nothing but total cooperation. Mostly, we're teaching [local authorities] how to rescue the kids themselves."
"Slavery is alive and well in the world, and this is slavery in its worst form. We congratulate ourselves today because we think it's something we've already gotten rid of, but that unfortunately couldn't be further from the truth. That's why it's so important that the people who do know what's going on step up and do something about it."
Ballard reports that OUR has recently infiltrated another trafficking organization that's been buying and selling children, and that they intend to arrive in-country with the expectation of freeing about another 20 children within the next few weeks.
Online:
www.ourrescue.org.