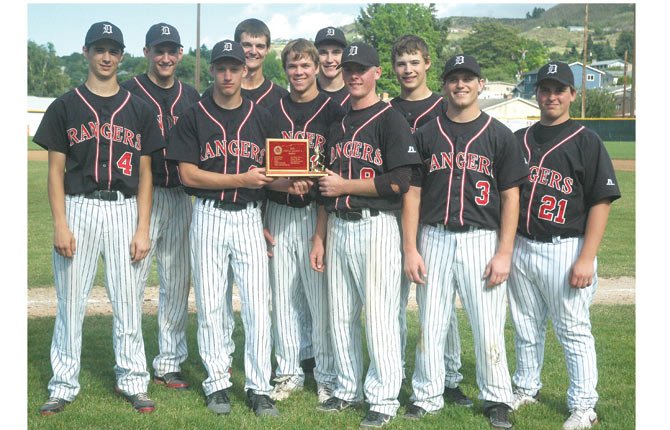 Just because the Dufur Rangers ended a six-year hiatus and moved into the state playoffs a season ago, does not mean they are satisfied with that notion.
This group wants more.
Head coach C.S. Little shares that same sentiment, as the Rangers break spring training in preparation for a shot at the Blue Mountain Conference crown and a deep playoff journey into the month of June.
"They are all a year older and stronger and have more savvy," coach Little said. "Obviously, we are going to get even better given our experience. It is going to come down to making the plays on defense and getting consistent, quality pitching."
Last year, the Rangers notched 15 wins, 10 in league action.
They were also ranked in the top-10 offensively with 204 runs scored. Cole Parke, Josh Keyser and Trever Tibbets led the imposing group of hitters.
On nine occasions, Dufur amassed 11 runs or more and they were 9-0 when that happened. They were also 4-2 in games decided by two runs or less.
Parke, Keyser and Tibbets will be supported by an impressive group with Nick Little, Nathan Duling, Brent Sumner, Bryson Caldwell and Jon Keyser back in the fold to provide additional hits, stolen bases and runs scored.
The names surge beyond that however, with some newcomers on the roster of 16 players.
Freshmen Bailey Keever, Kolbe Bales and Connor Uhalde bring speed and versatility to the mix, along with Lane Turner, Brandon Broeckel, Ben Anderson and senior slugger, Rashed Al-Qarra.
"For us to be successful, we need to hit the ball in the gaps and find those places where they are not positioned, so we can create base running situations and RBIs," coach Little said.
Not only will Dufur be able to play the long ball for extra base hits, there is speed to burn, so Little anticipates hit and runs, steals and taking extra bases to be an added wrinkle to the offensive repertoire.
"We should be able to steal it and that is from everyone in the lineup," the Ranger coach said. "When you got speed, we try to get a good jump and put the defense on their heels."
When the players are out in the field, coach Little feels an already sound defense will be even better this spring, especially in the outfield, where Nick Little anchors a group with Keever and Uhalde, who can run down anything in the air and in the gaps to prevent extra base hits.
That is if the opposition gets those hits.
Tibbets, Parke and Keyser form a trio of ace arms, but Caldwell, Kortge, Bales, Duling, Turner, Keever and Uhalde may be called upon to toss a few frames.
"We've got to be consistent and we've got to throw strikes," coach Little said. "We want our pitchers to hit their spots and move the ball around the plate. They also have to keep their composure, no matter the situation or what else is happening. If they can do those things, we will be very tough to hit against."
Having a solid backstop calling a game and cutting down potential base stealers is also a luxury to have.
Coach Little was spoiled having all-league catcher Brett Lowes for a few years, and Kortge filled that position with success in 2013.
With Keever and Turner able to don the gear, Kortge can now throw more innings on the mound and get some added rest on doubleheader days so he does not wear down in the final phase of the season.
The Ranger coach was more than happy with the progression Kortge showed in his first full season behind the dish.
"From his freshman year, he has improved immensely," Little said. "He came along a lot further than I expected, so it is good to have less worries about a critical position on the field. I am going to be expecting a lot of things out of him because we have other catchers now. That is going to push him to raise his level of play. That is why it is always good to have competition."
The Rangers were able to get over a major hurdle last season, so now that the proverbial monkey is off their backs, they can focus on building for bigger and better things.
Coach Little has instilled some nuggets of advice for his team though, saying that the focus is getting through a tough preseason slate to prepare for another challenge in league before competing in postseason play.
"We are excited here. Last year, we kind of came in under the radar, nobody really expected us to do much," the Dufur coach said. "In the last couple of years, we have proved some people wrong. We were able to do some good things. This year, we are probably going to be expected to win some games, so it is up to us to deliver. There are still a lot of good teams in the state, so it will be a challenge for us."
Dufur hits the diamond at 4 p.m. Tuesday at home versus 3A Riverside.