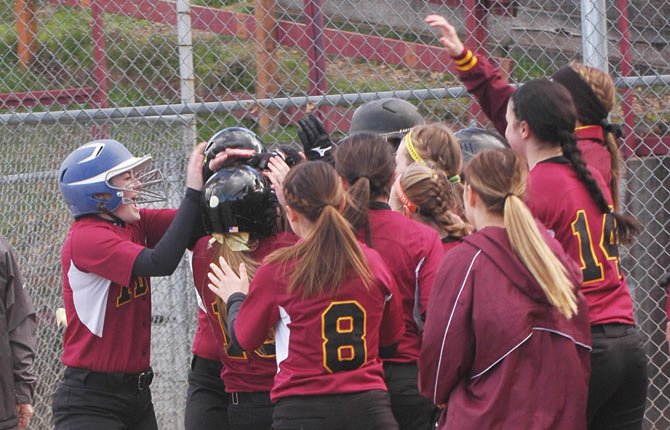 Whether it was a key at-bat, a clutch defensive play or shut down pitcher performance, The Dalles softball team had several of its unproven freshmen earn their stripes in what turned out to be a gutty comeback performance for a 10-6 win over Marist Monday at 16th Street Ballpark.
"It is just the best when everyone comes together to fight hard to get out of the hole we put ourselves in," said Ruthie Ford of her team's fight from a 6-4 deficit. "Everyone started hitting the ball and yelling loud. It is just softball. We all know how to do it and once we finally put our heads into it, we kicked butt."
First it was freshman catcher Grace Helyer helping reliever Sierra Watson escape a two-on, two-out jam, as she rifled a throw to third baseman Morgan Goslin for the pickoff.
In the bottom of the sixth inning and the Tribe down 6-4, nine batters went to the plate and forced Marist hurler Shawna Burke into a 47-pitch inning.
Helyer jump-started the rally with a seven-pitch at-bat with a one-out double to kick things off.
With Helyer at third base and two outs, Watson worked a walk to put runners on the corners for No. 9 hitter, Jez Farrell.
Farrell saw nine pitches, fouling off four of those tosses from Burke. On the payoff pitch, the ball went low for ball four and the bases were loaded for sophomore outfielder Hannah Harris.
Harris saw seven pitches herself, but the 2-2 offering went to the backstop with Helyer motoring home to make it a 6-5 game.
Harris worked the walk to load the bases with two outs and Ruthie Ford at the dish.
Ford roped an RBI single to center to score courtesy runner, Laney Schanno to even the count at 6-apiece, and the bases were still loaded for Goslin.
The very first pitch from Burke plunked Goslin in the helmet, which allowed Farrell to score and give the Tribe a 7-6 advantage.
Still with the bases packed, senior Morgan Triperinas, who in the first inning slammed a three-run home run, dug in for a chance to pad the lead.
With a 3-1 count, Triperinas blooped a single to short right field and both Harris and Ford hustled home to make it 9-6.
Goslin followed right behind, as the return throw went awry.
Staked to a 10-6 lead in the top of the seventh, Watson had to walk a tightrope, as he plunked and then hit the first two batters she faced.
After a sacrifice bunt, Watson induced a fly out to center, but then she walked Brittany Dodds to bring Burke, Marist's No. 4 hitter to the plate.
On a 0-1 count, Burke hit a fly ball to medium left field to Harris, who corralled the ball for the final out.
Watson tossed two and two-thirds innings of two-hit ball with a strikeout, two walks and a hit batter.
"I think that Sierra Watson stepped up and showed me what she has got. She did the job," said TD coach Steve Garrett. "She kept the ball down and she got the hitter's out when it counted. She was outstanding."
Watson said it too mental toughness to find a way to scratch and claw for a win.
For a large group of freshmen, this is definitely a momentum boost.
"This win will be really good for us I think. It will carry us on through the rest of the season," Watson said. "When times come like this again, I am pretty sure that we will show the same heart. We don't like to lose. We want to do it for each other."
TD (1-0 overall) is in Redmond for a 4:30 p.m. game on Wednesday.
At 4 p.m. Friday, the Tribe locks horns with defending state champion, Sandy High School.