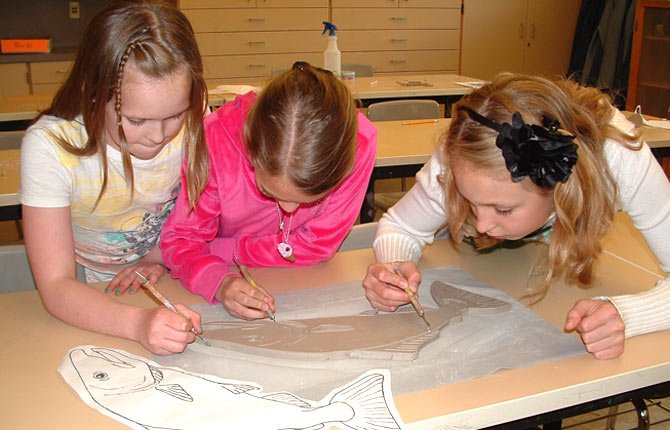 Officials at The Dalles Middle School recently announced that the mural project students have been working on for over two years has been completed and is on display in the main, upper level hallway.
"If you drive up to the school at night, you'll be able to see it lit from outside," Sonja Little, The Dalles Middle School art teacher said.
Little said the mural has incorporated a lot of student handiwork in the two and a half years it took to assemble.
Pieces of the mosaic were carved, painted and worked on by countless students over the duration of the project, she said, including the many fish, petroglyphs and masks featured in the final product.
"Before we attempted to carve the petroglyphs, we took some students up to Columbia State Park to see She Who Watches, where they were able to learn some history about the petroglyph canyon and Celilo Falls. After that, they took out pictures and did their own versions of the petroglyphs in clay, trying to make them look as if they'd been carved into rock, while another group of students did the glazing."
"Not one student put together an entire piece by themselves, So it really was a big surprise for all of us to see what it looked like as a whole, complete piece," Little said.
Funded by the Gifts From our Ancestors grant as part of the Confluence Project, which promotes the education of students in the history of the area's native cultures, the mural project was supported with the financial means to acquire the necessary supplies and to hire the artists to install it once all the individual pieces had been finished.
"While the students were making their ancestor masks," Little said, "they worked with native artist Lillian Pitt in order to form a vision for what the masks should look like and the best way to go about creating them."
In their final form, she said, the masks were designed to represent the native ancestors looking out over Celilo Falls.
The mural itself depicts the falls, along with the petroglyph canyon below, fashioned out of rocks that came from both Oregon and Washington.
"What's really neat to think about is that the students who made the petroglyphs and ancestor masks are now in high school, while the students who made the fish are still here," Little said. "It's amazing how everything came together and I think it serves as a really wonderful, creative legacy for the students that had the opportunity to work on it."
The mural measures 10 feet across and took at least a month to install.