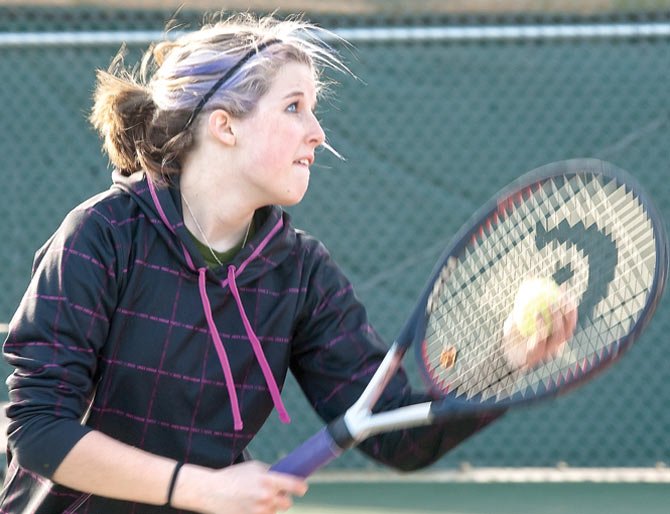 In recent history, the Sherman tennis team has churned out district champions such as Scot Stroud, Brian Simantel, Maddie Belshe and Krista Perisho, so there is an element of success that has provided a sense of accomplishment in the program.
They built the legacy with head coach Leo Baptiste, and now first-year coach Kali Rolfe and her squad of six underclassmen and juniors Karolyn Kaseberg and Katherine Shafer will look to continue this recent run of success.
"I expect this year to be one of growth in terms of leadership and improvement in our skills," Rolfe said. "We have a young, but talented group of kids this year, and I am excited to see how the season plays out."
While Kaseberg and Shafer appear to be a doubles team that could manage No. 1 status, but Rolfe said much of the depth chart is still undetermined at this point in the season.
Sophomores Hollee Kaseberg and Elvia Rubio bring previous district success to the mix, and freshmen Meghan Belshe and Adalynne Bates bring a young, fresh dimension as possible top-2 tennis candidates.
Although the boys are limited in terms of numbers, Garak Casper, a freshman, and sophomore Brett Lane, have a versatility to their game to play singles or doubles during the regular season slate.
Through the early parts of practices, Rolfe said that each player brings unique skills and strengths to the court.
Keys to multiple wins and steady progression lie in executing the fundamentals and improving speed.
"Tennis is a mentally and physically demanding sport," Rolfe said. "We work each day to improve both areas of our game. My goal as a high school coach is to help instill values that will benefit the kids both on and off the court."
The Huskies hit the court at 3:30 p.m. Thursday in Riverside.