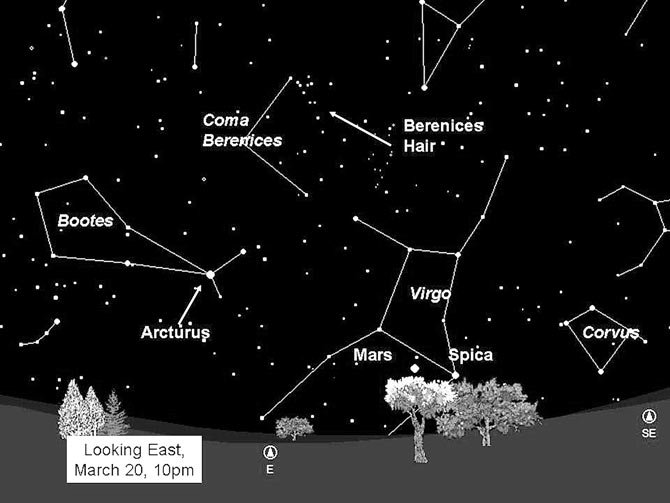 THE DALLES — Join amateur astronomer Jim White for an evening with the stars, at the Columbia Gorge Discovery Center, Saturday, March 29. The evening will start with a gourmet burger bar dinner at 6 p.m., followed by a Spring Stargazing presentation by Jim White at 7 p.m. If weather allows, there will be a telescope sky viewing at 7:30 p.m.
White will talk about the upcoming lunar eclipse on April 14-15, planets, and other celestial events.
The sun sets at 7:30 p.m., so White will bring his telescope along, and if skies are clear participants will see Jupiter in the southwest through a telescope after the presentation. Jupiter still reigns as the brightest object in the night sky, except for the moon.
Mars and Saturn will be prominent in spring and early summer. Mars, Earth's closest neighbor, will enter the evening sky in March. By the end of the month, it will be low in the eastern sky by about 10 p.m. Saturn will be making an appearance, too, above the eastern horizon at about midnight.
White will also talk about the total solar eclipse coming in 3 years that will pass over Central Oregon on Aug. 21, 2017. The last total solar eclipse in this area happened in 1979.
Jim White is an amateur astronomer, living in Trout Lake. A forester by profession, he has had an interest in astronomy since his youth on a Michigan farm. White holds a stargazing event at the Trout Lake Fair, helps at the Goldendale Observatory, makes presentations within the Mid-Columbia area, and writes a column monthly in the White Salmon Enterprise.
Dinner will be a gourmet burger bar. Make reservations by March 26 by calling 541-296-8600 ext. 201.