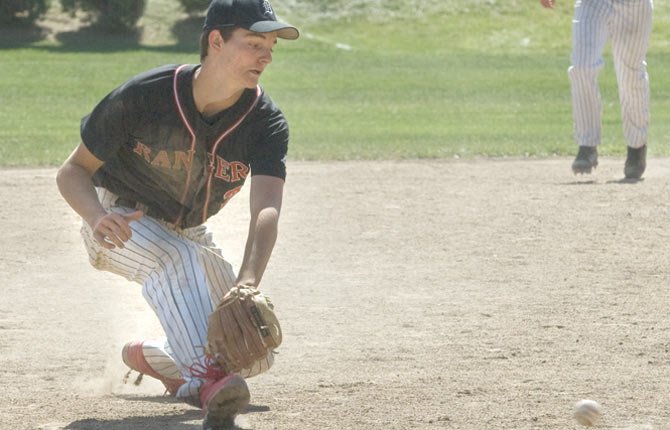 The Dufur Rangers battled back from a 5-0 and finalized the late surge with a four runs in the seventh inning and capped the win with a one-out bases loaded walk by Trever Tibbets to secure a 6-5 victory over 3A Riverside Tuesday in a non-league baseball contest at Dufur City Park.
In assessing a final analysis, Dufur skipper C.S. Little was happy to see his team overcome adversity, string together some critical at-bats and come through when it mattered.
"We did have some clutch hits. That is a sign of maturity. This is an old veteran squad," said coach Little. "The kids dug deep and got the job done in the end. Like I told them after the game, 'it is how you finish, not how you start.'"
With the scoreboard reading 5-1 in the bottom of the seventh frame, the Rangers had their rally started with one out.
Cole Parke started the run with a single and a stolen base. Bryson Caldwell then slugged an RBI double to chase home Parke to make it 5-2.
Josh Keyser added an RBI single to put runners on the corners for Tibbets.
The junior slugger rifled a two-run double to left centerfield to bring in Caldwell and Keyser to creep the Rangers closer to within, 5-4.
Nathan Duling deadlocked the score at 5-all by driving in Tibbets with an RBI single.
Keyser, in his second inning of relief, struck out three of the four batters he faced to give his mates a winning chance.
With one out, Parke walked and Caldwell laid down a sacrifice bunt, but was safe on an infield single to put runners on first and second for Keyser.
After walk to keyser loaded the bases, Tibbets dug in and worked a 3-2 count. On the payoff pitch, the pitch sailed out of the zone for a walk to bring in Parke for the game-winner.
All told, the Rangers slammed out 14 hits and five players notched multiple hits.
Caldwell went 3 for 5 with a double and an RBI, Parke had two hits and two runs scored, and Duling added a 2 for 3 split with a double and two RBIs.
Jake Kortge notched 2 for 4, and Tibbets added two hits, three RBIs and three walks.
Keyser tossed 2 1/3 innings of one-hit ball with four strikeouts and no walks to record the win in relief.
The staff as a whole, scattered seven hits, struck out nine and walked four in eight innings.
"Our pitchers (Keyser, Kortge and Caldwell) threw the ball well for us and kept us in the game," Little said.
Dufur (1-0 overall) hosts Knappa at 3:30 p.m.
At noon Monday, the Rangers host Country Christian for a doubleheader.