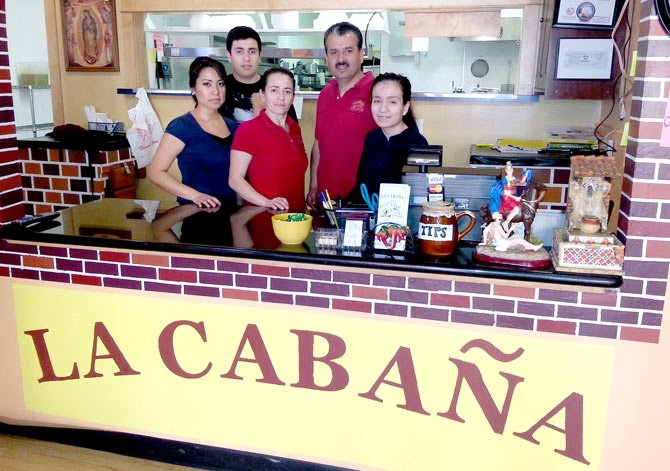 Luis Gamez' dream since childhood has been to own a business involving food.
"I have a lot of relatives that have restaurants and stores," he said. "When I grew up I really wanted to do that."
That dream became reality last Dec. 14, when Gamez and his family, wife Angelica, daughter Brianna and son Jesus, purchased ownership of the La Cabaña restaurant at 400 E. Second St.
The Gamez family has been in The Dalles since 1980. Luis is a partner with Mike Omeg in the orchard business. Angelica worked at Oregon Child Development Coalition for years. Jesus will graduate from The Dalles High School this year and Brianna will start high school next year. Luis also has coached boys soccer at the high school for many years, so between them they have a wide range of friends and acquaintances.
The Gamez family had originally planned to take ownership of the restaurant from previous owners under the name La Fogata, but that business folded on the day Gamez was prepared to sign the papers.
Instead, Carlos and Socorro Quezada took over the space and launched La Cabaña.
A year later, after riding his bicycle by the restaurant numerous times thinking, "We should have been there," the Gamezes had a second chance when the Quezadas sold in December.
"I've got to do something for my family," Gamez said, explaining his reason for adding restaurant owner to the orchard partner role already on his resumé. Gamez partners with Mike Omeg in a cherry orchard.
He wants to raise his children with a love for business.
His wife was nervous. She had a stable job and was worried about the risk a restaurant would entail.
"I've been very confident, because I know we provide a great meal," Gamez said. "We provide a great meal. We do everything we can to have happy customers. We eventually want to build the business so we are able live off the business. We've made a lot of changes from the way it was run before."
They've tried to keep their meals economical, he noted.
"Money should never be a barrier to a good meal," he said. And the response from customers has been good.
La Cabaña specializes in authentic Mexican food prepared under the supervision of chef Rodolfo Rosales.
"We've got great employees trying to do their best for us," Gamez said. "We're really trying to work our best as a team."
The large menu includes Enchiladas la Cabaña, one of the restaurant's more popular dishes. They also sell pork carnitas by the pound on Sundays, either to eat in or take out.
"Our guacamole is very popular," Gamez said. "We make it three times a day." Freshness is a top priority.
They also make their own chorizo sausage and prepare other meats on site.
"We try to keep flavor in the food with some spice, but not so spicy people say we're too spicy," Gamez said. "We try to balance great flavor with the right amount of spices."
He says he is content to start small with his business and build slowly so the quality remains. And toward that end, he's is often modifying the menu to meet the requests of diners.
"It's an opportunity for us to show our customers we can provide what they like," he said.
For example, the menu now includes a vegetarian section because of a customer inquiry. Gamez said La Cabaña can work to meet special dietary needs, like allergies and food intolerances, if notified ahead.
Eventually, Gamez hopes to give back to his community.
"My dream has always been, as a coach at the high school and listening to how tight the budget is in the district, I'd like to be something back to the school," he said, but business will need to build up some for that to happen.
"Our goal has never been to do something and get rich," he said. "It's to do something to keep the family here and my kids can take pride in."
La Cabaña is open Sundays through Thursdays from 10 a.m. to 8 p.m., and Sundays through Thursdays from 10 a.m. to 9 p.m. The restaurant also does catering. Call 541-296-3404 for more information or email lacabanarestauraunt97058@gmail.com.